Advertising on Amazon now costs, on average, $1.20 per click. Up 30% from $0.93 at the start of the year and up over 50% year-over-year. Demand for advertising on Amazon is rising faster than the ad inventory on and off Amazon, thus driving up advertising prices.
According to Marketplace Pulse research, the average cost-per-click (CPC) was $0.85 in 2020. It reached the lowest point of $0.70 in early May when the pandemic caused supply chain disruptions, resulting in some brands running out of stock and pulling back on advertising. However, it recovered by mid-September and then hit three distinctive peaks: Prime Day in October, Black Friday and Cyber Monday in November, and holiday shopping in December. After that, CPC settled at around $0.90 for most of Q1 2021.
The average advertising cost of sale (ACoS) was 22% in 2020. ACoS is the total ad spend divided by the total ad sales. It started 2021 at 25% and has now risen to over 30%. Yet, the average conversion rate - the percentage of clicks an ad converts into sales - has remained relatively stable at 12%-13%. Thus the average cost of sale was $6-$7 in 2020 but has risen to $9-$10 - it takes eight clicks at an average price of $1.20 to generate one sale, up from $0.85.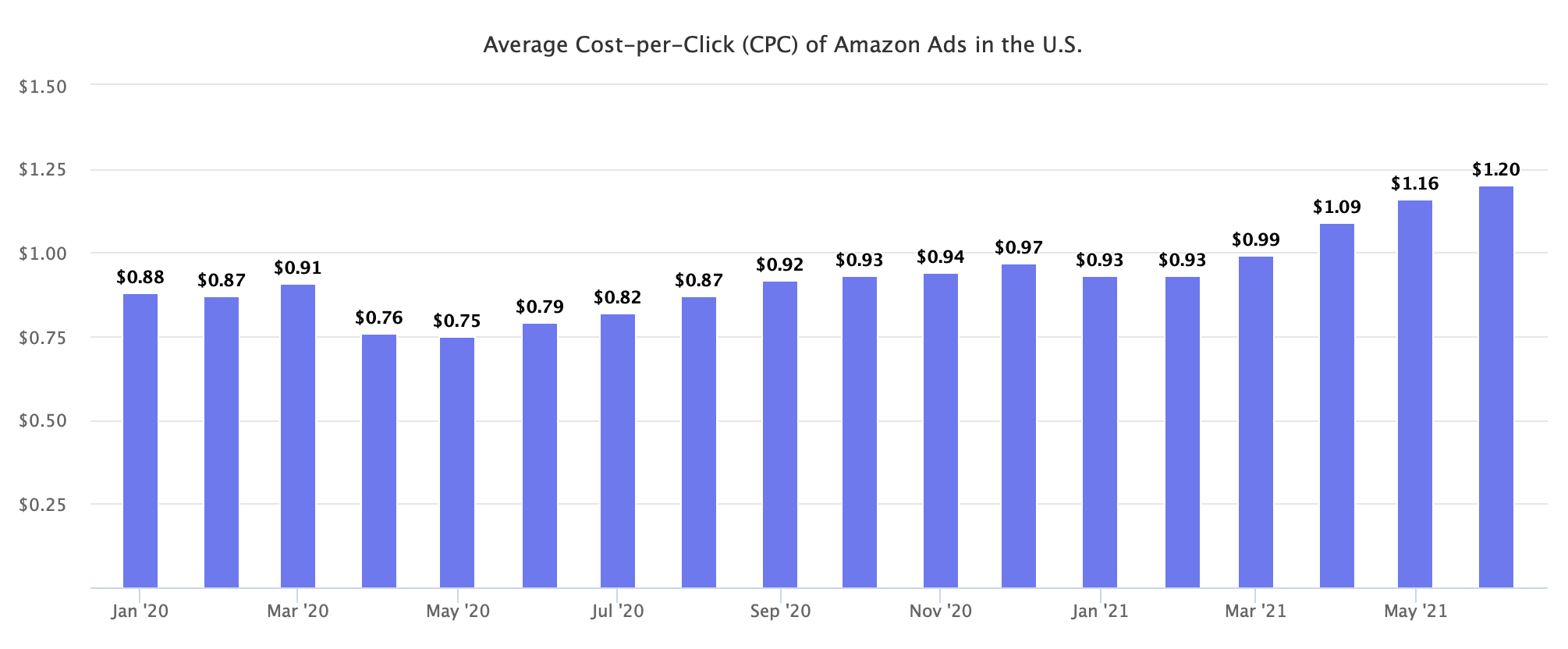 Advertising prices have changed nearly identically across all Amazon markets, not just the U.S. The same trend of decreasing CPC in May 2020, holiday peaks at the end of the year, and rise over the past few months is visible in other markets like Japan and Europe.
Amazon has turned most widgets on its website and app into paid-for advertising inventory. It hasn't increased the number of ads in search results for a while, however. Since most of the ad spend on Amazon is for sponsored product results in search, that has caused CPC to rise as more brands advertise on Amazon. Nevertheless, ad prices have increased across all Amazon ad types.
Established brands are bringing their advertising budgets to Amazon. As a result, they can afford to compete for ad space despite rising prices, only to increase them further. The same happened on Google and Facebook, the other two leading ad platforms. Additionally, aggregator firms acquiring Amazon sellers are in a similar position as established brands - they too have outsized advertising budgets and the capacity to be unprofitable for some of the sales.
Advertising adds to the customer acquisition costs (CAC). Before advertising gained prominence, CAC on Amazon was typically 15% - the transaction fee it charges for each sale (because of the nature of Amazon, brands usually pay a CAC price for each order, rather than being able to recoup it over 2nd and further orders). However, advertising has now pushed customer acquisition costs well beyond 20%, and it will only get higher.