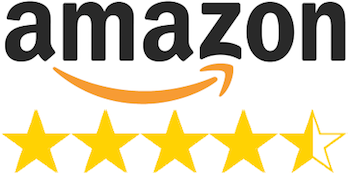 Amazon Marketplace News
Incentivized Reviews Ban Puts Dozens of Reviews Providers out of Business
Recently Amazon changed their policy on sellers giving free or discounted products in exchange for reviews, banning this activity. Previously many sellers used various online services to get reviews. With Amazon no longer permitting this practice, reviews' providers are left having to figure out what to do next. We looked at their web traffic and found that it has started to drop drastically
Read more
eBay News
eBay Sales Grew by Just 4% in Q3 2016
eBay reported Q3 2016 financial results this week. Gross Merchandise Volume (GMV) grew to $18.9 billion, up from $18.6 billion last year, but only by 4%. In comparison eBay did $19.7 billion in sales in Q2 up by 5% from the year before. Overall, the results are not promising. Furthermore eBay active buyers growth is slowing down. In Q3 eBay had 165 million buyers, up by 3% from last year.
Read more
Amazon Marketplace News
Why Amazon Buy Box Is Not the Lowest Price
Recently we saw multiple articles calling the Amazon's Buy Box algorithm unfair. We do not agree with this view. Amazon marketplace is built on delivering the best customer experience. Customer experience includes things beyond price - things like shipping price, likelihood of a seller being reliable, customer support quality etc.
Read more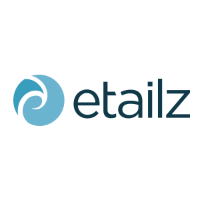 Amazon Marketplace News
Amazon Marketplace Seller Etailz Acquired for $75 million
Today Trans World Entertainment has acquired etailz for $75 million in cash and stock. Founded in 2008 etailz has become one of the largest Amazon marketplace sellers, consistently in the TOP 10. It was reported that over the 12-month period ended September 2016, etailz generated $116 million in revenue. And from 2013 to 2015, sales grew from $27 million to $93 million. Getting beyond the $100 million revenue threshold is a rare achievement and very few sellers have ever went there.
Read more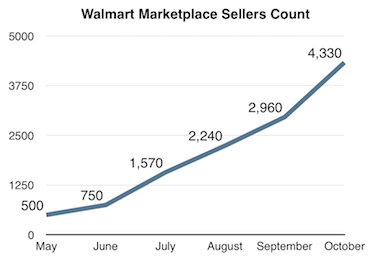 Walmart Marketplace News
1,000 New Sellers Are Joining Walmart Marketplace Every Month
Since we looked at the Walmart Marketplace in August 1,000 new sellers have been joining the marketplace every month. Since August the marketplace has doubled in size to now have more than 4,000 sellers. Not only that, but since August active sellers - sellers who went beyond joining the marketplace and had sales - have doubled too. There are 1,000 active sellers on the Walmart marketplace already.
Read more
+100 articles
Our experience and data allows us to write about the performance of marketplaces much more accurately than based on press releases issued by marketplaces themselves.
9 million sellers
We have the largest ecommerce data set including over 9 million sellers. The data set is frequently updated, and we are always adding new features.
23 marketplaces
We have developed proprietary technology allowing us to monitor and analyze world's dominant ecommerce platforms like Amazon, eBay, Walmart, Etsy, etc.