First, "Made in China." Retailers went to China to outsource manufacturing. Second, it was "Sold by China." Chinese manufacturers sold through Amazon. Now, third, "Marketed by China." Chinese companies are running vertically integrated retailers.
Alibaba never came to the U.S. to compete with Amazon. Shein and Temu shopping apps are now delivering what Alibaba could have brought. They took Alibaba's AliExpress (which failed to capture meaningful market share in the U.S.) and wrapped it in a shopping experience that made the "buying from China" feature secondary. Shoppers went to AliExpress because they wanted to buy cheap and from China. They now go to Shein because it's a good retailer.
"Why buy a $20 bikini made in China but imported by a U.S. company like the Gap when you can buy a $4 bikini directly from China?" in 2018, Alana Semuels wrote for The Atlantic. Now, the question is, why buy it from a Chinese manufacturer but imported by Gap or even a Chinese seller on Amazon when you can buy it directly from a Chinese retailer? That's what Shein and Temu offer. They own the entire retail journey and the data that comes with that.
While Shein and Temu are relatively small compared to Amazon, let alone total retail spending, they are bigger than most realize. In internal documents reviewed by the Financial Times, Shein projects $80 billion in global GMV in 2025. By then, Temu, which only launched in late-2022, will likely also have a meaningful market share. TikTok, perhaps, will have a sizeable e-commerce product then too.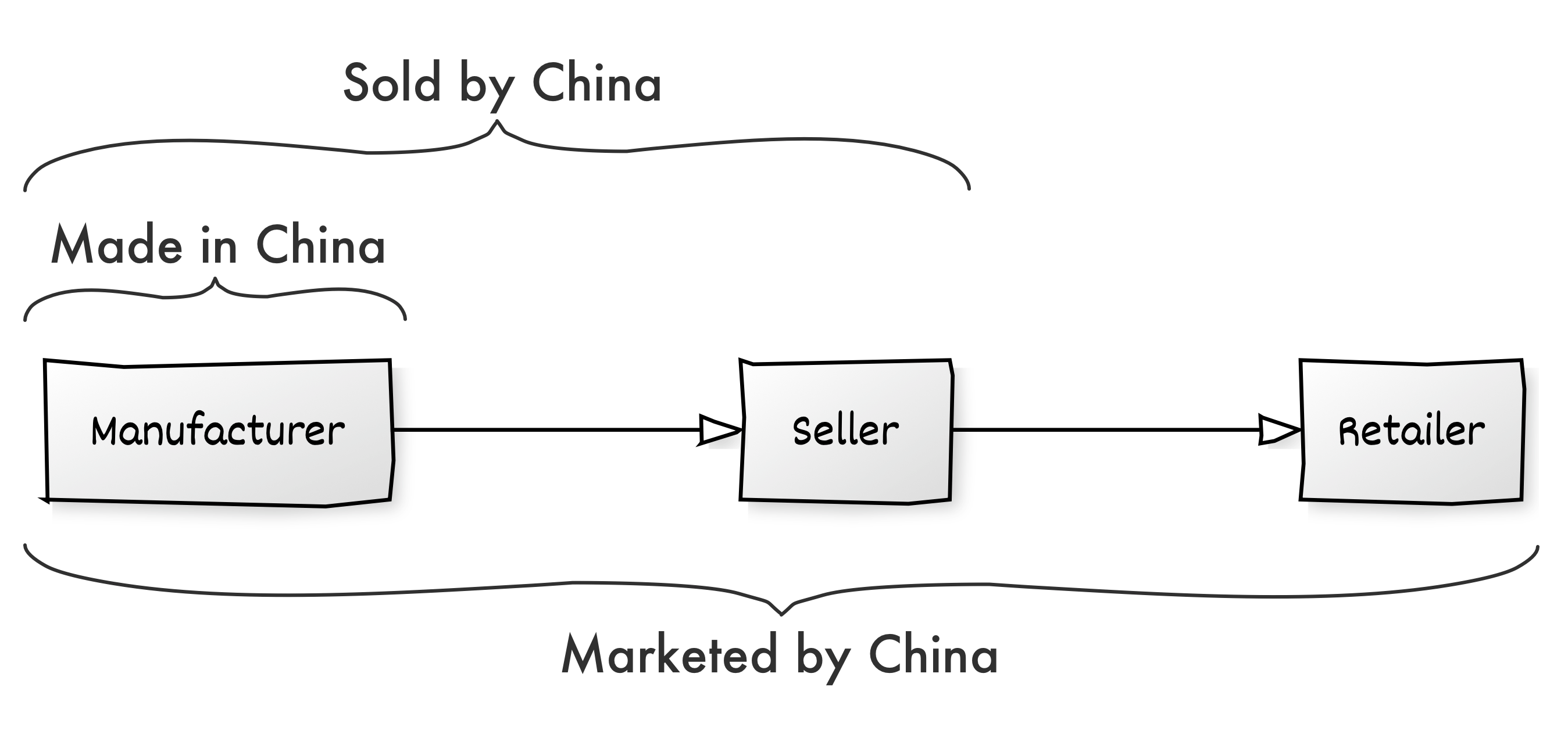 For decades, factories in China made goods that filled the shelves of U.S. retailers and brands. "Made in China, Sold on Amazon" disrupted that model (it didn't replace it, though - wholesale is still the largest share of China's exports). Selling on Amazon brought the same benefits Direct to Consumer (DTC) brought to brands: fewer intermediaries between the shopper and the source of goods. But unlike DTC, sellers on Amazon don't need to acquire consumers.
"One of the themes is Chinese factories who made stuff for Walmart and the likes for the past 20 years now realize they have shot at building a brand themselves and selling directly to the world, without the intermediary… and we are that vehicle." Wrote Sebastian Gunningham, senior vice president of Amazon Marketplace at the time, in an internal email from 2015 released by the House Judiciary Committee in 2020.
In a few years, Amazon became the e-commerce channel for Chinese exports. Today, nearly half of the top third-party sellers on Amazon are based in China. Since 2015, when the email was written, their share has steadily increased. However, by the end of 2022, Chinese sellers sought to cut reliance on Amazon. Walmart became the new marketplace of focus, adding tens of thousands of Chinese sellers since opening to international sellers in 2021.
Since most goods are made in China, it's unsurprising that most sellers come from China. But then it's also unsurprising that a standalone retailer could be built around them. Before Shein and Temu, there was AliExpress and Wish who tried. The new retailers did it better. Temu has yet to prove itself as it just launched, but Shein has taken the concept further and bigger than those before it. Shein represents "Marketed by China" because it is a marketing powerhouse with a massive social networking presence rather than a plain catalog offering cheap goods. For example, it has more followers on Instagram than Amazon, Walmart, and AliExpress combined.
"Made in China" cut out domestic manufacturing. Many shoppers didn't care - or couldn't afford to care - where goods were manufactured. "Sold by China" cut out domestic sellers. Amazon's growth was unlocked by its fulfillment service, which made the seller's business location invisible to shoppers. "Marketed by China" is cutting out domestic retailers. The new retailers, Shein, Temu, and whoever will come next, are breaking out of the Amazon sandbox.
This is the next phase of shopping. Factories in China that made products for retailers like Walmart or brands like Nike can now sell them directly to shoppers through platforms built to serve them.