During 2019-2020, Google actively recruited sellers and attended conferences to promote its Google Shopping marketplace. But what appeared like a new competitor in the marketplaces ecosystem seems to have since been abandoned.
"We're not a retailer, we're not a marketplace. And we're not trying to be a retailer or marketplace," said Google's commerce president Bill Ready in a ModernRetail podcast episode on May 2021. "What we do want to do is make sure that on a Google surface, the user can discover the best products, the best values, the best sellers, and then seamlessly connect to those to those sellers. And most of the time, that actually means clicking out to that sellers own website… It is not our goal to necessarily keep the user on our platform."
But just two years prior, Google had started recruiting sellers to transform its failed Instacart-like service Google Express into a marketplace of primarily Amazon and eBay sellers. By the end of 2020, it had attracted nearly 8,000 sellers. The marketplace was a section of the main Google Shopping effort. It even had a Shopping app (the app got shut down in May 2021).
However, the reality was that the only time shoppers would discover those sellers on Google Shopping was when they bought advertising on Google. Few of them did, and even those who did rarely won against other advertisers. Thus, there was minimal sales volume across the board since the marketplace had practically zero organic discovery. Only in September 2020, Google reduced transaction fees to 0%, hoping to allow sellers to spend more on advertising. But by then, most have likely given up.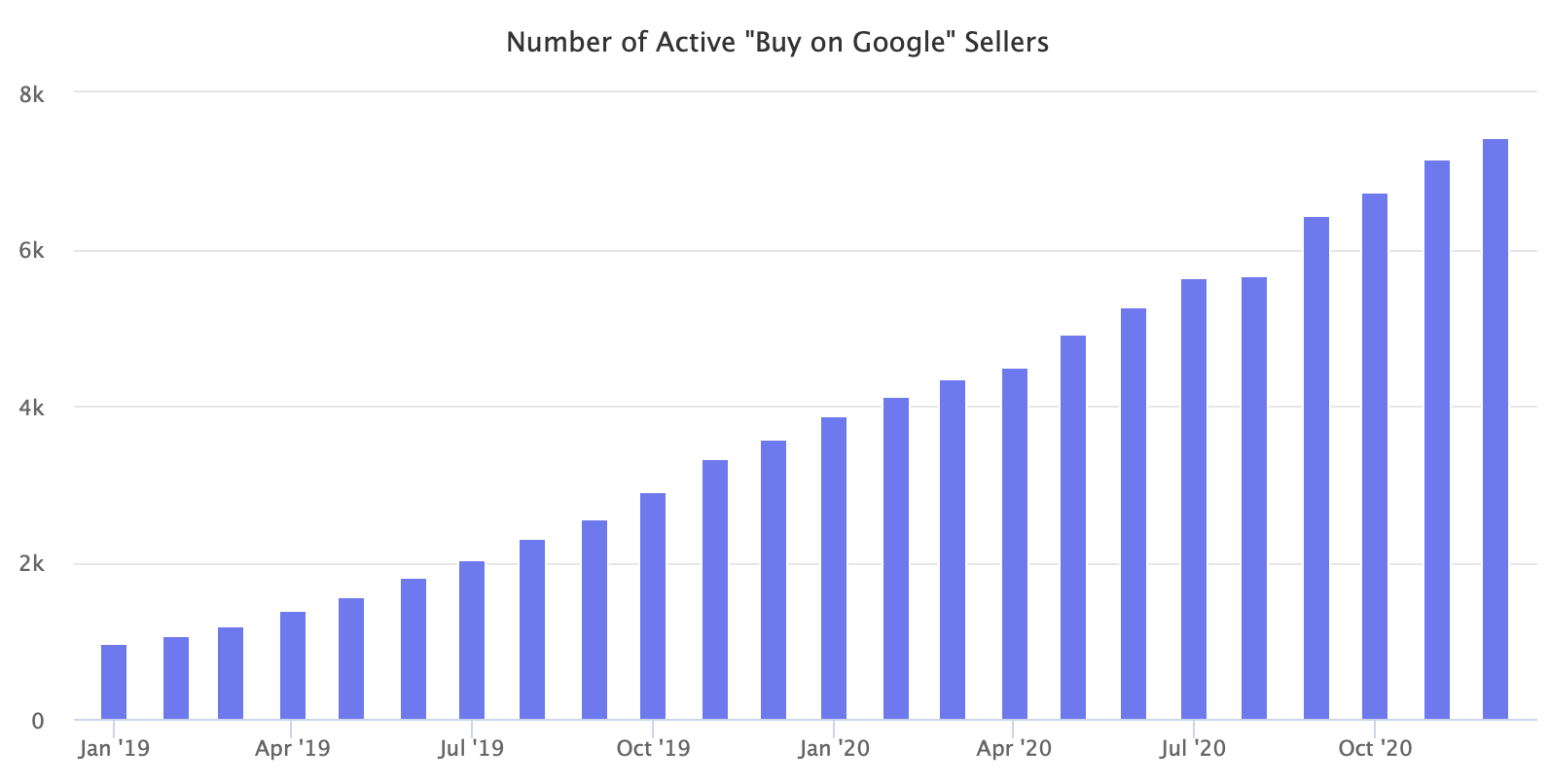 A year ago, Google reworked its shopping strategy to focus on indexing the universe of e-commerce websites instead. Rather than listing only sponsored products in search results, it would also sometimes include organic listings. Through partnerships with Shopify, BigCommerce, GoDaddy, and others, they hope to ingest millions of stores with rich data. It has since gone further and added Shop Pay - Shopify's payment checkout engine - to Buy On Google. That means Google doesn't need to handle payments itself, and yet shoppers can potentially checkout with fewer steps right after seeing an ad on Google or YouTube.
Rather than laboriously adding third-party sellers to kickstart a marketplace, marketing a shopping app to consumers, and spending on building a fulfillment infrastructure (journalists reported that at some point it was considering launching an FBA-like service), Google went back to its roots. Indexing all the e-commerce websites globally, allowing them to buy advertising to appear near the top, and sometimes enabling faster checkout through Buy on Google (without handling the checkout processing itself).
After zigzagging for a few years, Google went back to enabling shopping without having to become a shopping destination. It's not a competitor to Amazon or any other retailer; however, it competes for shopping attention with all of them. It appears to have given up on businesses selling on Google or shoppers buying on Google - all it wants is for shoppers to start their shopping journey on Google. Because when they do, it has enough shopping sites indexed and willing to buy ads to offer relevant results and monetize them through ads.
Eighteen years since it launched Froogle, its first shopping effort, it still has zero market share of e-commerce because it hasn't found a way to be a retailer. But at the same time, it has become the biggest advertising network for e-commerce, so its impact on e-commerce is a lot more than zero. With the marketplace, it played with being an e-commerce company but went back to being an e-commerce enabler. Google is, after all, in the business of advertising.