Unbeknownst to many Google is building an e-commerce marketplace. After two decades of lackluster shopping experiments the company is making its boldest move yet by inviting top sellers on Amazon, eBay, and Walmart marketplaces to sell on Google.
According to our research Google's shopping platform recently surpassed 500 stores. Most of which it added in the last four months. In fact, it is now adding more than 30 merchants every week. That's after more than four years of only having 30 merchants in total.

Google's e-commerce marketplace confusingly has many names. The shoppable website is called Google Express (briefly known as Google Shopping Express), but Google Express is now part of Shopping Actions, a unifying program which surfaces merchants' products on Android phones through Google Assistant, on Google Home devices using voice, in-line in Google Search, and the aforementioned Google Express.
Google Express was tested for some time in California offering same-day delivery from select retailers when it launched on September 25th, 2015. It eventually launched nationwide with a $10 monthly or $95 annual program. Then in August 2017 the subscription model was scrapped, instead relying on retailers to offer free shipping. At the time Walmart joined the platform, joining Costco, Walgreens, Kohl's, Target, PetSmart and other big retailers already on it.
What launched as a same-day delivery service for a few dozen retailers is now transforming into a marketplace. Google recently added top Amazon sellers Utopia Deals, VMInnovations, and Collections Etc, as well as some of the biggest sellers on eBay including bhfo, eforcity, and myofficeinnovations. According to our data more than half of the 500 stores currently selling on Google are also merchants on Amazon, eBay, and Walmart marketplaces.
Compared to other marketplaces Google's shopping platform is the most neutral. Google doesn't offer fulfillment services like Amazon's FBA, stores don't have reviews like they do on eBay, and even products' reviews are aggregated from other websites. Google's marketplace model highlights stores more prominently than the others, however.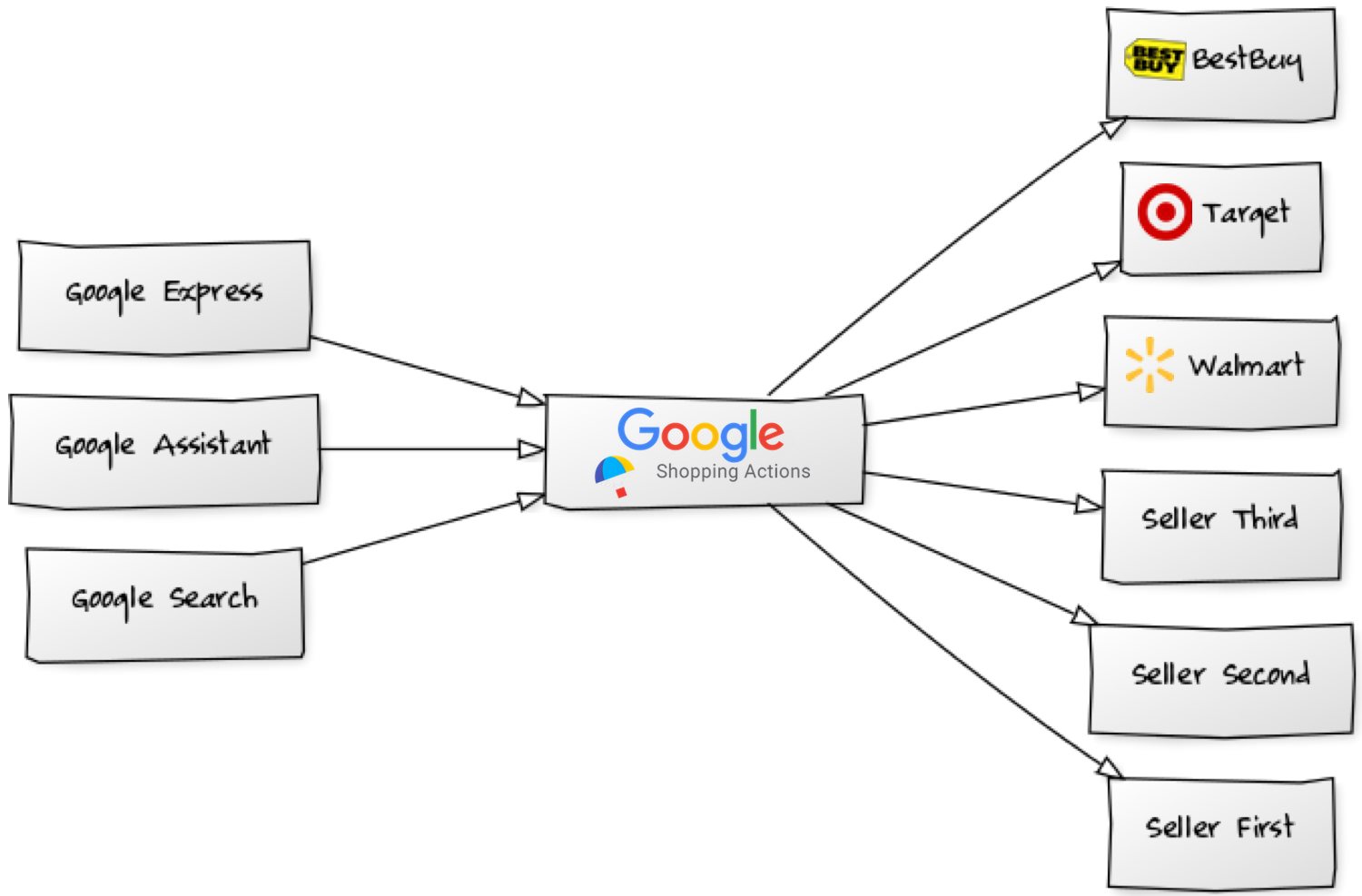 The recent headline "Google Shopping Actions wins over Best Buy, Sephora, Nike" was understood by 7 people out of the 325.7 million living in the US. And they all work at Google. For consumers to be able to say "I bought this on Google" its shopping infinitives need a memorable name. Google Shopping Actions is not that, Google Express used to mean same-day delivery, and Google Shopping is an unrelated price-comparison service. It's a mess.
23 million shoppers visited express.google.com last month, compared to 110 million on target.com, 299 million on walmart.com, and 2.39 billion on amazon.com. Google Express app is 200th most downloaded shopping app on Apple's App Store and 60th on Google's Play Store, behind all leading shopping platforms. Few shoppers realize they can shop directly on Google or through its apps. Nor is the company actively promoting its shopping functionality.
Nearly half (46.7%) of US internet users started product searches on Amazon compared with 34.6% who went to Google first, according to a Adeptmind survey. Most of those who went to Google first quickly left for Amazon, Walmart and other retailers websites. Google wants them to never leave… Google. JD.com, China's second-largest online retailer, will launch a flagship online store on Google's shopping platform by the end of the year, according to Bloomberg.
In June 2017, Google was fined a record €2.4 billion by the EU Commission for giving its price-comparison service Google Shopping top priority in search results. Introducing more shopping options into search results will raise even more questions. But if Google could navigate antitrust rules, a pure technology company going after Amazon's marketshare in shopping is a lot more exciting than a pure retailer Walmart trying to become a technology company.