eBay is introducing more advertising types as sellers are increasingly promoting their listings. It hasn't found a way to grow sales on the platform but is getting better at monetizing them.
eBay introduced promoted listings in June 2015 as a CPA (cost per action) advertising service. They appear in search results and on product pages; sellers pay for each successful sale driven by them. A standard search results page with 48 organic results has a maximum of 14 promoted listings (a similar ratio to Amazon).
This year, eBay introduced CPC (cost per click) advertising with keyword targeting, promoted listings for auctions, and off-eBay promoted listings on search platforms like Google and Bing. The latter is similar to Etsy's offsite ads service, and eBay's CPC ads use the same model like Amazon's sponsored products.
In the second quarter, dollars spent on promoted listings represented only 1% of GMV dollars - $224 million out of $22.1 billion. A figure that has been growing very slowly over the past few years. Even so, eBay's leadership sees potential to increase that to "low-to-mid single-digit percentage," said Jamie Iannone, CEO of eBay.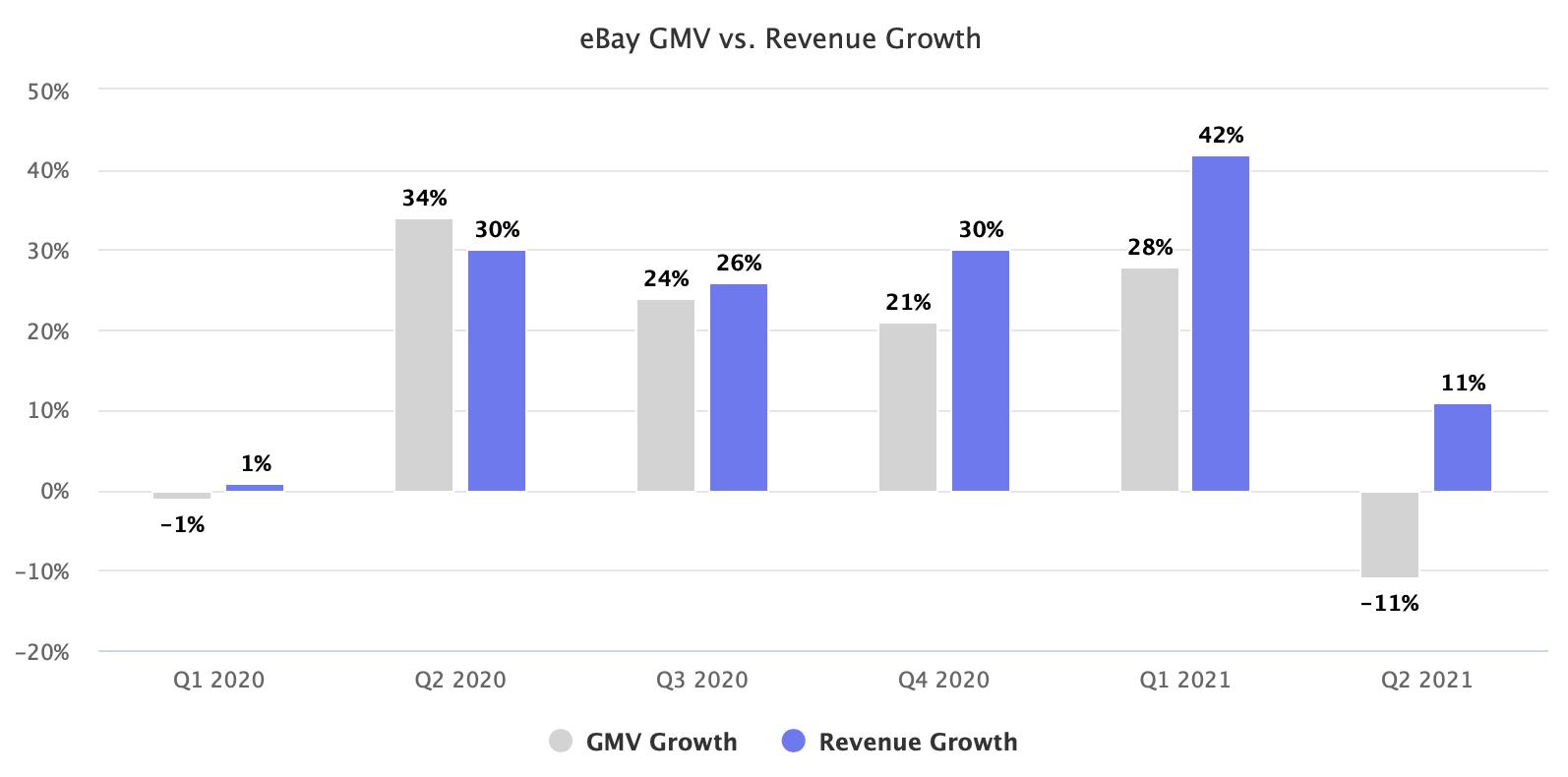 eBay now captures 11.3% of GMV as revenue. A year ago, that number was only 9.2%. With the migration from PayPal as the payments processor to managed payments, payments and advertising are growing eBay's revenue faster than sales. That's why despite GMV decreasing 11% year-over-year, revenue was up 11%.
Revenue growth from payments will soon flatten as eBay fully transitions to managed payments (it is now processing 71%). Advertising, on the other hand, will continue to grow faster than GMV. Currently, 9% of eBay's transactional revenue comes from advertising, a figure that will surely increase significantly.
It is typical for e-commerce marketplaces to monetize through advertising. Some don't charge any transaction fees, but sellers inevitably buy advertising. eBay's plans to increase advertising as a share of GMV to 4-5% are not outside the norm. Off-eBay ads paid for by sellers should theoretically bring some new shoppers to eBay too.
However, as eBay becomes a pay-to-play marketplace, it squeezes sellers' profit margins. It also abandons product recommendations for "Similar sponsored items" and "Sponsored items customers also bought" (just like Amazon did). Thus eBay has found a short-term plan to grow revenue but still has no answers for declining market share.