Google Shopping now lets any retailer or brand to list their products for free. Before, merchants paid Google every time someone clicked through to their website from a Google Shopping product listing. Google's latest attempt in e-commerce is aggregating shopping websites, a strategy it first tried a decade ago.
Google has been listing relevant products since 2002, through service at the time called Froogle. The company would get product data while crawling websites as part of the standard search indexing process, as well as supplied by vendors through feeds. But in May 2012, Google overhauled the service. First, it became known as Google Shopping, and second, it was now wholly "pay-to-play," with ads replacing all product listings.
Google Shopping is accessible through the Shopping tab inside of Google search results, shopping.google.com, the website dedicated to shopping, as well as the Google Shopping app.
The most recent announcement changes Google Shopping back to the model used pre-2012. "Digital commerce has huge opportunity and it shouldn't be the case that only a handful get to participate in that," Bill Ready, recently appointed head of Google Commerce, said in an interview, referring to the rediscovery that a shopping service is less useful if it only has sponsored products.
The new Google Shopping disclaimer reads, "Items are ranked based on relevance to your search terms. Some ads data is used to improve the quality of results. Google is not compensated for clicks into these results." Previously, it was drastically different. "Products and offers that match your query. Google is compensated by these merchants. Payment is one of several factors used to rank these results. By default, ranking on Google Shopping is based on a combination of advertiser bids and relevance, such as your current search terms and your activity," read the policy before the most recent changes.
The first search result for "running shoes" on the new Google Shopping is a $7.87 item sold on Wish, then followed by dozens of recognizable brands like Nike and Adidas. Inviting merchants to list for free is undoubtedly going to expand the selection, but it is up to Google to improve its search, recommendation, discovery, and filtering functionality. A decade ago, Google Shopping suffered from low-quality data, which resulted in a poor catalog. That forced the company's hand to exclusively focus on ads, giving up on the original idea. The same challenge remains today, however.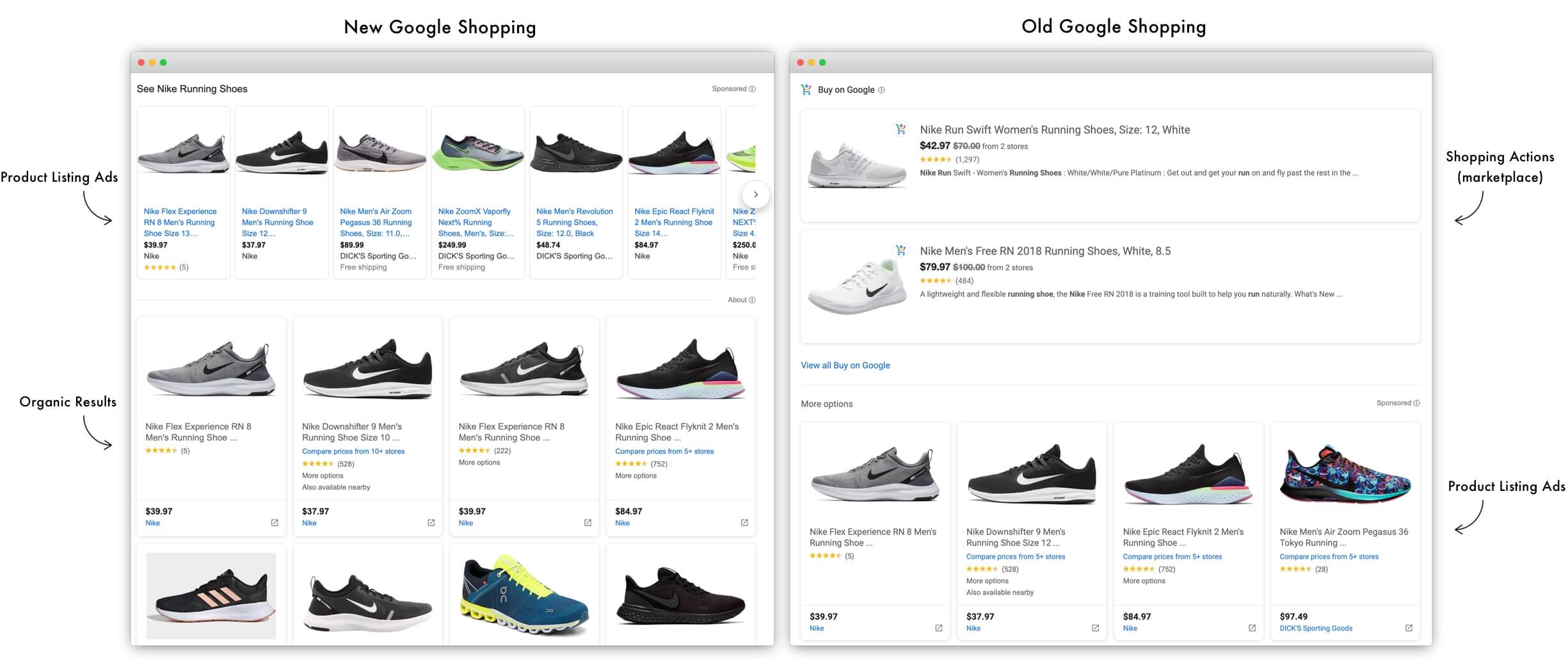 Last year, in May, Google Shopping was going through an altogether different transition. At the time, the company introduced "Buy with Google." Google described it as "The blue Buy with Google tag means you can check out on Google, and get simple returns and customer support with our guarantee." It allowed shoppers to buy without leaving the Google Shopping website and behind the scenes was, then made defunct, Google Express.
Fast forward to today, and the "Buy with Google" appears to have disappeared from Google Shopping results. They are still discoverable when the "Buy with Google" filter is selected, but the results no longer showcase those shoppable products like it used to. The company has been heavily recruiting merchants to join the program since mid-2018, and now has nearly 4,500 active retailers and brands on the platform, according to Marketplace Pulse data.
It's unclear yet if the company is giving up on building an integrated marketplace. However, unless its merchants are investing in ads, few of their products appear in organic results anymore.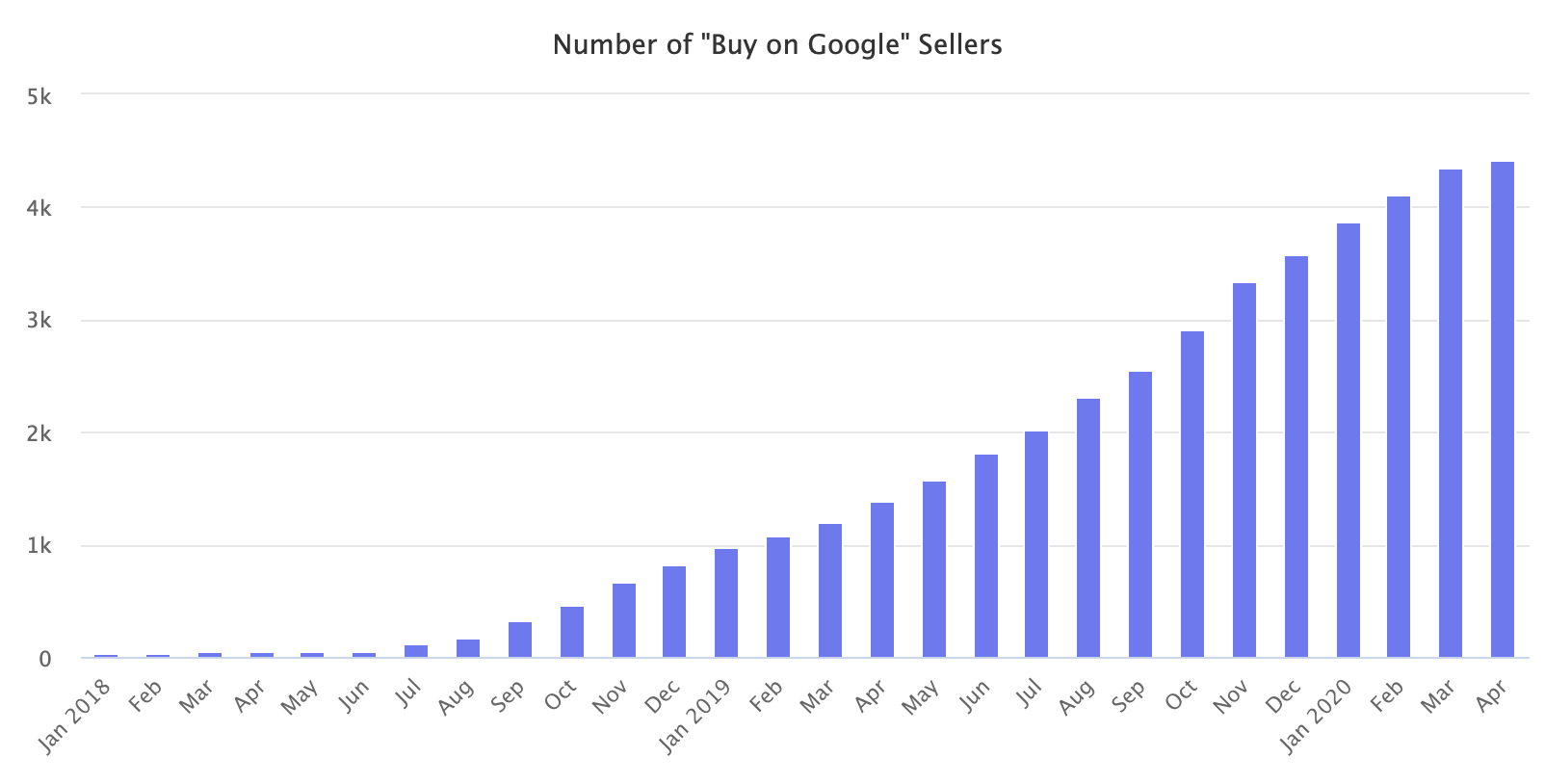 Google Shopping is a half a dozen different ideas trying to live under one brand. However, despite all its attempts, it hasn't grown up to be more than a tab in Google search results or a widget customers click when they see the product they were searching for. Shoppers buy on Google accidentally. It's not a shopping destination customers think of, nor is it clear if the company wants them to.
In the fight for e-commerce market share, the most exciting moves are not made by traditional retailers like Walmart or Target - similar versions of Amazon - but by technology platforms. For the same reason Shopify could build a marketplace, Google's marketplace is an aggregator of the universe of e-commerce stores. "With hundreds of millions of shopping searches on Google each day, we know that many retailers have the items people need in stock and ready to ship, but are less discoverable online," Bill Ready said. The announcement last week gets the company closer.
In the meantime, Google wants more merchants listing products on Google Shopping, then realizing advertising would get them to the top of the list, and becoming ad buyers. Google is in the business of ads, after all.