The number of AmazonBasics best-sellers has more than doubled in two years - from 660 in April 2018 to surpassing 1,300 this April. For the past twelve months, it has been growing at a steady 47% year-over-year. Amazon continues to launch new products, validate demand for them, and stop selling those that fail to attract customers.
A best-seller AmazonBasics product is defined as one to have made it into the top 100 best selling products in any category on Amazon. Some of the AmazonBasics products are widely popular, like the infamous batteries, but the brand includes many niche products that only compete in their particular subcategory.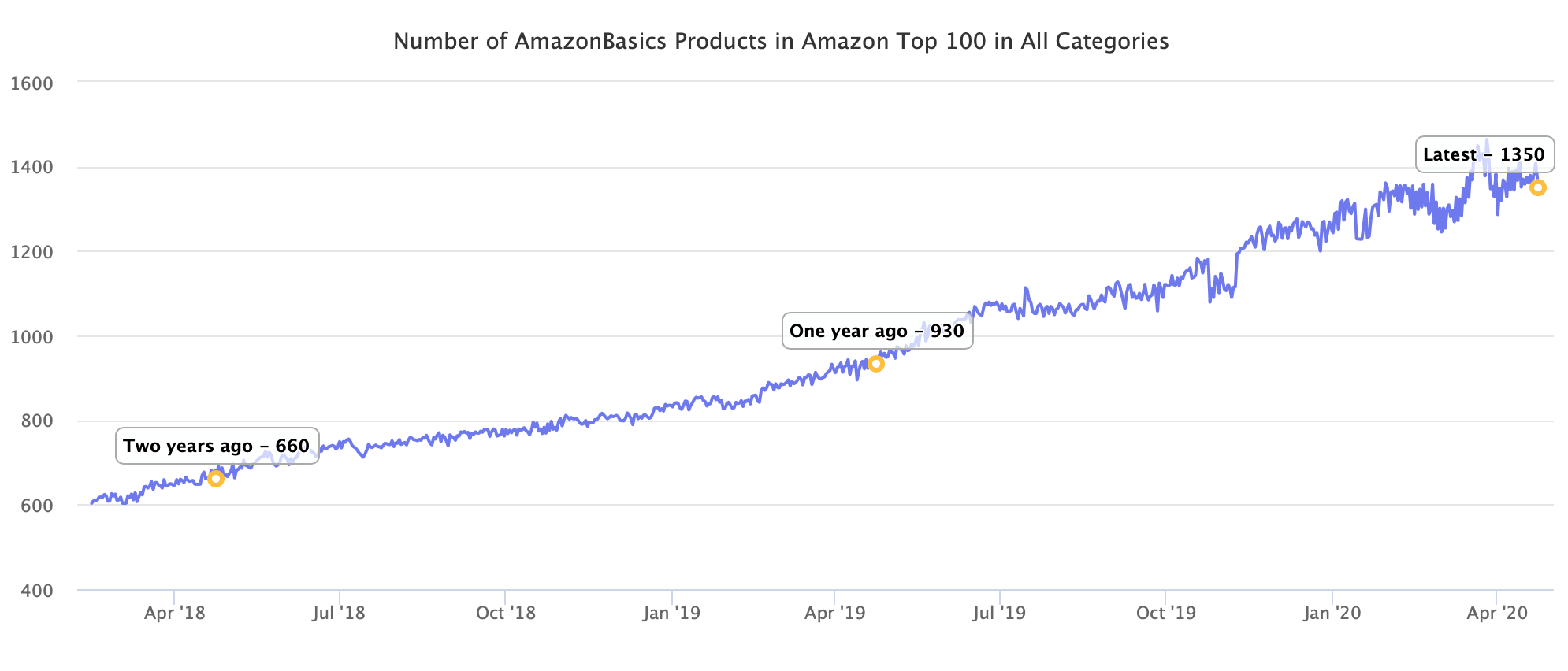 Launched in 2009, AmazonBasics is Amazon's most successful private label brand focused on generic items at low prices. According to Marketplace Pulse's previous research, AmazonBasics is more successful than all the other hundreds of brands the company has launched.
AmazonBasics finds success in categories where fragmentation and downward price pressure has created an opening for it. The brand focuses on commodities, in categories which: products themselves are commodities, and no brand "owns" the category as a result of fragmentation and downward price pressure.
Batteries and various cables in Electronics, curtain rods in Home Décor, sheet sets in Bedding, and supplies in Office Products are examples of categories where AmazonBasics has both the top spot and the majority of the department. In the cables category, half of the top 100 selling products are by AmazonBasics.
| AmazonBasics Product Title | Reviews | Rating |
| --- | --- | --- |
| High-Speed 4K HDMI Cable | 70,006 | 4.7 |
| Nylon Braided Lightning to USB A Cable | 57,817 | 4.4 |
| Lightweight Super Soft Easy Care Microfiber Sheet Set | 51,821 | 4.4 |
| AAA Rechargeable Batteries (800 mAh) | 51,525 | 4.3 |
| AA 1.5 Volt Performance Alkaline Batteries | 44,877 | 4.4 |
| Lightning to USB A Cable | 43,824 | 4.3 |
| AAA 1.5 Volt Performance Alkaline Batteries | 39,943 | 4.5 |
| 13.3-Inch Laptop Sleeve | 39,476 | 4.6 |
| 15.6-Inch Laptop Computer and Tablet Shoulder Bag | 36,166 | 4.6 |
| Single-Door & Double-Door Folding Metal Dog Crate Kennel | 35,333 | 4.7 |
| Digital Optical Audio Toslink Sound Bar TV Cable | 30,289 | 4.6 |
| Dog Waste Bags with Dispenser and Leash Clip | 29,235 | 4.7 |
| Pet Training Pads | 28,108 | 4.3 |
| 60-Inch Lightweight Tripod with Bag | 25,328 | 4.5 |
| External Hard Drive Portable Carrying Case | 25,090 | 4.8 |
| Velvet Suit Hangers | 23,294 | 4.7 |
| AA High-Capacity Rechargeable Batteries (2400 mAh) | 22,023 | 4.3 |
| 3-Button USB Wired Computer Mouse | 18,768 | 4.5 |
| Backpack for SLR/DSLR Camera and Accessories | 17,545 | 4.5 |
| USB 2.0 Extension Cable | 17,499 | 4.8 |
AmazonBasics has been the target of criticism from some third-party sellers and brands who say it gives Amazon an unfair advantage over them. Earlier this year, the company reduced the number of places it promotes its private label brands, like the "Top Rated From Our Brands" widget. However, most of the critique is centered around the company's use of data to launch products.
"They know price points, they know trends, they know the value, they know the history," a former employee said to Yahoo Finance, reported by Krystal Hu. "Third-party sellers are using tools that are estimating and guesstimating those numbers. The tools have gotten better and better, but none of them are nearly as good as Amazon's true data."
Not all products under the AmazonBasics brand, however, are controlled by Amazon. Increasingly, sellers with previously successful products on the marketplace are invited to move some of their products or launch new ones under the AmazonBasics brand umbrella. Many of those do not carry the brand name, and otherwise would be indistinguishable from other private label products if not for the AmazonBasics in the name.
AmazonBasics is still not a brand. It's a collection of products for when the brand doesn't matter. On Amazon, that means many categories. The most popular products are well-liked by consumers, critique surrounding the brand's existence aside, and the company appears to be finding new launch ideas regularly. In the universe of hundreds of millions of products on Amazon, however, the brand is still a tiny speck.