The new Google Shopping homepage, now hosting 2,000 stores, attempts to unify the company's shopping efforts into one. Google has merged the marketplace-turned Google Express into Google Shopping, a service which used to focus on price comparison. The company has first announced these changes in May, and is now live for users in the United States.
Buy with Google is the focus. Google Shopping catalog includes products available in nearby stores, online retailers, as well as stores previously available on Google Express marketplace. Those products from Google Express stores have the Buy with Google tag, which indicates that they can be purchased without leaving the platform. It's now a shopping marketplace not unlike Amazon and a price comparison website in one.
The company describes it as "The blue Buy with Google tag means you can check out on Google, and get simple returns and customer support with our guarantee." Over time it is meant to symbolize the same convenience as the Amazon's Prime tag. It is expected to appear in search, YouTube, and other Google services, and become the unifying indicator of shopping.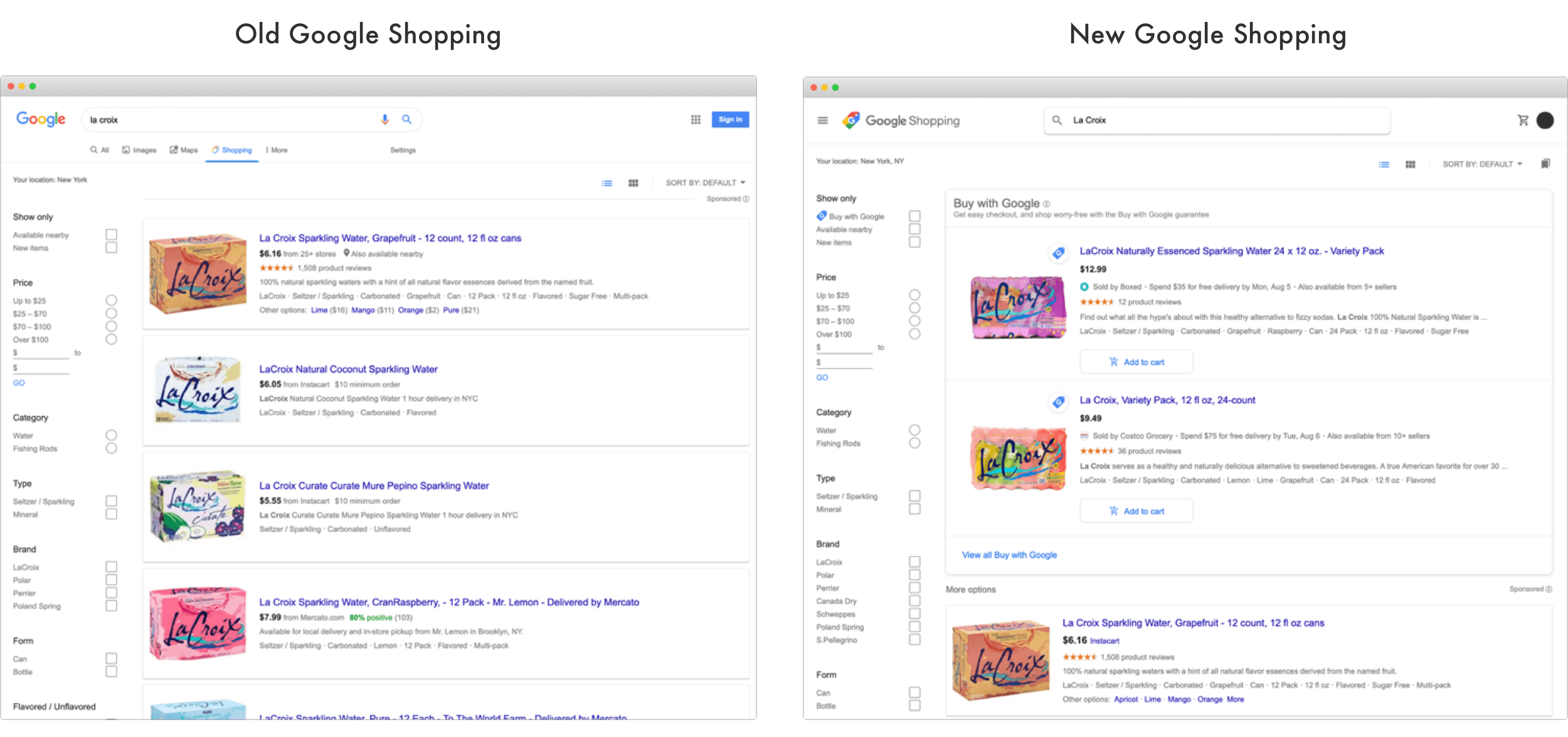 The unified shopping experience is available on shopping.google.com, the website dedicated to shopping, as well as the Shopping tab inside of Google search results. Shopping choices appear in primary search results as well; however, the percent of searches to include those seems to be small. Once and if Google starts to roll out shopping choices to more searches, they are shoppable with one-click as long as they have the Buy with Google tag.
Nearly half (46.7%) of US internet users started product searches on Amazon compared with 34.6% who went to Google first, according to an Adeptmind survey. Google is working towards reducing the number of clicks from discovery to purchase. While previously a shopping ad would redirect to the Costco website where the shopper would need to make the standard steps to make a purchase, Costco products can now be purchased inside of Google since it is one of the stores participating in Google Shopping.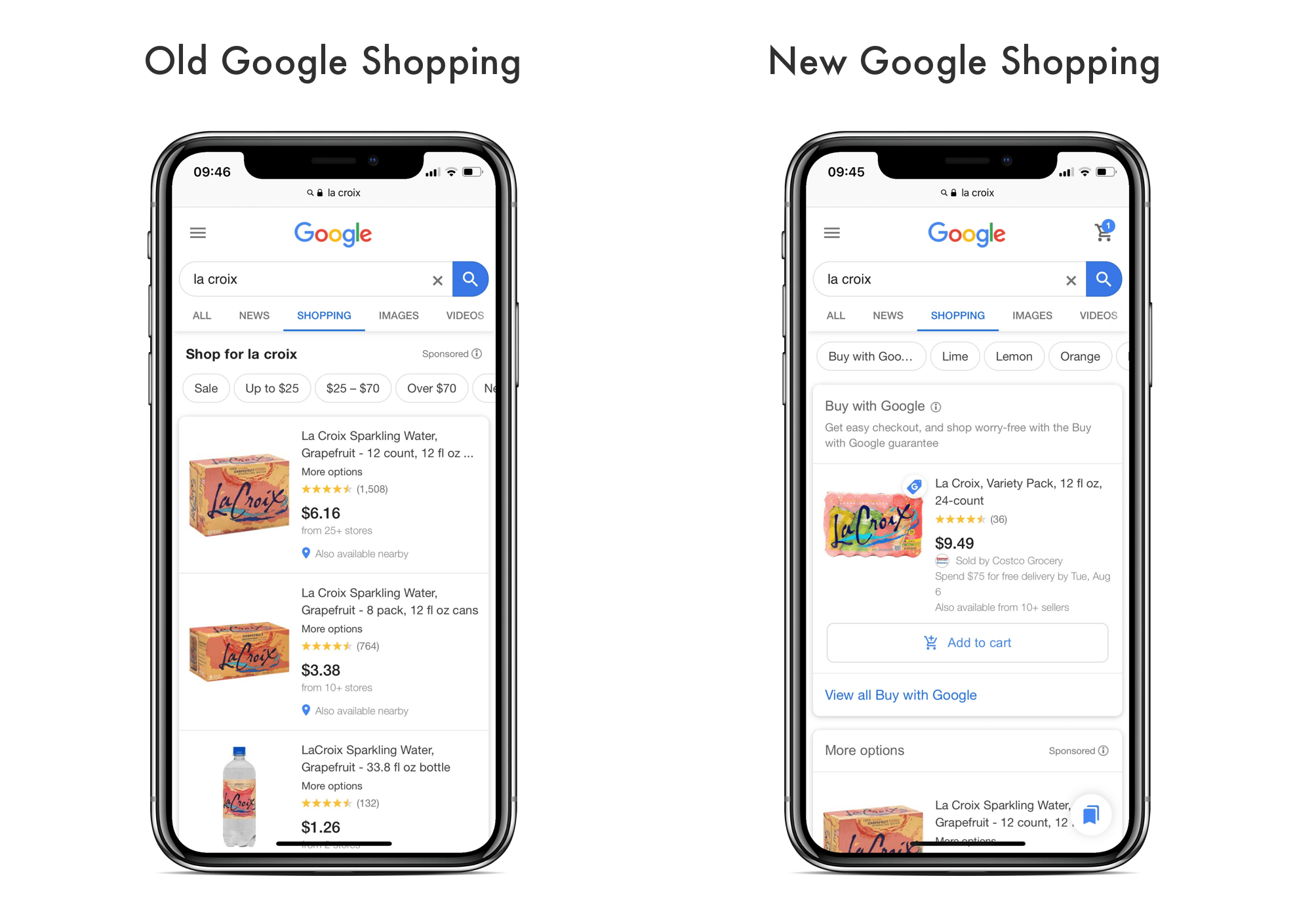 Google Shopping now hosts products from more than 2,000 participating stores, according to Marketplace Pulse research. The number of stores has significantly increased over the last twelve months - at the end of July 2018 it had just 112; the platform added double that in this July alone. Further, the number of stores has doubled since February. The thousands of stores still pale in comparison to other dominant marketplaces, however.
Stores include large retailers like Costco, Best Buy, Overstock, and Target, as well as marketplace sellers also selling on Amazon, eBay, and other marketplaces. More than half of the 2,000 stores are third-party sellers. The rest are online retailers, and a handful is large retailers.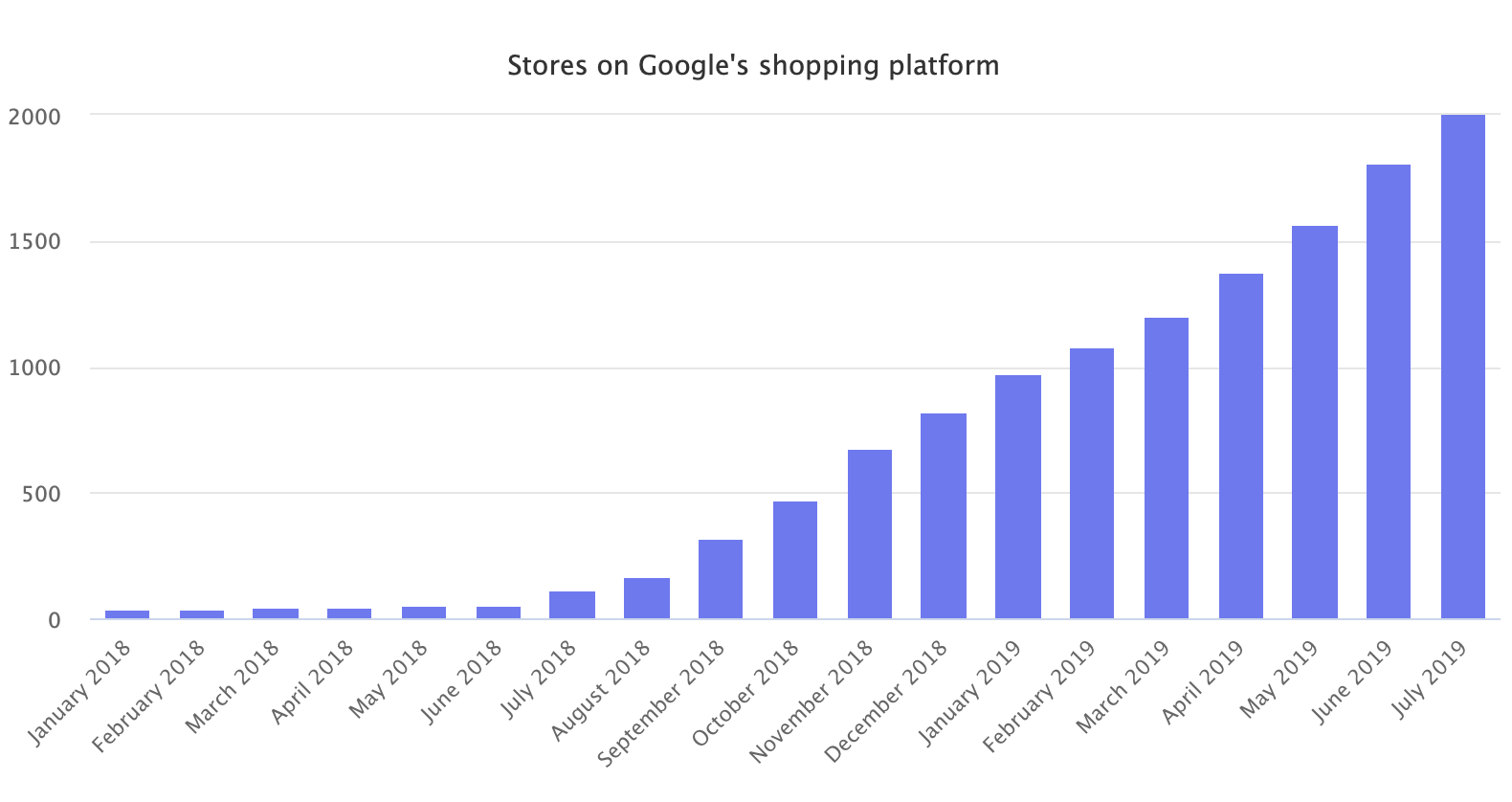 While other major retailers are scrambling to offer one-day shipping, the new industry "standard" set by Amazon, Google Shopping fails short. Most products show week-long delivery times, and the two-day delivery filter displays the same products as if it wasn't enabled. That same filter is absent from search altogether. Given how much the industry has shifted its focus to fast delivery, it is not clear why Google ignores it.
For some searches, Google prioritizes Buy with Google as the first search result, and this could become an issue. In 2017 Google was fined a record €2.42 billion ($2.73 billion) by the European Commission for having "abused its market dominance as a search engine by giving an illegal advantage to another Google product, its comparison shopping service." That comparison shopping service was Google Shopping, and the changes for Buy with Google will raise similar concerns.
Since Google "woke up" to shopping in 2018, it has grown the number of stores in the marketplace to over 2,000 and rebuilt the shopping homepage. However, all of this amounts to one small step in a long road building towards a shopping destination. Not only Google has to figure out how to make "I bought it on Google" a household phrase, but it also needs a strategy for fast shipping. Personalized shopping suggestions was the prominent announced feature of the new Google Shopping, but it is the convenience of next-day delivery that brings shoppers to Amazon and Walmart.