Amazon went from $229,000 quarterly revenue per employee ten years ago to $84,000 now. The ratio has more than halved, despite Amazon scaling automated businesses like AWS, marketplace, advertising, and others during that time.
Most of the 1.3 million workers at the end of the second quarter (a figure that excludes contractors and seasonal workers) work in fulfillment and logistics. Last year, Amazon announced it is recruiting 100,000 workers in March, 75,000 in April, 100,000 in September, and an additional 75,000 this year in April. It currently has more than 57,000 open positions on its careers site, primarily for software development jobs.
Amazon's revenue increased 27% to $113.1 billion in the second quarter. Meanwhile, the number of employees jumped 52%. Thus revenue per employee was $84,000, the lowest yet. A year ago, it was $101,000, and ten years ago - in 2011 - it was $229,000.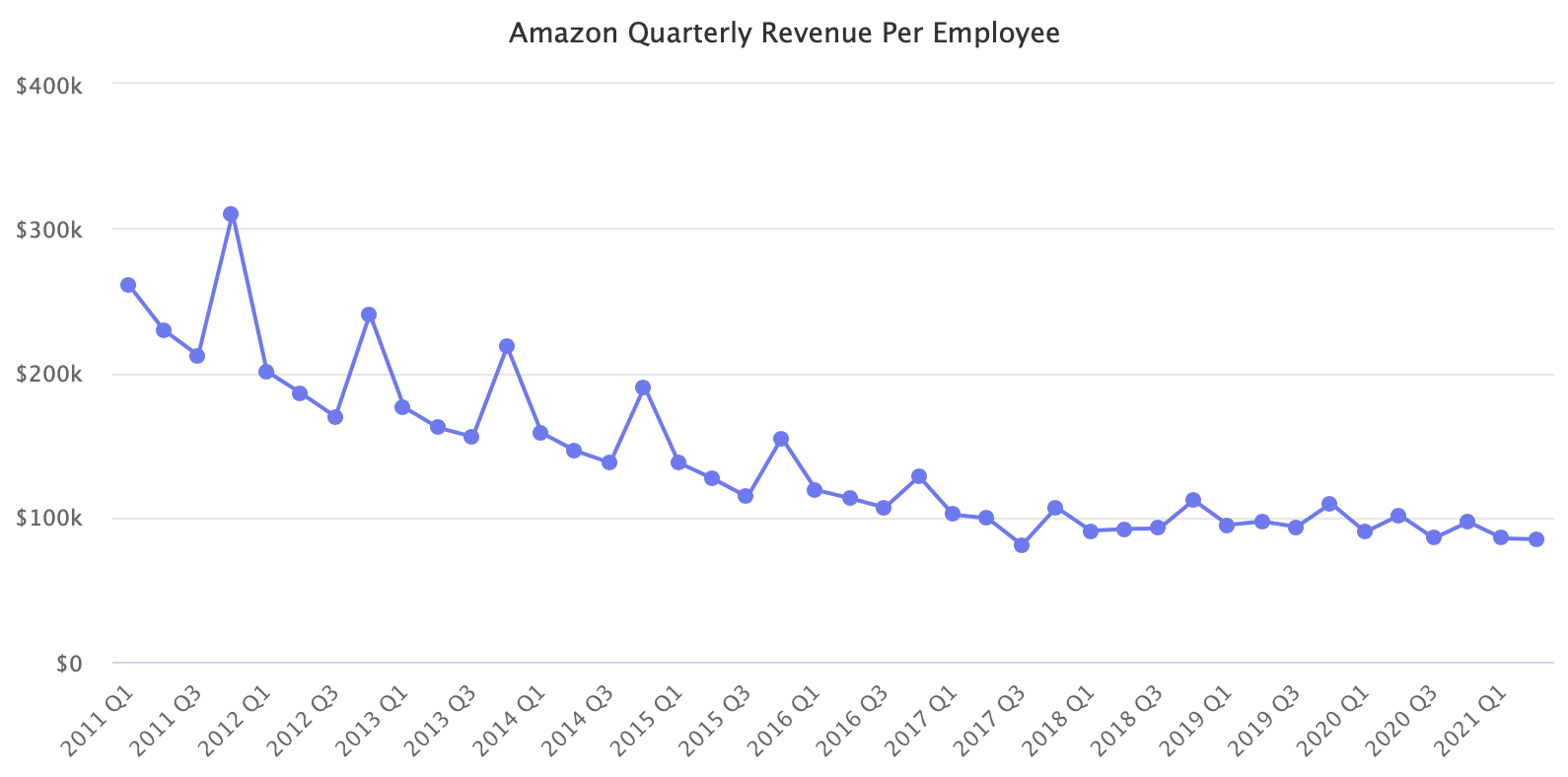 Of the total, 950,000 people are U.S.-based. Amazon will likely become the largest employer in the U.S. in the future, overtaking Walmart for the number one spot. Compared to its tech rivals like eBay, Google, or Facebook, it has significantly lower revenue per employee. Combined, those three companies have fewer employees than the number of jobs Amazon added over the past four quarters. No other company in history has ever added that many employees in a year.
Quarterly revenue per employee has stabilized over the past four years, but it is unlikely to reverse the trend. Only 50% of Amazon's total revenue is retail sales; the rest are services like AWS, third-party marketplace, and advertising that should require considerably fewer employees to grow. However, the growing marketplace requires more fulfillment capacity, and that relies on people.
Amazon had a solution for its growing fulfillment space and workforce problems: Seller Fulfilled Prime (SFP). A service that allowed sellers to sell products with the Prime badge directly from the seller's warehouse. In a way, it distributed the demands of fulfillment to the marketplace, rather than Amazon's FBA service being the choke point. However, a year ago, Amazon effectively put the SFP program in limbo by increasing performance requirements and continuing not to allow new sellers to join.
Issues surrounding Amazon's workforce are perhaps one of the most common topics in the press. Amazon is much more a tech company like Google or Facebook than it is similar to Walmart, and yet it appears in a never-ending pursuit to add hundreds of thousands of employees a year. As sales on Amazon continue to break records, it is sometimes easy to forget how many people it takes to make them happen. That comes with challenges that will get increasingly difficult to manage.