The program that enables marketplace sellers to offer Prime shipping without the use of Amazon's warehouses had several changes announced this week that increased performance requirements fewer sellers will be able to meet. The company has also removed pages describing the program from search engines.
In theory, Seller Fulfilled Prime (SFP) allows sellers to sell products with the Prime badge directly from their warehouse and enables Amazon to increase Prime assortment without building ever-more warehouse space. Most sellers use the Fulfillment by Amazon (FBA) service that instead stores products in Amazon warehouse to get the Prime badge. The company is increasing fulfillment capacity by 50% in 2020 to keep up with rising demand.
In practice, few sellers were allowed to join the SFP program before it closed for new registrations early 2019, and the ones that did didn't meet the performance standards Amazon expected. "Fewer than 16% of SFP orders in the US met the Prime Two-Day delivery promise," the company said in a note to sellers.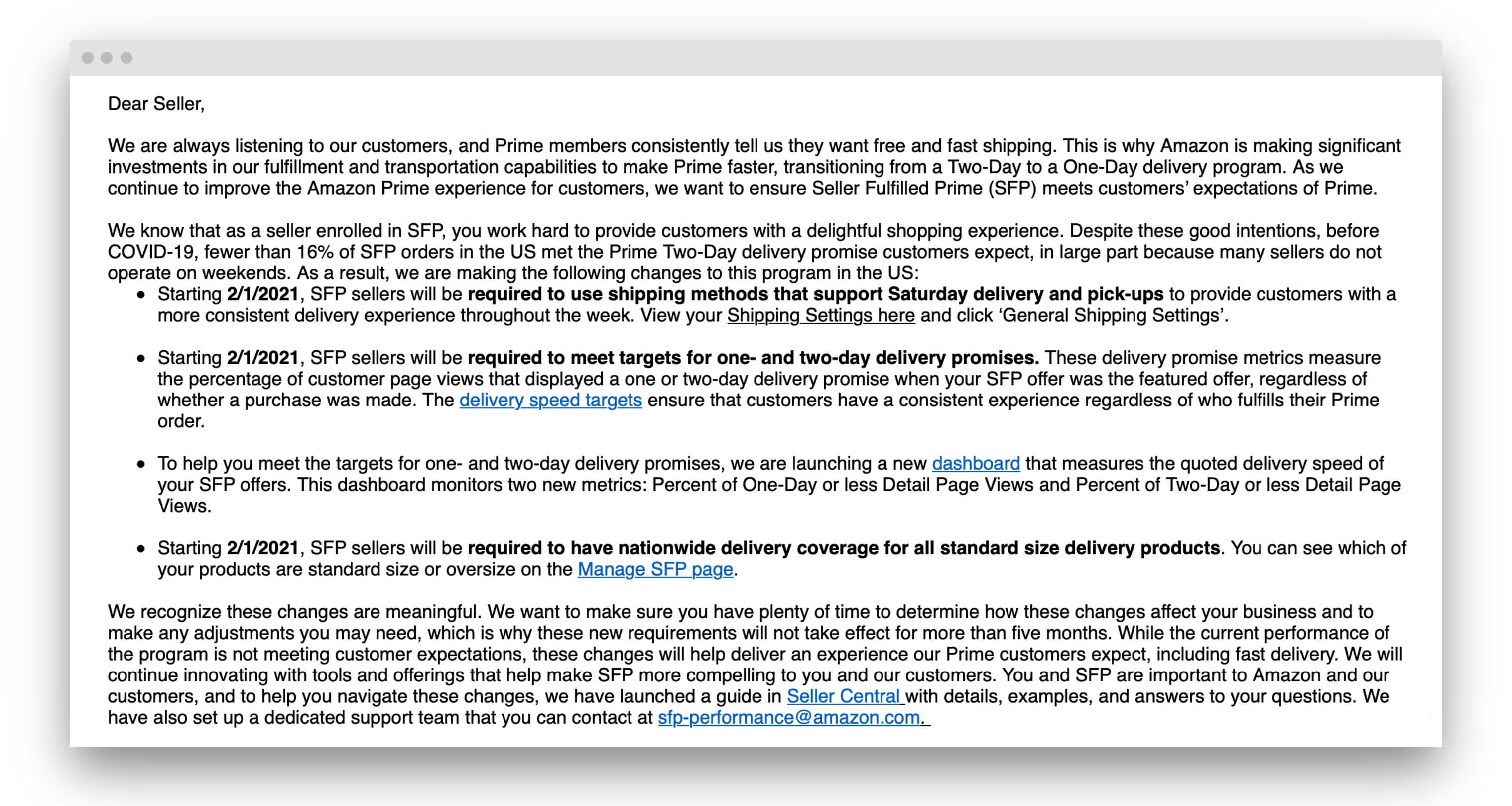 To improve performance, the company has introduced changes that, starting February 2021, will require sellers to use shipping methods that support Saturday delivery and pick-ups, have nationwide delivery coverage for all standard size delivery products, and meet targets for one and two-day delivery promises. The changes introduced will improve the overall on-time delivery metric. However, they will achieve that by reducing the number of sellers participating in the program and the number of products offered by them.
Amazon's goal is nationwide one-day delivery. Only a small number - less than ten - of sellers can offer that, however. Amazon's secondary goal is consistent availability across the country at all days of the week. Sellers can offer two-day and one-day Prime delivery in some parts of the country and sometimes only on workdays. That's what the SFP program previously allowed them to do. But new requirements mean only the biggest sellers with warehouses operating on weekends will be able to meet them. And those with only a single warehouse will struggle to offer nationwide fast delivery while staying profitable.
Some third-party logistics companies operate nationwide warehouses similar to Amazon, which could achieve the performance Amazon is aiming for. And perhaps some of them would join a fulfillment marketplace if Amazon ever launched one. However, individual sellers operating at near Amazon's fulfillment performance is unachievable.

Recently, Amazon added a "noindex" meta tag to the Seller Fulfilled Prime program's page (available at https://sell.amazon.com/programs/seller-fulfilled-prime.html). That tag informs Google and other search engines to exclude the page from its index. Google describes it as "When Googlebot next crawls that page and sees the tag or header, Googlebot will drop that page entirely from Google Search results, regardless of whether other sites link to it." As a result, searches for "seller fulfilled prime" no longer return any pages hosted by Amazon.
Amazon operates perhaps the most sophisticated and most extensive e-commerce fulfillment operation in the world. It runs 24/7 and relies on robots, as well as hundreds of thousands of workers. It is not surprising that warehouses operated by sellers perform worse compared to that. That's why while the SFP program is technically still operational, it might as well be shut down because it will never meet the Amazon goal.
In theory, through programs like SFP, Amazon could create a fulfillment network from many independent warehouses. Like Uber is built around taxi drivers that own their cars. In practice, Amazon will continue to build warehouse space because SFP doesn't work.