Amazon is struggling to accept some inventory shipments in time, which is causing products to sell out, leading to a drop in search rankings and quantity restrictions. The previously predictable inventory cycle with known restrictions and fees has become unpredictable.
"We've run out of space," said Brian Olsavsky, Chief Financial Officer at Amazon. He added that the company increased the fulfillment network square footage by 15% in 2019, and expects a 50% increase in 2020. The majority of that new capacity will come online in late Q3 and into Q4. However, measuring capacity by square footage hides the more complex fulfillment constraints.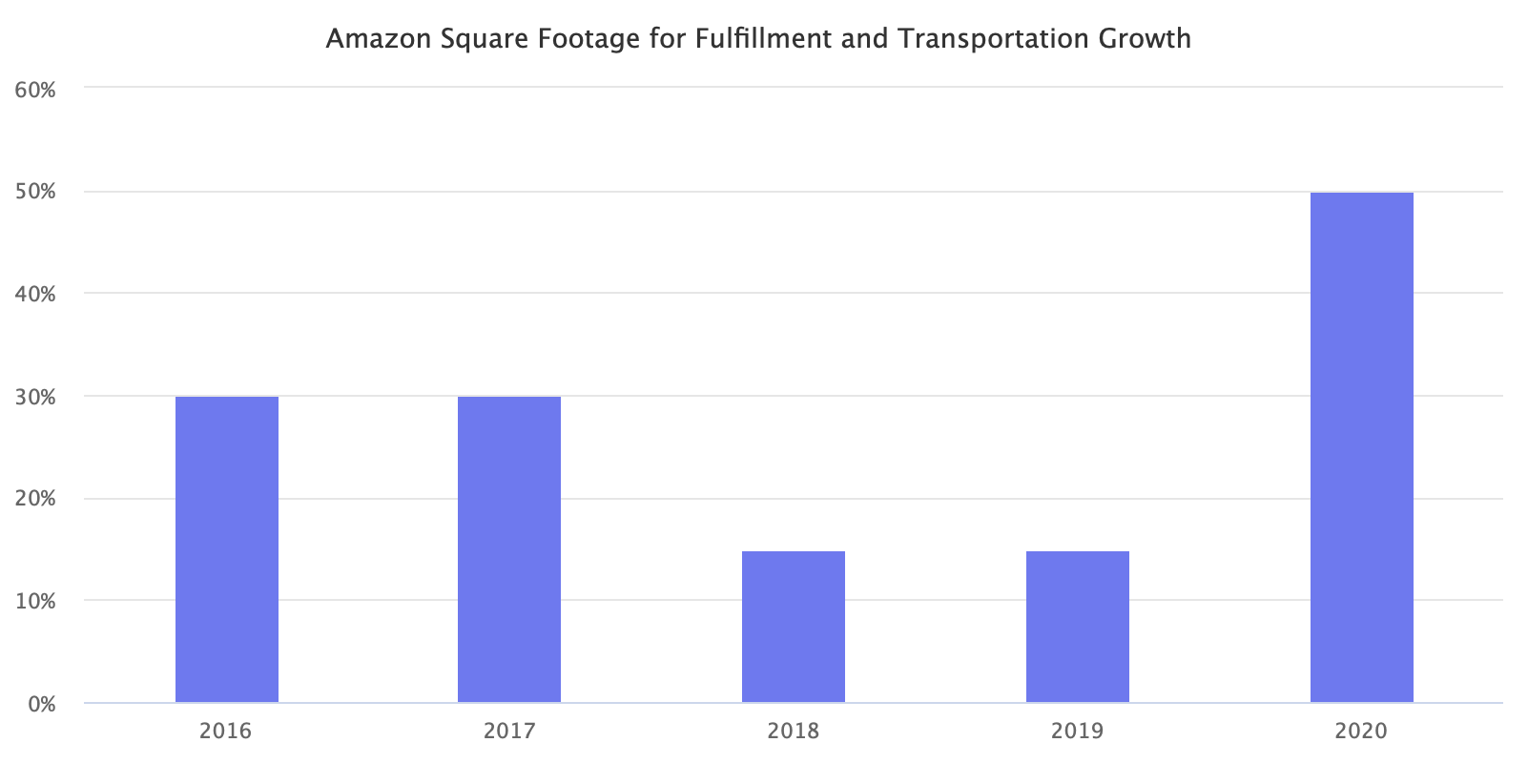 Lack of fulfillment capacity translates to significant implications for the marketplace sellers that rely on Amazon for the fulfillment, not just the sales. Brian Olsavsky added that "a lot of the sellers can toggle between MFN or FBA sales." Meaning, switching from Fulfillment by Amazon (FBA) to fulfilling themselves and back. Few sellers have this capability. Most Amazon sellers are reliant on FBA and do not operate a warehouse. Further, most international sellers ship inventory virtually straight into FBA.
When on March 17th, Amazon disabled shipments for most products to FBA to prioritize essentials, it was the first time those sellers found themselves stuck. Some had warehouses and used those for the fulfillment, others found third-party logistics partners, and many more chose to wait.
Those sellers are now reporting a new wave of issues - inventory shipments to FBA are taking weeks to get received. That leads to products being out of stock, and without sales, the products start dropping in the sales rank (thus even when it is eventually back in stock, it no longer ranks as well in search). If the inbound delay causes the product to be out of stock for over a month, Amazon imposes quantity restrictions. The company has recently introduced new quantity limits and increased the Inventory Performance Index (IPI) threshold, which, once dipped below, prevents sellers from sending additional inventory to FBA.
"We have 40+ containers in limbo now. No notice from Amazon and ASIN restriction only looks at last 30 days of sales, not historical or seasonal. Some 3 weeks. The increase in Sales from COVID also wiped out our inventory on best sellers, which has now been OOS for >30days, now gets a 200 unit restriction. Even though days 31-60 sold over 500. ONT8 in Moreno Valley is jammed. Can't get container appointments now until early September."
"That is exactly what happened to me. Increased sales cause of covid which also wiped out all of my inventory. I was feeling rich. Now my sales are literally one tenth of what they were because I can't get inventory in. Which of course also effects ranking."
"In the same boat, all at MEM1. Multiple shipments that have been delivered for over a month and have not been checked in. Almost half my products out of stock which is decimating my rankings."
"My product is sent to one of the three Cali warehouses: ONT8, LAX9, SMF3. Recent shipments have looked like: 17 days to full check-in for LTL at LAX 9, 20 days to full check-in for UPS at SMF3."
"It has been pretty bad and very inconsistent. I have had shipments checked in under 48 hours, and other shipments take 4-5 weeks just to show as delivered. The majority of shipments do not get received in full for several weeks. It's actually worse now than it was when they re-opened shipments for non-essential items."
"Inventory was shipped to FTW1 (aka Dallas) and typically takes maybe 1 to 2 days for delivery and about 2 days for checkin. Now it's been over 3 weeks."
"Shipment delivered by UPS on June 23rd. Just checked in and received today. This is day 22. Amazon said they have a 21 day waiting period for receiving goods. It normally doesn't take that long (1 or 2 days), but this time they used all the days they allot themselves."
"We had healthy 550 IPI score until two months ago. It all started when we created shipments for the next three months inventory for our bulk products. Unfortunately, due to Amazon warehouse challenges after COVID-19 they could not checkin/receive our inventory on time. We were completely out of stock for these products for past two months while the shipments were showing in transit/delivered and waiting for check in. That two months out of stock pulled down our IPI score to 488 and we hit a storage limit, that also a lower storage limit than what we will need."
"Recent months have highlighted the vulnerability that stems from Amazon's fulfillment operations: Amazon warehouses and ships practically everything sold on Amazon," from Fulfillment is Amazon's Single Point of Failure.
The significant issue is not whether Amazon can get back to two-day or even one-day delivery nationwide, but what inventory is it going to be delivering. It's a race against time, with sales increasing every month leading to the winter holidays and Amazon scrambling to enable more fulfillment capacity. The issues reported by the eight quoted sellers are not anecdotal; instead, they are a sign of underlying constraints Amazon is facing.