In July, Google announced that it would take steps to bring more sellers and products onto its shopping marketplace by reducing commission fees to zero. Two months later, there is no noticeable acceleration in the number of sellers.
Nearly 800 new sellers joined Buy on Google in September, a record month. However, barely any sellers joined in August when Google put registrations into a waitlist. Record-September only put the seller growth back into the two-year trend line.
Google also announced that it would start supporting product feeds sellers use to upload their catalog to Amazon. That was an attempt to make it easier for Amazon sellers to join Buy on Google. There was no increase in the number of Amazon sellers on Google, either.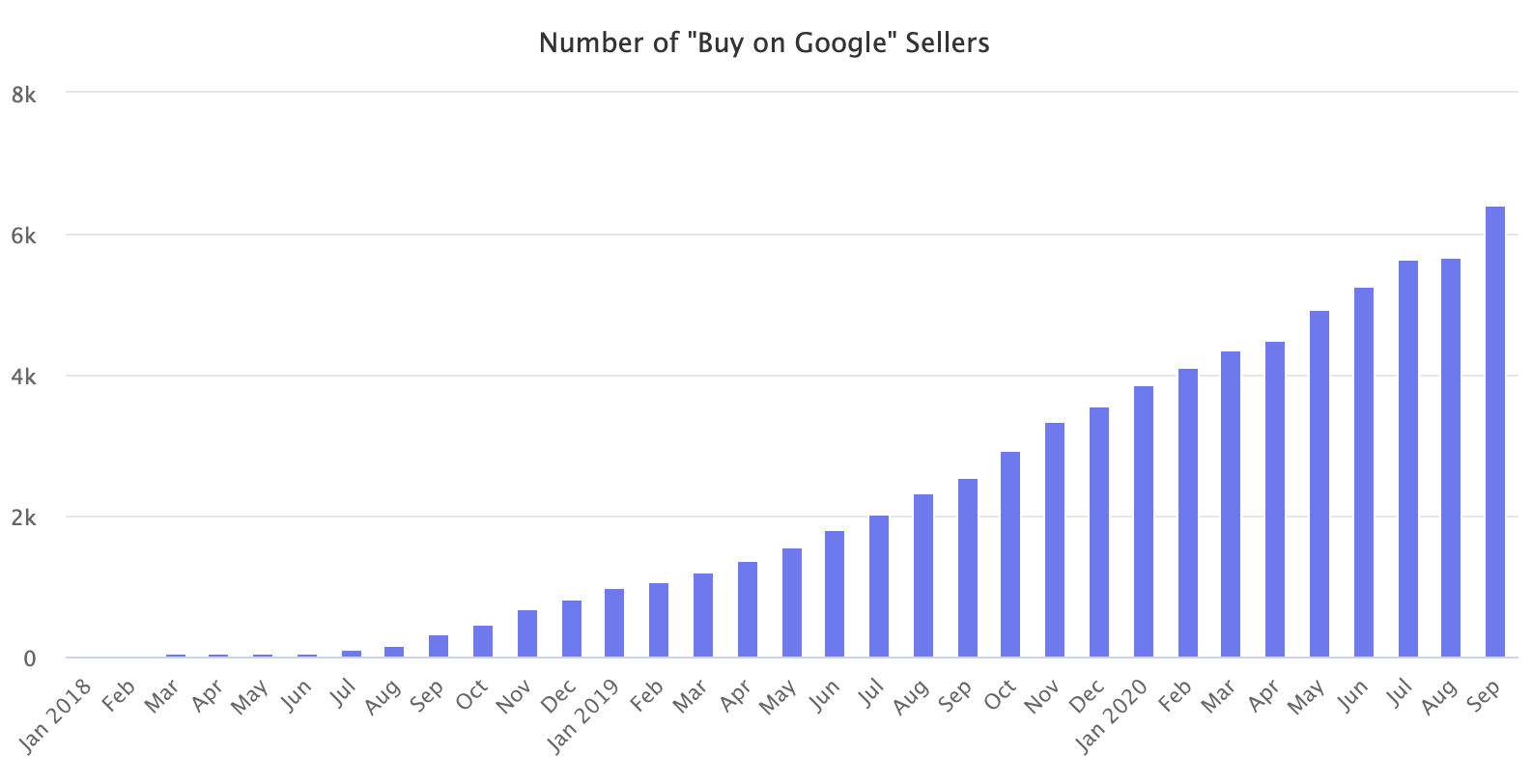 Buy on Google is a marketplace inside of Google Shopping that allows customers to check-out without leaving Google. Customers discover products by going directly to the Shopping tab, using the Google Shopping app, or seeing Google Search ads.
Bill Ready, President of Commerce Google, wrote in the announcement, "By removing our commission fees, we're lowering the cost of doing business and making it even easier for retailers of all sizes to sell directly on Google." These changes make Buy on Google the only marketplace in the U.S. with zero fees. Fees on other marketplaces range from five to fifteen percent.
Zero fees make it easier for sellers to sell profitably on Google while keeping their prices in line with their other channels, and allow sellers to invest a portion of what they would have spent on fees into ads on Google.
However, few customers are aware of Google Shopping, let alone of Buy on Google, and thus liquidity on the marketplace is minimal. Few sellers have used it themselves as customers too. Therefore, zero percent fees instead of fifteen percent on tiny sales is an insignificant change. Google is not doing enough to bootstrap the marketplace to increase sales volume, and thus few sellers consider it a new channel to add.
"We want to make sure selling online is easy and inexpensive," said Bill Ready in an interview with the New York Times. These are not challenges for most sellers. Instead, the challenge is customer acquisition. Google has no solution for that.
Google is missing out on the e-commerce surge born during the pandemic. In April, it made Google Shopping a free search engine, rather than one that only lists ads. That was followed by the zero commission announcement for Buy on Google in July. That was it. The only way it captured the increase in shopping online was through ads. That is still a significant income source for the company, but it remains a bystander as it experiments with ways to do more.