The Prime-enabled assortment has recovered to pre-COVID levels after Amazon's decision in March to temporarily stop accepting shipments of non-essential goods to its warehouses resulted in supply disruption. From May to July, a twelve month low of the top Amazon sellers offered Prime shipping for most of their catalog.
Prime availability index for the top sellers acts as an indicator for the overall Prime-enabled catalog. The Prime assortment has recovered across all sellers in the U.S. marketplace, not just the top ones. Most sellers have reopened their import supply chains initially disrupted by the pandemic, were able to keep items in stock, and send more inventory in, and Amazon's fulfillment restrictions for Q4 didn't have a widespread limiting effect yet.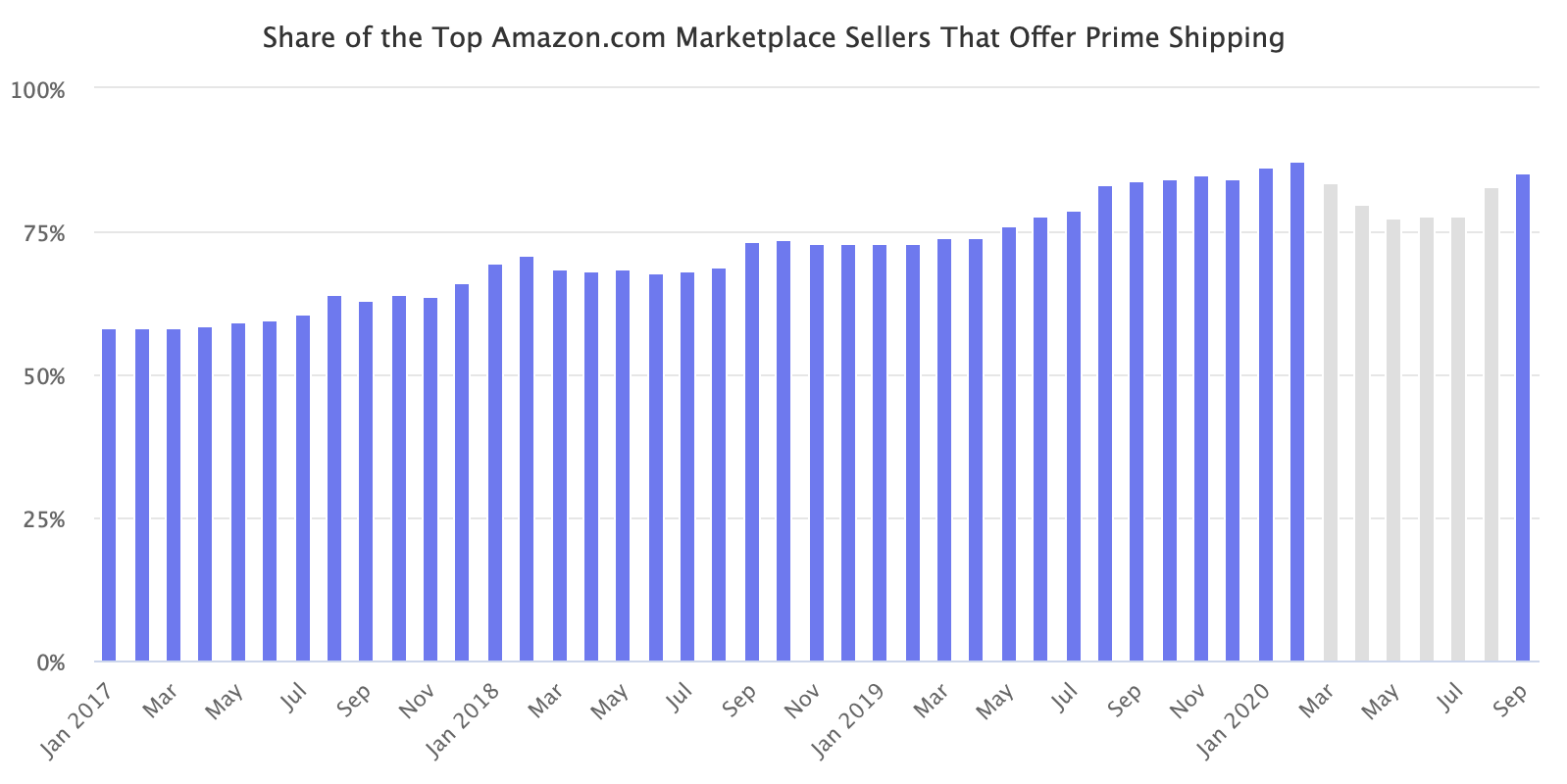 The Prime assortment had decreased because, on March 17th, Amazon started prioritizing the stocking of household staples and medical supplies. However, to do so, Amazon had temporarily disabled inbound shipments for products that did not fall into the essentials or high-demand categories. Because no new inventory was allowed into Amazon warehouses, it caused stock-outs as items continued to sell. Fulfillment by Amazon (FBA) powers most of the Prime assortment; sellers use FBA to offload warehousing and fulfillment to Amazon.
After the company removed the inbound block, it struggled to accept some inventory shipments in time, causing more products to sell out, leading to a drop in search rankings and quantity restrictions (the company has recently introduced new quantity limits and increased the Inventory Performance Index (IPI) threshold). "Inventory was shipped to FTW1 (aka Dallas) and typically takes maybe 1 to 2 days for delivery and about 2 days for checkin. Now it's been over 3 weeks," was a typical comment by sellers.
Fulfillment will be the limiting factor this holiday season, and despite Amazon restocking its warehouses, the issue of delivery capacity remains to be stressed. Brian Olsavsky, Chief Financial Officer at Amazon, said that the company increased the fulfillment network square footage by 15% in 2019 and expects a 50% increase in 2020. The majority of that new capacity is coming online now in late Q3 and into Q4. But USPS, FedEx, UPS, and Amazon's owned delivery network cannot scale up as fast.