Despite Amazon's attempts to foster cross-border e-commerce, most of the sales volume on its worldwide marketplaces comes from first, domestic, and second, Chinese sellers. Other countries combined represent a small percentage.
The majority of cross-border volume comes from China. In countries like France, Italy, Spain, Mexico, and Canada, China even represents a larger share than the domestic sellers. No international market, except for China, represents more than 1% of sales in the U.S. marketplace, even though nine more countries - Canada, U.K., India, Japan, Australia, Vietnam, Thailand, South Korea, and Ukraine - have more than 10,000 sellers.
European marketplaces additionally have cross-border sales from the other European countries Amazon also operates in. Sellers from the U.K. and Germany have a large presence in Spain, Italy, and France marketplaces. However, because of the U.K. leaving the European Union, starting January 1st, 2021, FBA offers using EFN will not be fulfilled across the UK-EU border, and Pan-European FBA inventory transfers will stop between the U.K. and E.U. That change will significantly impact Prime-enabled selection in the European marketplaces.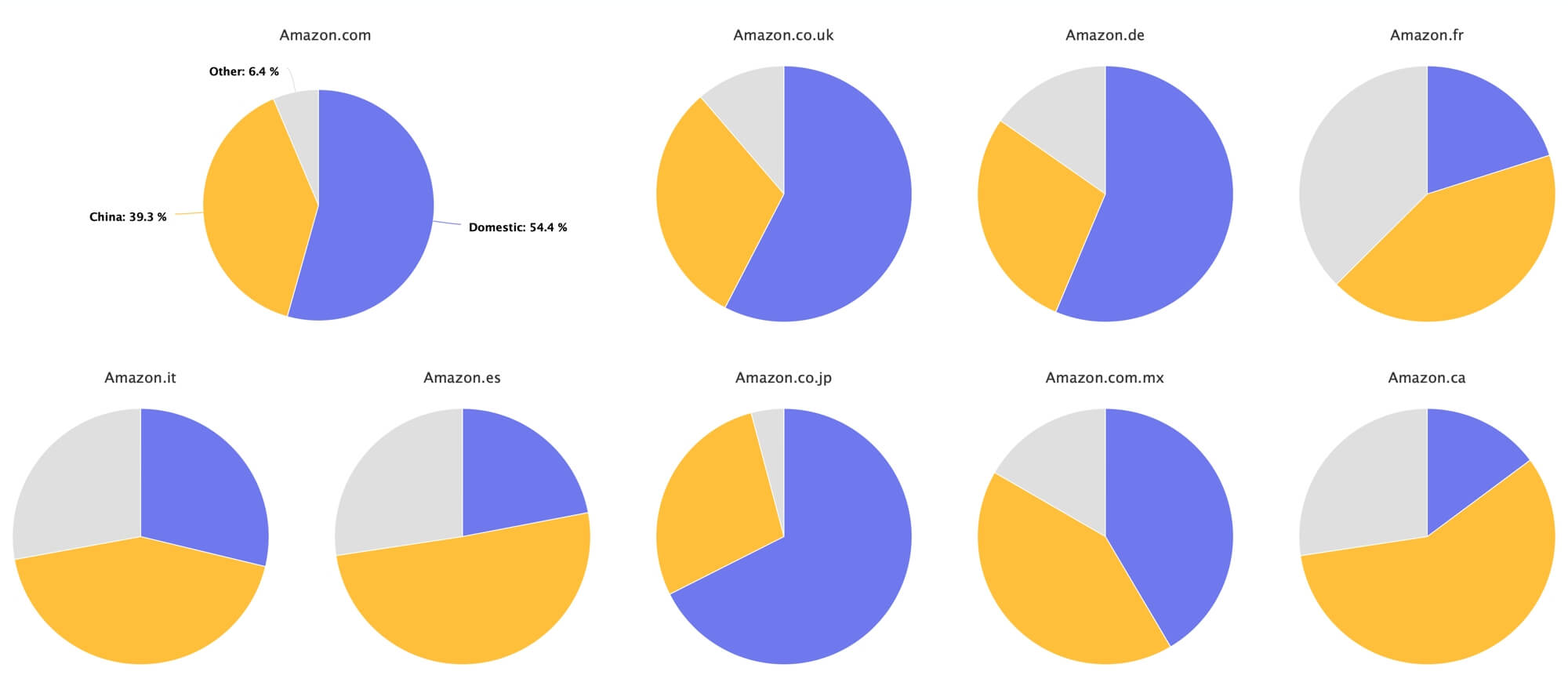 Sales volume share is modeled using the total feedback reviews grouped by the seller's business country and is based on 1.4 million sellers in the nine marketplaces that received at least one in twelve months. For example, more than 500,000 sellers on Amazon.com received a feedback review over the last twelve months totaling over 42 million reviews. 54% of those reviews were for sellers based in the U.S., 39% were for sellers based in China.
Third-party sellers receive feedback reviews from customers after a purchase. Providing feedback is optional, and the percentage of customers who leave a seller review is anywhere in the range of 1–5%, depending on the product's pricing and the category. While using seller reviews has inherent limitations, it is the most stable way to analyze the marketplace directionally.
| | Domestic | China | Others |
| --- | --- | --- | --- |
| Amazon.com | 54% | 39% | 6% |
| Amazon.co.uk | 58% | 31% | 11% |
| Amazon.fr | 20% | 42% | 37% |
| Amazon.de | 56% | 28% | 15% |
| Amazon.it | 29% | 43% | 28% |
| Amazon.es | 22% | 51% | 27% |
| Amazon.com.mx | 42% | 42% | 17% |
| Amazon.co.jp | 68% | 28% | 4% |
| Amazon.ca | 15% | 58% | 27% |
The critical finding is not the exact percentages, but rather that cross-border selling on Amazon is concentrated in a few countries. For example, there is little overlap between Europe and the U.S.: European sellers represent a small percentage of the U.S. volume, and few U.S. sellers are booming in Europe. Japan is the second most-visited Amazon marketplace, yet domestic sellers are responsible for most of its sales, with little presence from the U.S. Instead, the common denominator across all marketplaces is sellers based in China.