Businesses from California, Florida, Texas, New York, and New Jersey represented nearly half of the 75,000 new Amazon sellers in the U.S. over the past twelve months. There was no acceleration in the number of new sellers amid the pandemic, however.
California based sellers represented 17.5% of the new sellers. Florida had 12.1%, Texas 8.2%, New York 7.7%, and New Jersey 4.1%. The rest of the states combine to 50.4%. Adjusted for per capita, Wyoming and Delaware top the list instead.
The top 10 cities with the most sellers were Miami, Brooklyn, Los Angeles, Houston, New York, Las Vegas, Orlando, San Diego, Chicago, and Dallas. Miami is home to the "South Florida FBA - Amazon Sellers," the country's largest regular community group with over 4,200 members on Meetup.com.
Compared to the distribution of all U.S.-based Amazon sellers, Florida showed a significantly increased share of the new sellers. Sellers based in the state represent 8.8% of those registered before October 2019, compared to 12.1% since; a 300 basis points increase. Texas, Georgia, and California also accelerated by at least 50 basis points.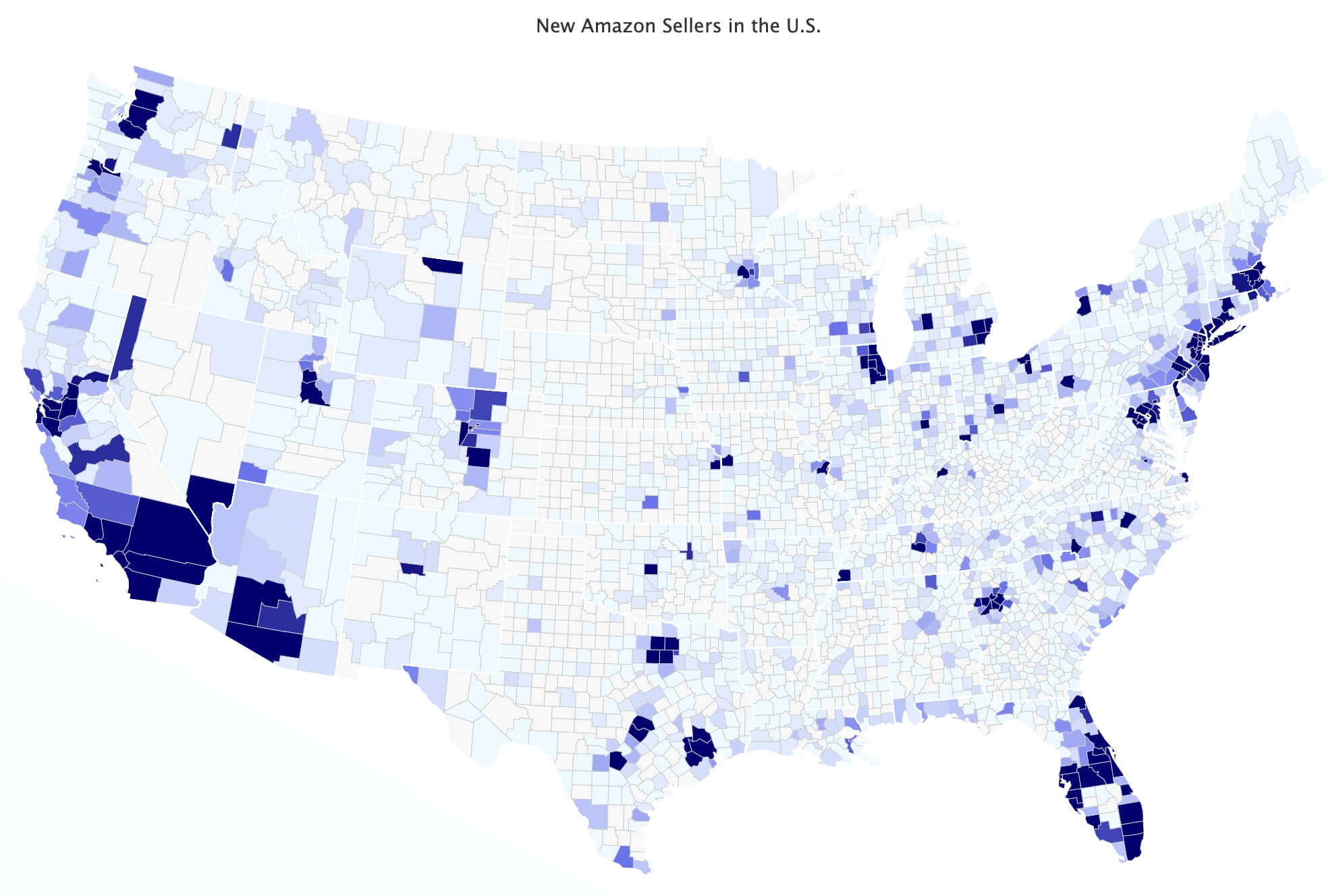 Based on the analysis of the sellers' business addresses. Over 190,000 new sellers joined the Amazon marketplace in the U.S. over the past twelve months; nearly 75,000 of those sellers are U.S.-based. More sellers joined during previous years.
All states in the U.S. each have at least 1,000 sellers, and 30 states each have more than 10,000 sellers. However, most sellers are in one of the top five states, and those states continue to grow in market share. The map showcases Amazon's economic impact across the nation and how access to shipping ports and existing seller communities created seller hotspots in a half dozen locations.
As some of the nation's businesses previously refusing to sell online changed their stance after many stores shut, Amazon could have been their outlet online. That didn't happen. The sellers on Amazon continue to be purpose-built businesses primarily - most of the 75,000 new U.S. based sellers are not known brands or offline retailers.