Sellers from China, India, Canada, and the U.K. outnumbered the U.S. on the Walmart marketplace over the past year.
According to Marketplace Pulse research, 46.7% of the new sellers on the Walmart marketplace in 2022 were based in the U.S. The rest were foreign sellers, mainly from China. The trend has continued into 2023, with the U.S. sellers representing a minority most months so far.
Walmart started allowing international sellers in March 2021. It hosted a seller conference in Shenzhen, China, to announce the change because most of the new international sellers would be coming from China. It began onboarding sellers in India in January 2022, the U.K. in June 2022, and Canada in August 2022.
China accounted for over 90% of Walmart's new international sellers and nearly half of all new sellers. Walmart will likely add more countries beyond India, the U.K., and Canada, but China will remain dominant because that's the behavior on Amazon and other marketplaces.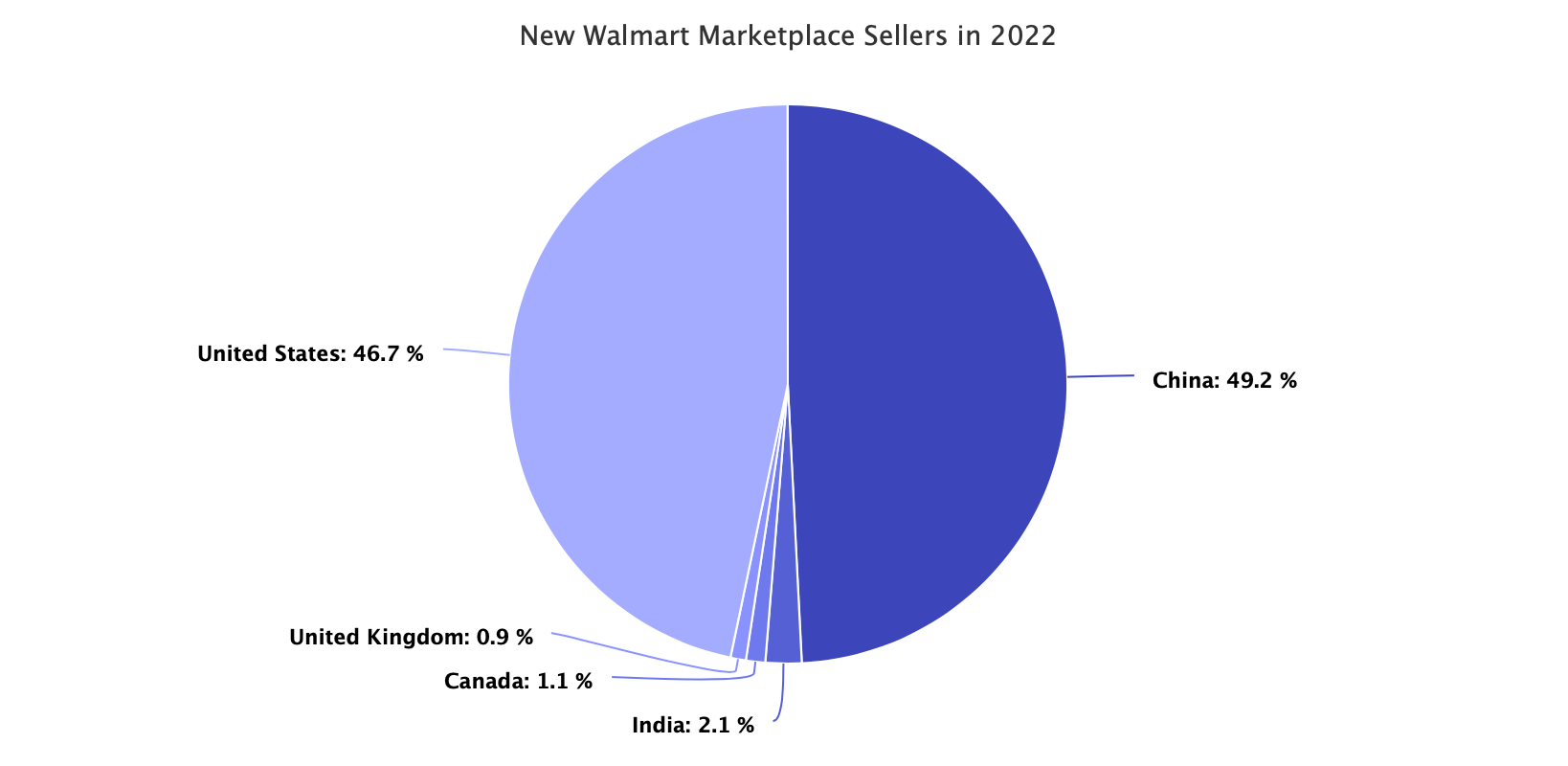 Over the past ten years, Walmart's online business underwent two major transitions (not including its online grocery business). Until mid-2016, it was a small online retailer with less than 10 million products for sale. Over the next four years, the first transition, it scaled the marketplace and grew its assortment ten times. And now, over the past two years, it transformed into a cross-border platform with hundreds of millions of products from international sellers.
Before allowing non-U.S. sellers in March 2021, Walmart operated the marketplace for over a decade by hosting exclusively domestic sellers. The marketplace still requires approval and doesn't accept all sellers, but has reworked the application process in August last year, which has increased the number of new sellers joining.
To shoppers, foreign sellers are usually indistinguishable from domestic ones because products rarely ship from faraway countries. Most of the search results on Walmart are shipped by Walmart through its Walmart Fulfillment Services (WFS) service. The fulfillment service makes the seller's business location irrelevant and invisible to the shopper.
Walmart has effectively replicated the Amazon marketplace playbook. Both add as many foreign sellers as from the U.S. but render them invisible to the shopper through their fulfillment services.