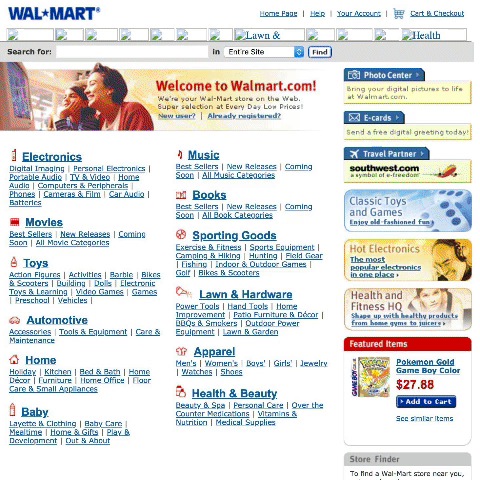 Walmart.com launched all the way back in 2000. But it took sixteen years - until Jet.com was acquired in August 2016 - for Walmart to get serious about selling online. Jet.com founder Marc Lore then became the CEO of Walmart's US e-commerce operations and has since been driving Walmart's digital revolution. There is nothing of noteworthy before 2016.
Since then the company has went on an acquisition spree - from brands like Moosejaw and Bonobos to the largest online retailer in India Flipkart - redesigned the website and found categories online it can win. For example, Walmart is effortlessly the top online grocer in the country.
The company expects to finish 2018 with $16 billion in US e-commerce sales. Up 40% from last year. On top of that there are also sales from the marketplace, but it is not clear how much GMV the marketplace contributes.
Our research looked at four key metrics: catalog size, top departments, marketplace size, and free two-day shipping.

Walmart online assortment has over 43 million products. A year ago it was less than 30 million and in 2016 it barely surpassed 12 million. The catalog consists of products listed for sale by Walmart itself (also known as first-party items) and the marketplace of third-party sellers.
Only 3.5 million products are sold by Walmart. The marketplace is responsible for 92% of the full catalog. First-party items listed by Walmart are down to 8% of all items sold on walmart.com. For most of 2017 it was hovering above 10%, and was as much as 25% in 2016. In three years Walmart expanded online catalog by two million new items, but it is the marketplace which is driving most of the catalog growth.
Home, Books, Jewelry, and Electronics are four largest departments. These departments account for more than half of all items available - 28 million products total are listed in one of them. Among departments Jewelry and Clothing stand out as those which without the marketplace would be tiny - just 1.5% of over 4 million Jewelry products are sold by Walmart itself.
Amazon has more products in the Books department than Walmart sells in total. But as marketplace grows Walmart will eventually catch up in covering the long-tail. The company focuses on the top million SKUs leaving the rest to the marketplace and category acquisitions.

The marketplace then has been instrumental in growing Walmart's online assortment. And yet it is a relatively small marketplace, only recently surpassing 20,000 sellers. Compared to other marketplaces in the US it vets sellers before approving them to be on the platform. Thus while more than 250,000 new sellers joined Amazon.com this year already, less than 4,000 joined the Walmart marketplace.
It started inviting sellers in 2009, but it wasn't until 2016 that it crossed the first thousand sellers. In the last two years it added most of its sellers, which as a result expanded Walmart's online catalog by tens of millions of new products.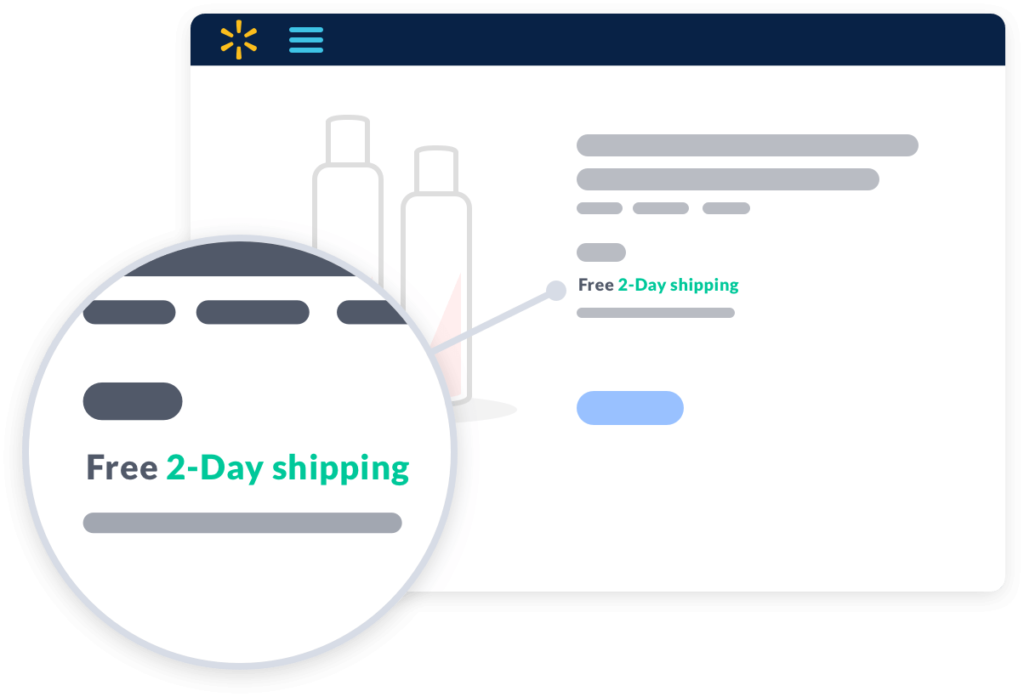 However probably the most important aspect of Walmart online as it builds for the future is the availability of free and fast shipping. "In today's world of e-commerce, two-day free shipping is table stakes. It no longer makes sense to charge for it," said Marc Lore, president and CEO of Walmart U.S. eCommerce, when Walmart announced free Two-Day Shipping in January 31st, 2017. Scrapping the $49-per-year ShippingPass membership program which offered unlimited free two-day shipping not unlike Amazon Prime.
"Alongside life, liberty and the pursuit of happiness, you can now add another inalienable right: two-day shipping on practically everything."

– Christopher Mims, The Wall Street Journal
Two-Day Shipping launched with two million products in 2017 and so far has failed to grow. Twenty months later it is still hovering at two million products. Prime is Amazon's golden ticket and there is no point discussing Amazon vs Walmart without Walmart being able to match it. Two million items is no match for one hundred million.

This is where the marketplace will play a crucial role. It has allowed Walmart to expand the catalog, but hasn't always integrated into the shopping experience well since fulfillment was up to the seller. Prime on Amazon is being powered by Fulfillment by Amazon (FBA) and the lack of a comparable service by Walmart has hurt it. Deliverr is one of the companies stepping in to solve this. It's a fulfillment solution for sellers looking for an FBA-like service when selling on Walmart, eBay and other platforms.
"We're seeing really promising results with Walmart's 2-Day program for 3P sellers. Given the existing number of items enabled on free 2-day shipping on Walmart, it presents a huge opportunity for merchants to get their listings noticed by millions of buyers."

– Michael Krakaris, Co-Founder of Deliverr
Walmart has grown the catalog and has built the marketplace, the challenge now is to offer free nationwide two-day shipping. Amazon has made its Prime program the gold standard for all other online retailers. For Walmart too.