It took less than a year for the Amazon marketplace to grow by one more million new sellers. That's 3,398 new sellers every day, or 141 every hour, or more than 2 every minute. So far in 2018 across the fourteen countries Amazon marketplaces operate in.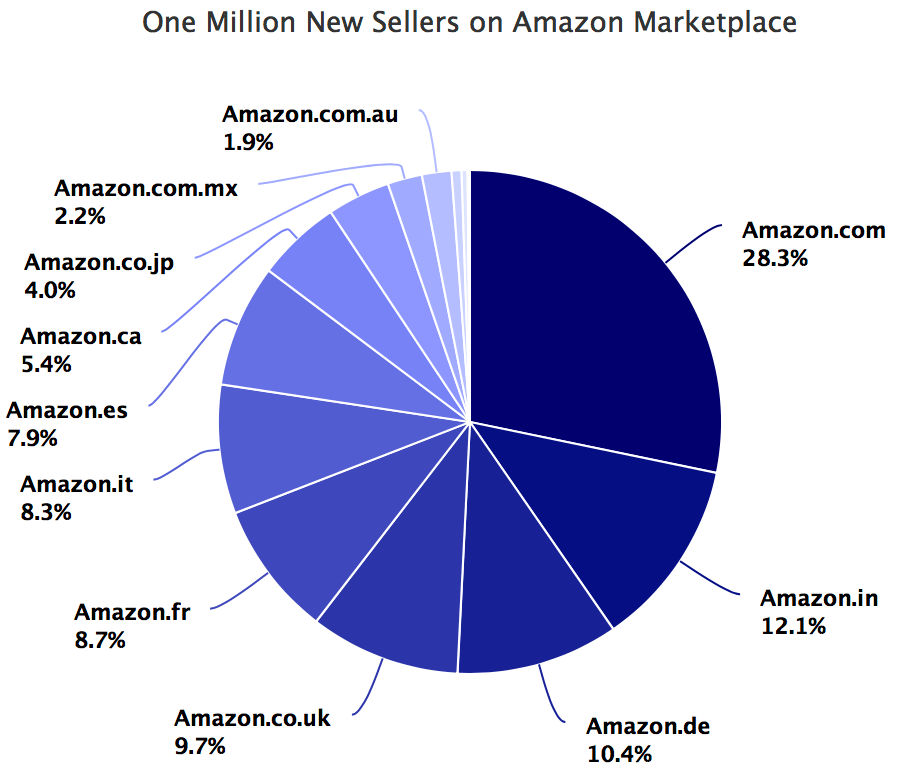 The US, India and Germany marketplaces contributed more than half of all new sellers. The US is Amazon's largest marketplace, unsurprisingly continuing to attract close to a thousand new sellers every day. In India the marketplace has doubled from 200,000 to 400,000 sellers in less than 15 months, highlighting what in the future will become Amazon's second largest marketplace. Germany, together with the other four European marketplaces, shows the increasing effort by Amazon sellers worldwide to expand internationally.
Amazon's most recent marketplaces in Australia and Turkey are growingly quickly too. Amazon launched in Turkey last month on September 19th, while Australia launch was on December 5th last year. Both, plus Brazil and Mexico, are interesting because those markets have their own unique traits and challenges.
The one million milestone was crossed by 284,620 new sellers on Amazon.com, 121,305 on Amazon.in, 104,694 on Amazon.de, 97,187 on Amazon.co.uk, 86,890 on Amazon.fr, 82,719 on Amazon.it, 78,916 on Amazon.es, 54,269 on Amazon.ca, 44,339 on Amazon.co.jp, 22,143 on Amazon.com.mx, 18,905 on Amazon.com.au, 6,295 on Amazon.com.br, 3,830 on Amazon.com.tr, and 1,500 on Amazon.cn.

Most of the new sellers are based in China and Hong Kong. Some marketplaces are required to disclose sellers' business details by local laws and regulations. That includes all five European marketplaces, Japan, and Mexico. Business details were analyzed to determine each seller's location. Together these seven marketplaces amount to more than half of all new sellers.
Unfortunately this sort of research is not possible for all Amazon marketplaces, especially for the largest one - Amazon.com in the US. Nonetheless China sellers share of new sellers in the Amazon.com marketplace is at least 40% or even higher. Because 40% of new sellers in European marketplaces are based in China and selling in Europe is only a secondary goal for all of those sellers. They all want to sell in the US. "For Chinese businesses, the American consumer is prized quarry, seen as less price-conscious and freer-spending than Chinese shoppers", wrote Te-Ping Chen for The Wall Street Journal.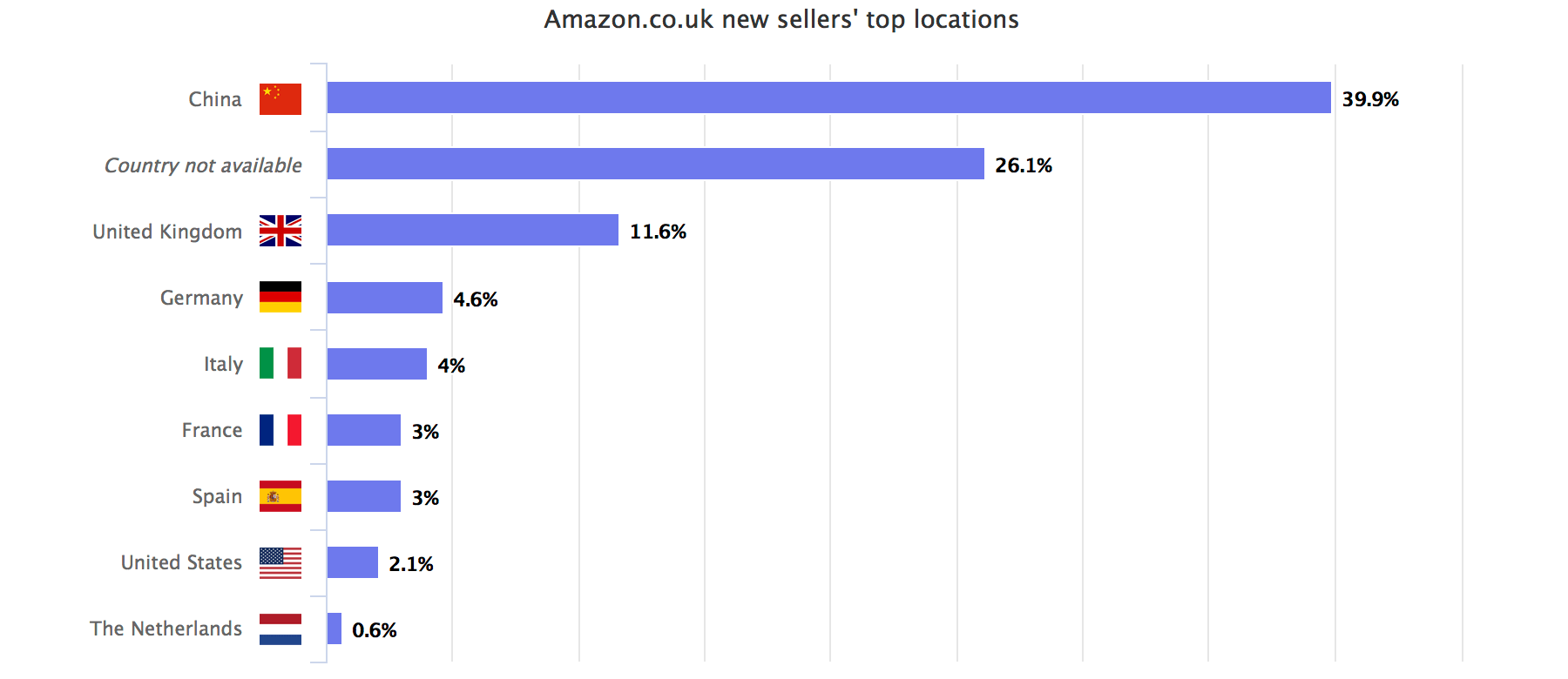 Only 11.4% of new sellers in Amazon.co.uk are based in the UK. The rest come from other European countries and the US, but the majority come from China. The breakdown by country looks almost identical for the other European marketplaces - each with the home country following China and then the rest of the European countries almost ordered by the economy size.
The five marketplaces in Europe are close enough to each other that they can be treated as a single marketplace. And thus Amazon does, by providing cross-border services and tools like the European Fulfillment Network (EFN) and Pan-European FBA. Across all European marketplaces more than half of sellers also sell on at least one other marketplace. Of the new sellers in the UK, 71% also sell in Germany, 66% in France, 65% in Spain, and 65% in Italy.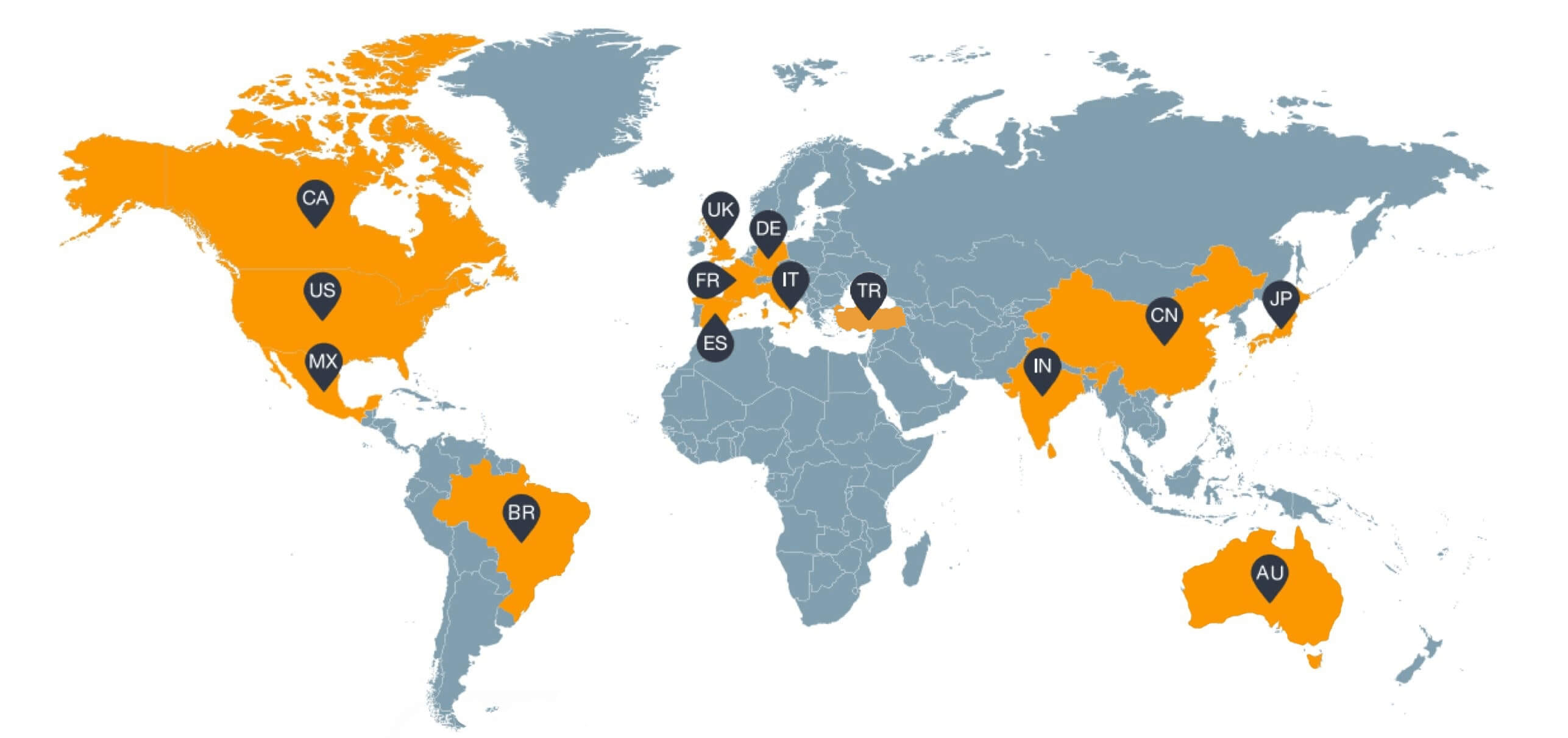 Despite the constant stream of new sellers few will ever become active. Even less still will reach a meaningful amount of sales - barely 300 of the top 10,000 sellers on Amazon.com joined in 2018. Everyone else has been selling for years. This is the Amazon marketplace funnel - millions of sellers at the top, only tens of thousands at the bottom. Millions of sellers joining the marketplace, only 20,000 sellers worldwide with $1 million or more in sales.