A few weeks ago Amazon began selling a $130 AmazonBasics foam mattress. Prices range from $129.99 for the 8-inch twin to $349.99 for the 12-inch king size. Right in line with some of the least expensive foam mattresses currently available.
There are three reasons why Amazon got into the bed-in-a-box business:
"mattress" is the 42nd most searched term on Amazon.com
Best selling mattresses on Amazon.com are brandless
Mattress as a product is hard to differentiate on

First, it might be surprising that people shop for mattresses on Amazon, but data shows that they often do - "mattress" is the 42nd most searched term on Amazon.com. It's a more popular term than "iphone charger", "paper towels", or even "baby wipes". Terms like "twin mattress", "queen mattress", "memory foam mattress", and "full size mattress" are in the top 1,000 search terms too.
"About 70 percent of the word searches done on Amazon's search browser are for generic goods," wrote Julie Creswell for The New York Times. Searches for mattresses are a great example of this. Shoppers are not looking for a particular brand. Maybe because few mattress brands outside of Casper are common speak. This means search volume (and thus demand) is big, but no particular brand owns it.
Second, when customers search for a mattress most of the time they end up buying one of the brandless affordable options. Products from Zinus, Signature Sleep, Linenspa and Night Therapy are most popular. They are all in a similar price range and mostly compete on reviews and ratings. The top selling mattress from Zinus, for example, has more than 22,000 reviews and is rated 4-out-of-5.
Any new product can launch in such environment and start amassing marketshare if its reviews are better, price is lower, advertising is more aggressive, or if Amazon pushes it. They of course do.
Third, most mattresses are made by a few manufacturers in China. For example the one Amazon just launched is by WAI KIN HOME FASHION (HUIZHOU) CO., LTD. Some premium brands have unique features to offer, but most of the market is comparable products sold under different names.
www.sleeplikethedead.com, one of the most trusted websites for unbiased ratings of sleep products, rates Casper at 79% customer satisfaction. But Zinus and Signature Sleep are not far off with 76% each. At similar price points the winner is whichever ranks first. Few customers can objectively decide based on quality of a mattress. As a result no one knows which is the "best" mattress.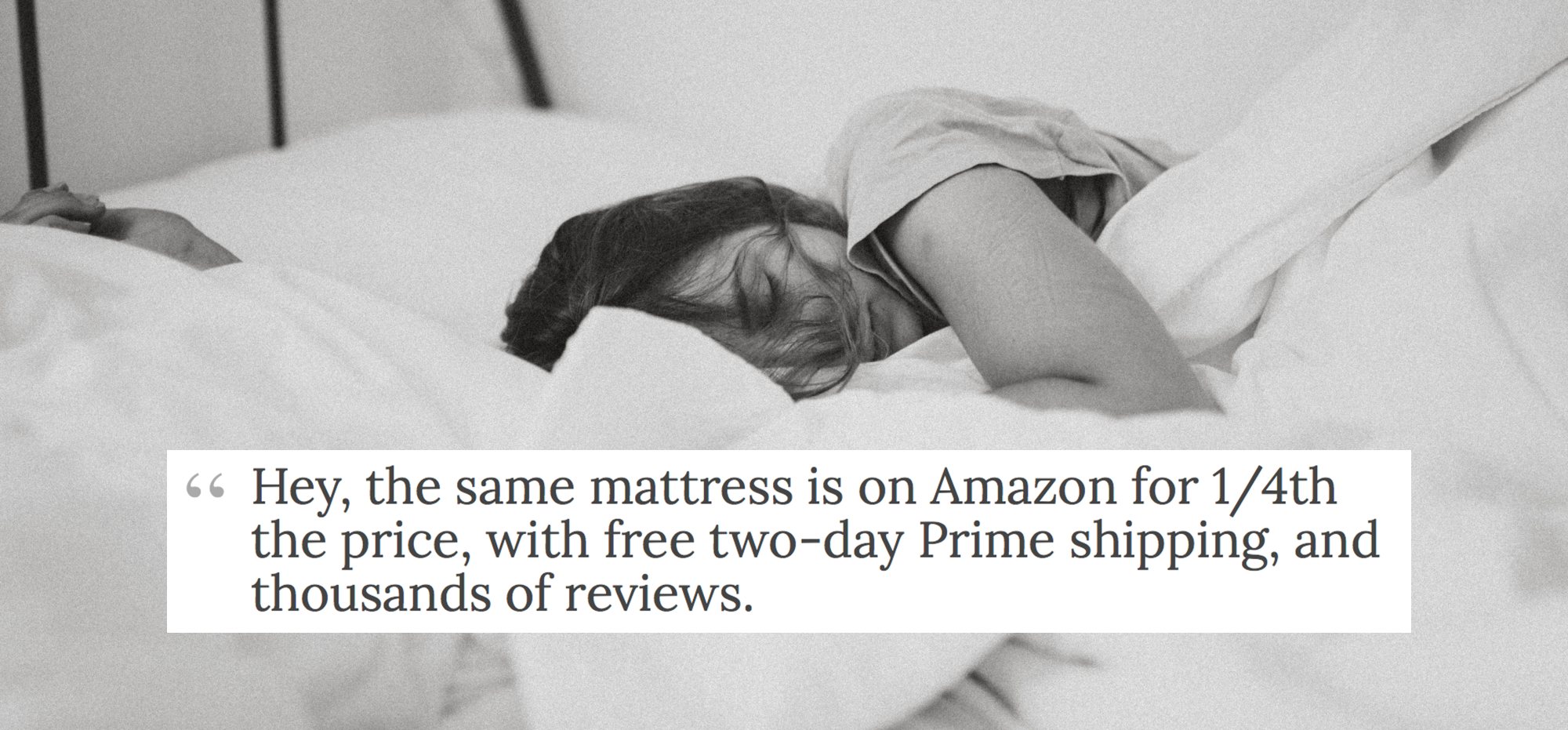 Which is why, in the end, Amazon is saying "Hey, the same mattress is on Amazon for 1/4th the price, with free two-day Prime shipping, and thousands of reviews." How many customers would still buy a Casper mattress? Many would still buy a Casper. Different consumers, different buying needs.
Many jumped to the conclusion that "Amazon now competes with the likes of Casper and Tuft & Needle". No they don't.
All the private label mattresses on Amazon are probably not hurting Casper or Tuft & Needle. If they are, then Casper's moat is not real. Many brands believe direct-to-consumer (DTC) is the future, Casper is one of them. Amazon is steaming ahead in the opposite direction, creating an environment for brandless to win. Neither is better than the other. Time will tell what customers want more, and what is sustainable and profitable in the long run.
So it's not about Amazon having more data on customers than anyone else. Nor it is about them pushing their own brands. It's about understanding the environment that is Amazon shopping. Most customers search by generic keywords and they have no problem buying brandless goods if reviews are great. All Amazon, or to be honest anyone else making private label products, has to do is find niches which have the same behavior. Sleeping mattress is one.