Amazon's B2B marketplace Amazon Business now drives roughly $35 billion in annualized gross sales. More than half of those sales are from third-party sellers.
Amazon Business is a procurement and wholesale buying marketplace built predominantly on the same supply of products as core Amazon but with additional features like bulk buying, quantity discounts, recurring delivery, purchase orders, payment terms, and others. It even has its own Business Prime membership.
Amazon Business also sells items not available to consumers, like medical supplies. Very few sellers have considered designing products or optimizing their marketing for Amazon Business. But the B2B marketplace typically has a higher average order value (AOV) and higher lifetime value (LTV) because its customers are governments, universities, hospitals, militaries, and the like.
Amazon launched Amazon Business in the U.S. in April 2015, after sunsetting AmazonSupply it had been operating since 2012. It reached $1 billion in GMV a year later and grew past $10 billion by the end of 2018. By then, it was operating in nine countries. In a blog post on March 15th, Amazon announced it reached $25 billion. According to Andy Jassy's 2022 Letter to Shareholders, it has now reached a $35 billion run rate.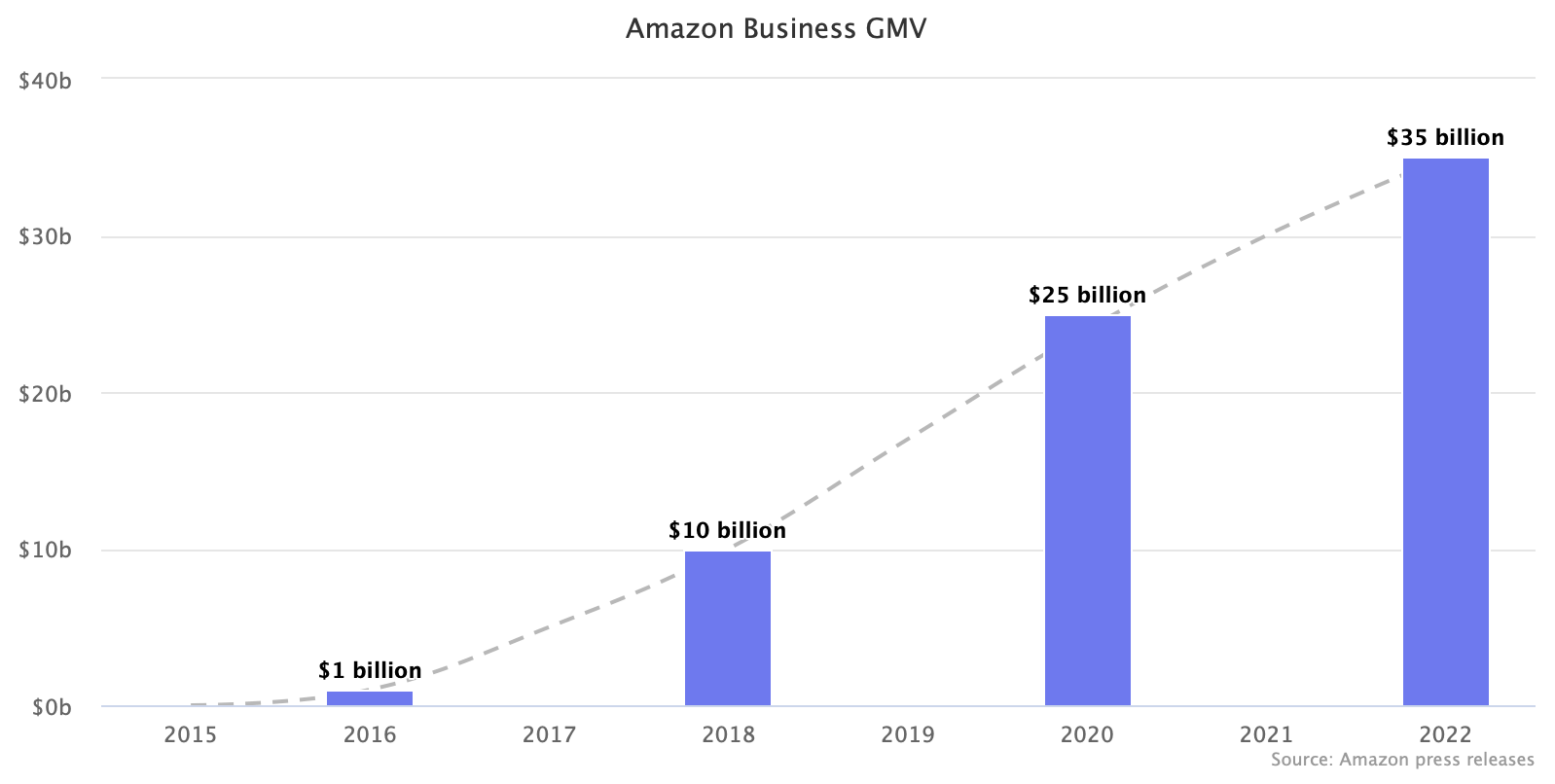 Amazon's success in B2B illustrates the broader yet overlooked shift in commerce, where B2B marketplaces are digitizing an otherwise intricate, opaque, inefficient, and largely offline market. Business-to-business spending is multiple times larger than consumer spending, and online transactions represent a significantly smaller share than consumer e-commerce. Not all of the growth in the sector will accrue to horizontal marketplaces like Amazon Business, though, with verticalized B2B marketplaces presenting a strong case.
Amazon is going after the least complex category, presenting mostly general merchandise in a shopping experience better fit for businesses. That is already a $35 billion business on its way to $100 billion. But the opportunity is vastly greater as more B2B buying in more categories moves online.