Walmart's marketplace now hosts 100,000 active sellers as new sellers joining the platform continue to accelerate.
According to Marketplace Pulse research, Walmart's marketplace has doubled in size in 18 months and reached 100,000 active sellers. It has been adding increasingly more new sellers every year for the past few years. For the past year, 10,000 to 20,000 new sellers joined Walmart monthly, and on average, at least 10% eventually got approved by Walmart and became active. Their active status is based on information on Walmart.com.
When Walmart started allowing international sellers in March 2021, most of the growth came from Chinese sellers. However, since April this year, the trend has reversed, and most new sellers are now from the U.S. Walmart says it still allows international sellers, but their numbers have shrunk demonstrably. It's unclear what changes it implemented to reduce their number.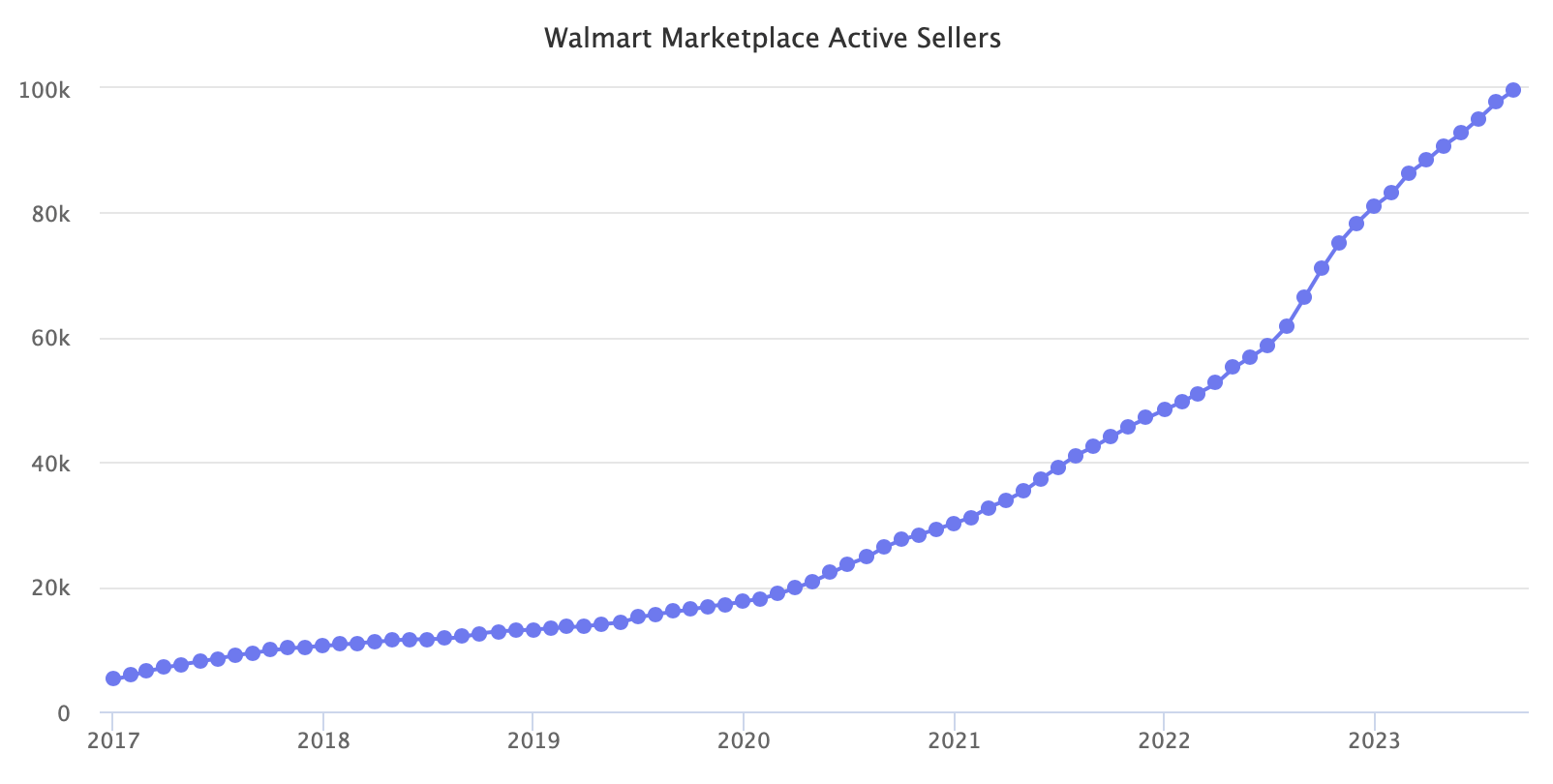 Walmart has over 400 million products for sale on Walmart.com; the marketplace is at least 95% of that. With the catalog so broad and a marketplace with so many sellers, future growth will not come from adding more sellers. That is, doubling the marketplace universe and SKU count won't lead to doubling GMV. Walmart has reached a milestone where counting the catalog and marketplace size has become meaningless.
Integrating the marketplace with the broader Walmart ecosystem is the key. Over the past few years, Walmart managed to transition most sellers to use Walmart Fulfillment Services (WFS) for fulfillment, thus enabling it to control the delivery experience and pack items from Walmart retail and marketplace in the same box. The number of sellers using WFS grew by 50% in Q2 2023, said John David Rainey, CFO at Walmart. Like Amazon and FBA, Walmart's marketplace is tied to the fulfillment service.
Walmart's unique strength in online retail comes from retail stores that fulfill 50% of online orders. The marketplace doesn't integrate into that (beyond being a pathway for brands to end up on Walmart's physical shelves). That's the critical integration to unlock, more important than the next 100,000 sellers and their 100s of millions of products. For years, growth came from adding sellers; now, growth has to come from integration and seller enablement.