Walmart fulfills 50% of online orders from one of their stores which shows the importance of reducing miles traveled to deliver packages while chasing faster delivery times.
Because Walmart has stores within 10 miles of approximately 90% of the population in the U.S., it can use them as pickup points and for store-fulfilled delivery. "50% of the items that we sell online right now are fulfilled out of one of our stores," said John David Rainey, CFO at Walmart, in an interview with Fortune this week, sharing the stat for the first time. "It's convenient for the customer, but also good for us because the most expensive part of delivery in e-commerce is the last mile. We're able to reduce the amount of mileage that we have to travel."
Walmart is the biggest player in online grocery in the U.S. A lot of its e-commerce volume comes from online grocery, a category uniquely fit for fulfillment from stores. However, using stores for fulfillment limits the product selection to tens of thousands of items - Walmart has over 100 million products for sale online. That broader catalog ships from its warehouses (including the marketplace because most sellers have their inventory stores in Walmart warehouses). Thus, 50% of their sales are from stores, including grocery and first-party; the other 50% is a mix of marketplace and first-party, and that comes from Walmart warehouses and seller warehouses.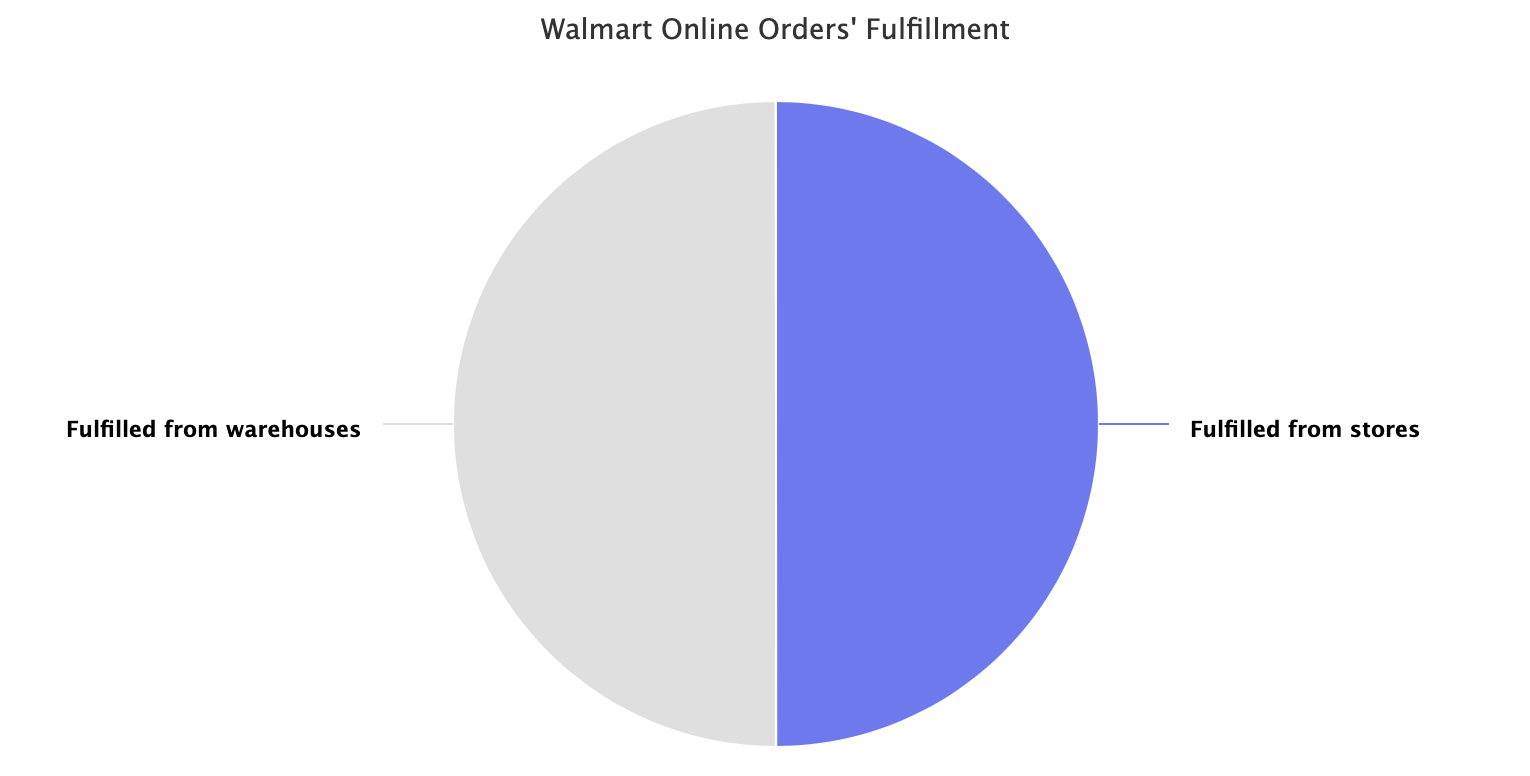 Amazon is focused on reducing mileage traveled too, but without the thousands-strong store network to help, it is rethinking its fulfillment warehouses instead. As Doug Herrington, CEO of Worldwide Amazon Stores, wrote in a recent blog post, "We divided the country into smaller, easier-to-reach regions. Previously, we fulfilled orders from any of our operational sites across the country. Now we have eight interconnected regions serving smaller geographic areas."
"Regionalization is working and has delivered a 20% reduction in number of touches for our delivered package, a 19% reduction in miles traveled to deliver packages to customers and more than 1,000 basis point increase in deliveries fulfilled within region, which is now at 76%," said Andrew Jassy, CEO of Amazon, when discussing Q2 results. He added, "In this last quarter, across the top 60 largest U.S. metro areas, more than half of Prime members' orders arrived at the same day or next day." Those were powered by its same-day fulfillment facilities, which bring the same benefits (proximity and top-moving selection) as Walmart stores.
After a few years of pandemic-induced fulfillment under-capacity that later transitioned into over-capacity, Amazon and Walmart are back to focusing on getting goods to shoppers as fast as possible while reducing costs, too. Because for both, "the logistics are as much part of the product as the products themselves."