In two years, Amazon's revenue from the marketplace and ads businesses will be bigger than its online retail business. Marketplace plus ads revenue is already 81% as big as online sales.
In the second quarter, Amazon generated $52.9 billion in revenue from selling goods online. It also generated $32.3 billion from collecting marketplace transactional and fulfillment fees and $10.6 billion from advertising services. The latter two combined are its online retail infrastructure business and were 81% as big as Amazon's online retail business.
In five years since 2018, Amazon's online retail infrastructure business grew nearly twice the rate of its online sales - it increased by 3.7x versus 1.9x for the online retail business. If the trend continues, providing services to sellers and brands will surpass being a retailer in two years. Then, in roughly 2025, Amazon's online retail infrastructure business will be as big as its sales as a retailer. Only in 2015, online sales were still five times larger.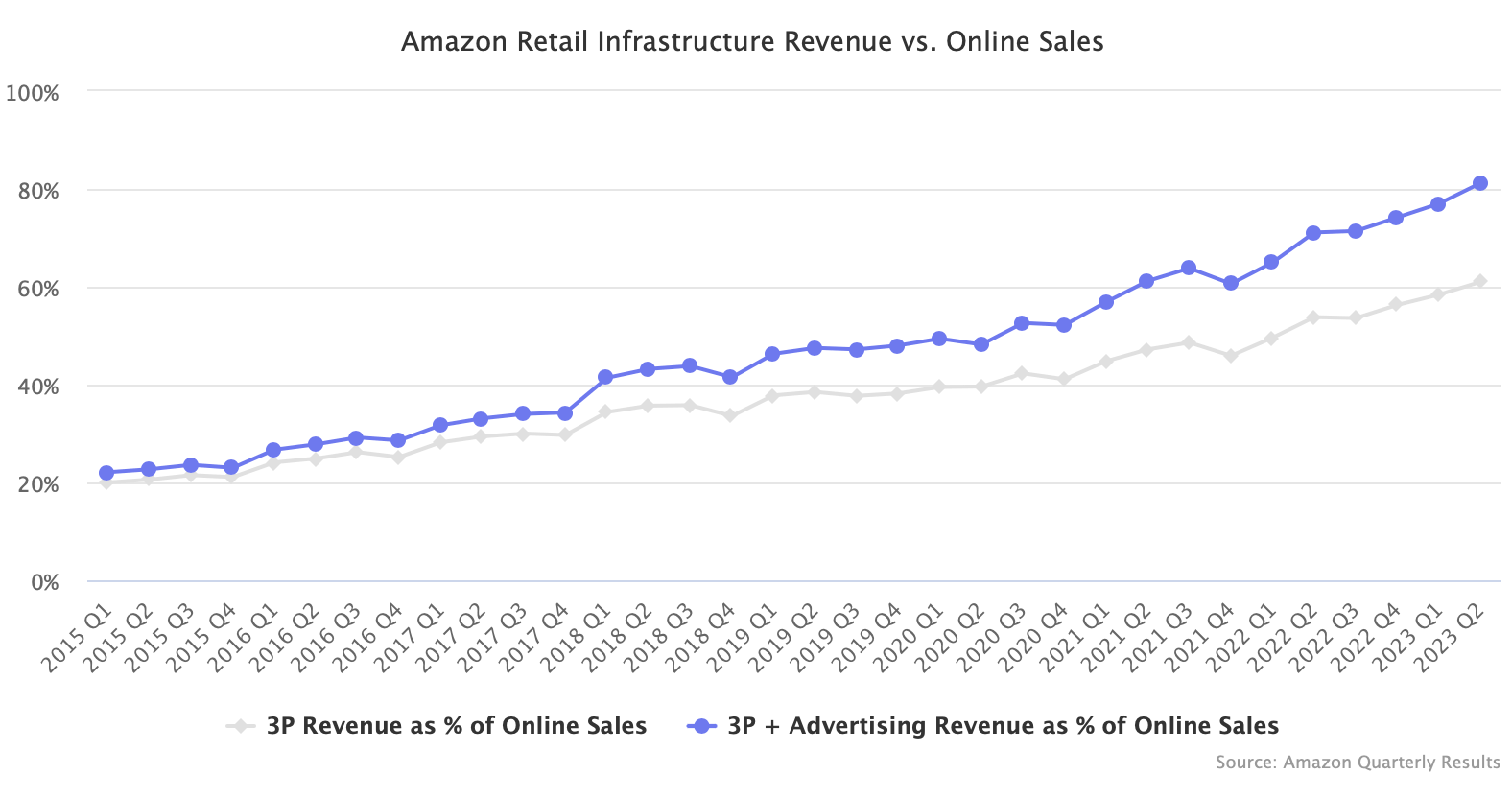 A few years ago, Amazon's marketplace's GMV surpassed its sales as a retailer. The shift to the marketplace has been gradual and appears controlled. But the take rate has also been increasing, and spending on advertising has become much more prevalent hence why marketplace plus ads revenue is growing so much faster relative to Amazon's 1P sales. Amazon's online sales get reported as revenue, but only the take rate of marketplace GMV is revenue.
Amazon is not a retailer. It's not been one for years because its retail platform enables others to sell more than it sells itself. Because it also has the AWS cloud hosting business, online sales are now down to less than 40% of its total revenue. The next milestone is capturing more revenue from those sales by others than from goods it sells as a retailer. That revenue also has better profit margins, which is why this shift is transformational for the company.
Amazon is a retail infrastructure company that started as a retailer and later added more scalable and profitable businesses like the marketplace, AWS cloud hosting, and, most recently, advertising. It is now going further, hoping services like Buy with Prime could take its retail infrastructure beyond Amazon. Yet it never stopped being a retailer. With the retail business as the first customer for fulfillment and advertising services, it provides a level of backpressure and thus is unlikely ever to disappear.