Amazon continues to move away from 1P sales to 3P sellers - sellers will comprise 60% of overall units sold by the end of the year. But the shift is gradual.
In 2016 the number of products sold through the marketplace exceeded those sold by the retail team. Since then, the marketplace's share has been growing steadily, albeit with fluctuations in some quarters, often caused by sales events or holidays when Amazon's retail operation typically plays a more significant role.
Over the past eight years - since the marketplace overtook retail sales - sellers have been gaining 150 basis points in market share every year. The shift hadn't accelerated or slowed, except for 2020, when Amazon struggled to keep its warehouses operational and restricted many sellers from sending in inventory. Today it is back to the historical trendline.
The mix of the number of products (units) does not equal the value of goods sold (dollars) - the marketplace has a higher share of GMV than of units sold because Amazon retail sells more cheaper items. However, that slight difference doesn't change the overall trend.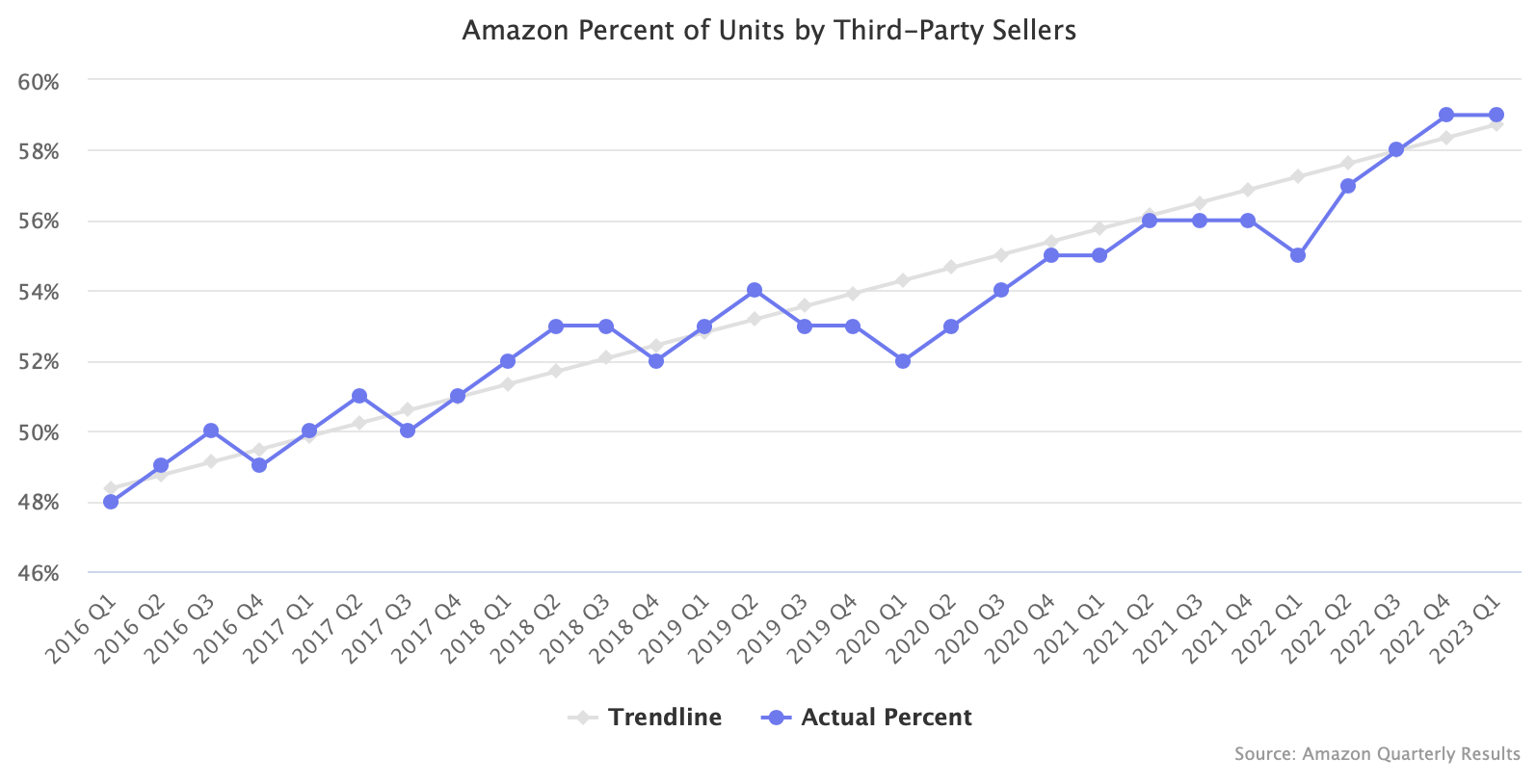 Amazon is a marketplace company that started as a retailer and later added more scalable and profitable businesses like the marketplace, AWS cloud hosting, and, most recently, advertising. Yet it never stopped being a retailer, even going as far as launching owned brands like Amazon Basics, a tactic as old as retail. Without the retail business as the first customer for fulfillment and advertising services, the marketplace wouldn't have become key part of the flywheel it is today. But that flywheel could work without it today.
The old retail business looks out of place in the current platforms-and-services-focused Amazon because the marketplace is more profitable, carries no inventory risk, and takes fewer employees to manage. "The marketplace generated twice the operating profit margin of the retail business—10 percent versus 5 percent, according to a person familiar with the company's finances. In annual sales meetings, a team of 15 people overseeing a retail category would see their growth outperformed by one person from the marketplace team, the people say," wrote Spencer Soper for Bloomberg in 2018.
If the shift to 3P continues at the current rate, it will reach 60% by the end of the year, but it won't be until 2030 before it exceeds 70%. So far, the shift has appeared controlled and deliberate because it has evolved at a relatively stable rate. Amazon could accelerate it, but it will likely never reduce retail to 0%.