Shein has launched a marketplace in the U.S. and is now adding local and international sellers. Shein is one of the largest fashion retailers, quickly expanding beyond fashion and beyond being a retailer.
Shein's marketplace is noteworthy because the number of e-commerce marketplaces with significant volume is tiny in the U.S. and because of Shein's scale as a retailer - according to The Wall Street Journal, sales on Shein reached $30 billion in 2022, and the company projects global GMV to grow to $80 billion in 2025. While not nearly as big as Amazon or Walmart, it's close to being a Top 10 online retailer in the U.S. mainly due to its social media and mobile strategy.
Originally a fast-fashion retailer built on consumer-to-manufacturer (C2M) from China, Shein is now adding sellers with a physical presence in the U.S. and thus can ship orders significantly faster. Shein is evolving from a fast-fashion low-price slow-delivery retailer to a broad-category retailer to a retailer and marketplace hybrid combining all of the above. It won't compete with Amazon on same-day or even two-day delivery, but it will likely add many of the top sellers from Amazon.
For example, Shein has already added Anker, one of the most successful Amazon-native brands. Notably, Anker is selling some products cheaper on Shein than on Amazon. It's unclear whether that was a decision by Anker or a promotion funded by Shein, but some sellers in China shared that the selling fee on Shein is 0% for the first three months and then 10%, lower than Amazon's.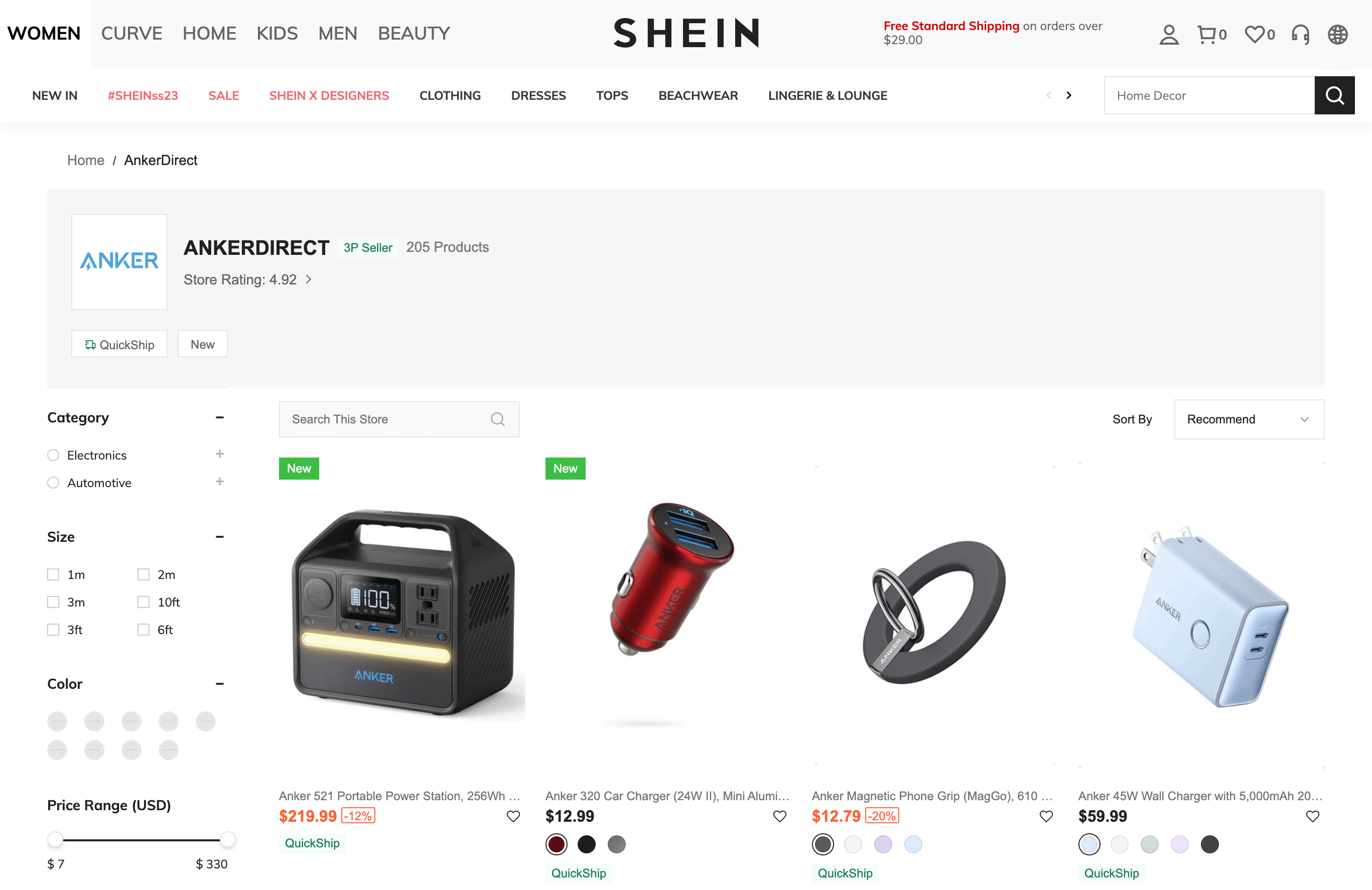 To support the marketplace, Shein is building a team in Los Angeles by hiring for multiple positions to attract and support sellers. Shein intends to expand beyond its supply chain rooted in China (which it is also doing by investing in manufacturing in places like Brazil and Turkey) by adding local sellers. However, comparable shopping apps Wish and AliExpress have tried similar strategies to diversify their assortment, which was also built around China, yet made little progress in attracting local sellers in the U.S. or Europe.
Shein's biggest challenge is that the marketplace dilutes its unique and differentiated offering - faster than fast-fashion product ideation and manufacturing, introducing thousands of new SKUs daily. The marketplace brings Shein closer to Amazon - an everything store - but Shein grew as fast as it did precisely because it's different from Amazon. The marketplace will expand its selection but from products already available elsewhere.