One hundred software tools help businesses sell on Amazon with product research, pricing, inventory forecasting, advertising management, accounting, and more.
No sellers or brands are selling on Amazon without using tools. Amazon's own Seller Central acts as a starting place, but they typically use other tools to augment or replace its functionality. Crucially, they rarely use just one despite there being some all-in-one tools. Instead, sellers use a stack of software tools that handle separate business areas.
The biggest category is Amazon Advertising. Not only it has the highest number of companies, but the leaders are well-capitalized companies with hundreds of employees each. Amazon's advertising growth in size (now a $40 billion network that was only $5 billion five years ago) and complexity over the past five years is the biggest driver.
There is a new breed of companies building on top of AI and generative AI advancements, automating creative tasks like listing creation. Most have only existed for months - the advancements in underlying technology have enabled them to disrupt existing tools that provide the same functionality but with no automation.
Some of the most sophisticated tools focus on competitive intelligence and market share analysis. While similar to product research tools everyone uses, their focus is not helping sellers discover products to sell. Thus, sellers rarely use them. They instead focus on enterprise clients and large brands.
Browse the Amazon marketplace tech landscape broken down by category.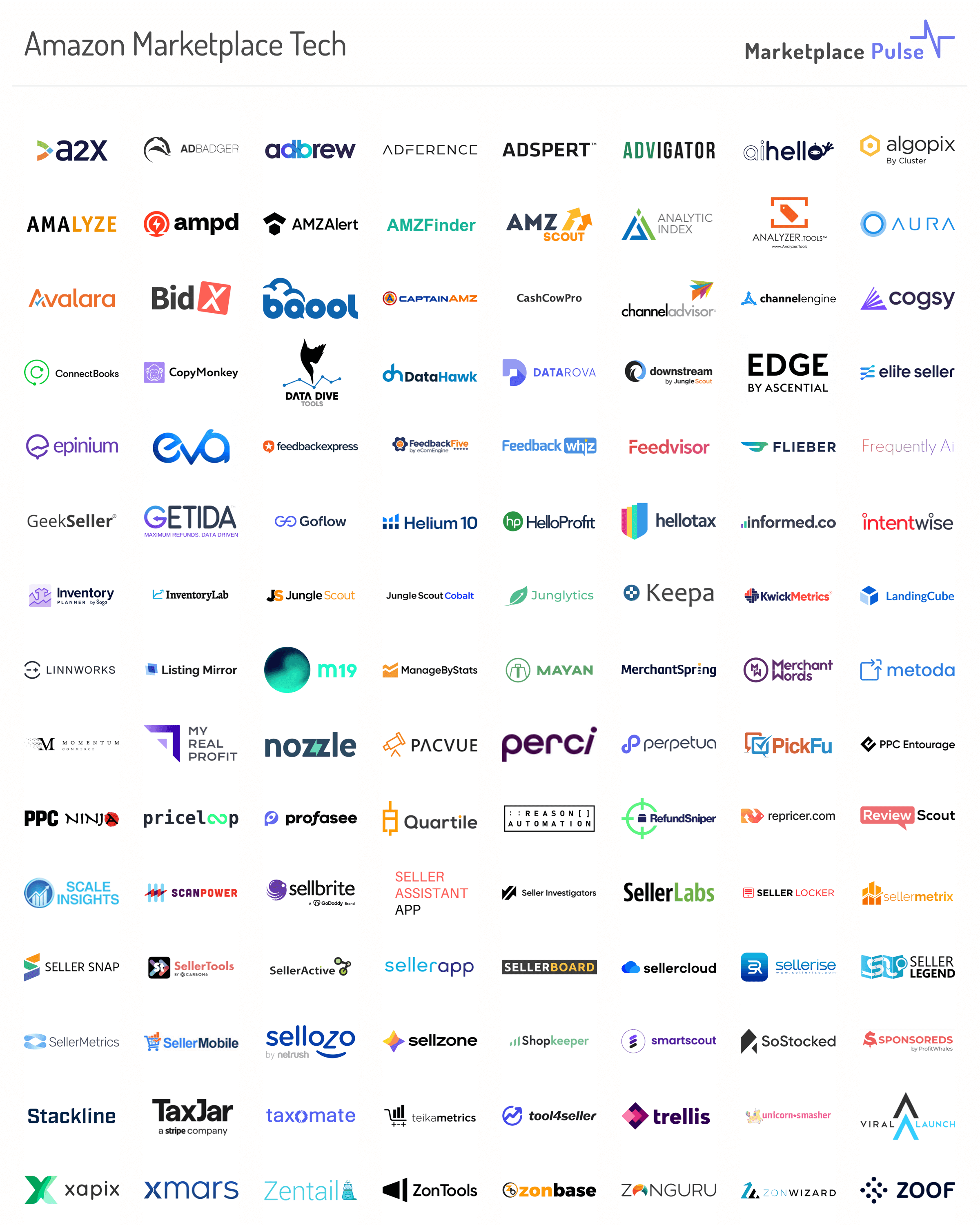 A new critical force behind the industry is Carbon6 and Threecolts, the two companies acquiring and aggregating Amazon tools. Carbon6 announced a $66 million Series A in October 2022, followed by a $90 million Threecolts Series A in March 2023. While many of the tools were previously launched by sellers systematizing their experience, more engineering-led companies with SaaS expertise are now joining the ecosystem. The aggregators are contributing to this by overhauling previously stagnant businesses.
The industry is more constricted than, say, Shopify tech. That's because Amazon's APIs create a rigid boundary box that restricts how creative those companies can be. Amazon also handles many tasks like payments, order tracking, post-purchase, web design, and more. That's why Amazon advertising has attracted so much competition - companies can build better and more innovation and differentiation there. Nevertheless, many tools are not limited to Amazon because sellers are not only selling on Amazon. Hence the original category of tools - multichannel order and inventory managers. The other early category is repricers, which have since become less in demand as fewer sellers are resellers.
The private label industry is synonymous with Jungle Scout and Helium 10, two of the most well-known Amazon tools. They also sparked the tools industry, which now numbers over a hundred companies. As Amazon keeps getting bigger and more professional sellers join the marketplace, the tools run the ecosystem.