Walmart marketplace has surpassed 50,000 sellers, doubling in size from July 2019. The partnership with Shopify, announced on June 15th, has accelerated its growth, bringing over 5,000 new sellers during the six weeks since.
In 2020 so far, more than 15,000 new sellers joined the marketplace. However, while at the start of the year it was adding 1,400 sellers a month, by April, that number has grown to 2,300. Following the partnership with Shopify announcement, it added more than 3,000 sellers in June and is on target to exceed 3,600 in July. Compared to January, that's three times more.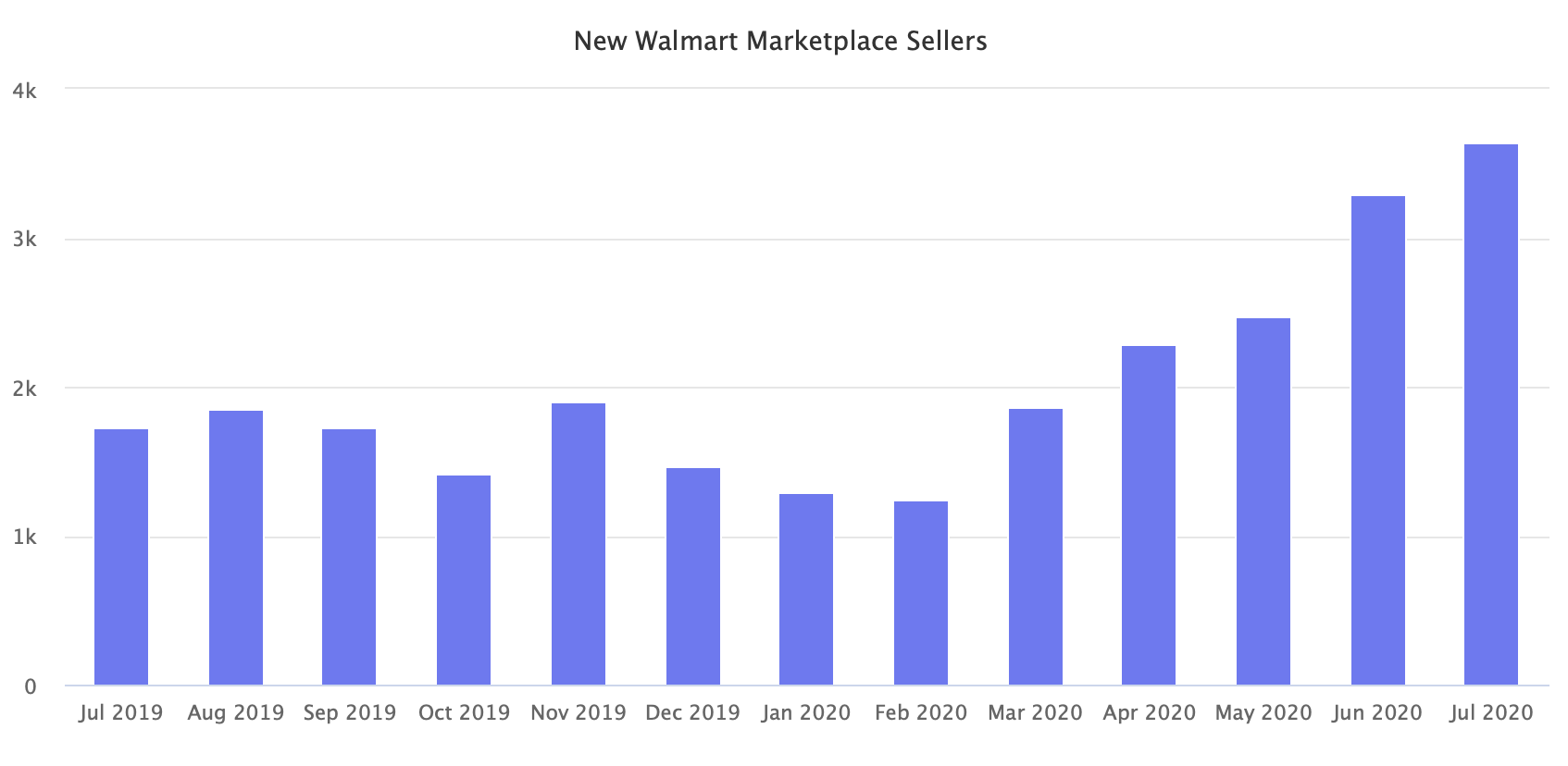 "Growing our Marketplace is a strategic priority, and we are going to be smart as we grow. We will start integrating new sellers now and expect to add 1,200 Shopify sellers this year," said Jeff Clementz, Vice President, Walmart Marketplace, when announcing the Shopify partnership. The marketplace has already surpassed the 1,200 sellers goal. Shopify stores weren't the only sellers added recently, but they were a significant part.
Despite the growth in the number of sellers, the total catalog size has instead decreased. Since the start of the year, the number of products for sale on Walmart online has shrunk by fifteen million - from over 50 million to just 36 million. The decrease occurred from a few large marketplace sellers delisting their catalogs, mainly in the Books and Home departments.
Catalog size is not a strong metric; however, for the same reason, the new sellers aren't either. Performance by those sellers is the key metric.
The marketplace still represents 90% of the overall assortment, despite the shrunken catalog. And Walmart was one of the benefactors of Amazon's fulfillment struggles that sent traffic to rival retailers. With two orders of magnitude fewer sellers than Amazon, for those that do sell on it, it has been outperforming Amazon and the rest.