Since opening the marketplace to international sellers in March, Walmart has added 5,000 sellers from China. They represent more than 10% of all new sellers.
In October, 20% of all new sellers were from China. That's still less than on Amazon, but the ratio on Walmart is likely to continue to increase. "Chinese sellers have very obvious advantages in the global cross-border e-commerce field," said Michelle Mi, Vice President of Global Sourcing at Walmart, in a conference hosted in Shenzhen on March 25th.
Some new sellers are already using Walmart Fulfillment Services (WFS) for warehousing (WFS is nearly identical to FBA on Amazon). WFS makes the seller's business location practically invisible to shoppers since Walmart ships orders from domestic warehouses on the seller's behalf. FBA played a crucial role in unlocking Amazon for international sellers, and the same is playing out on Walmart.
Walmart is also the new home for some established Chinese sellers suspended on Amazon earlier this year. Mpow, Aukey, Tacklife, Ravpower, and others have since opened storefronts on Walmart. The same Mpow headphones that used to come in two days from Amazon are now available on Walmart with two-day shipping by Walmart.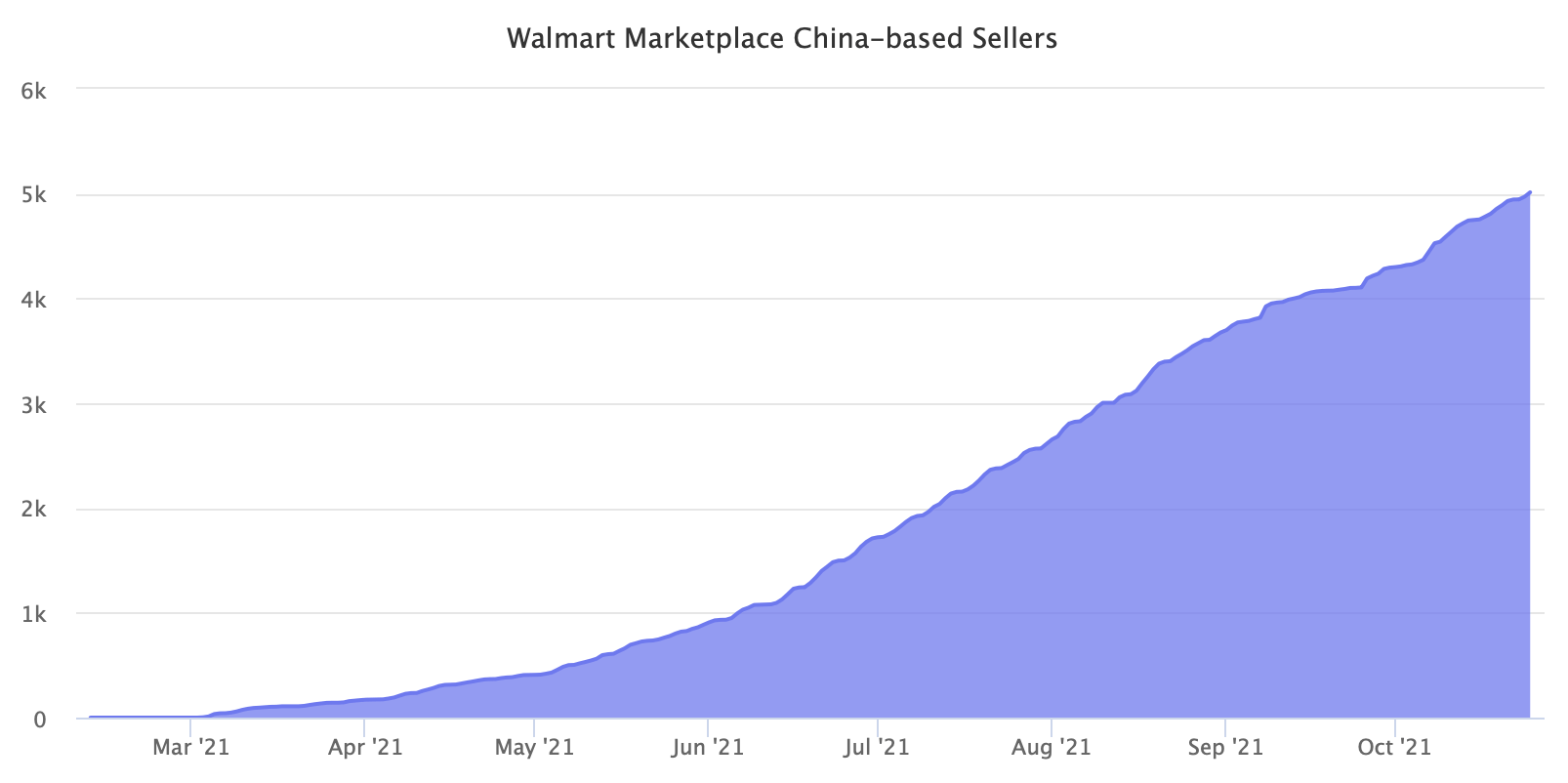 When Walmart removed the requirement for sellers on its marketplace to be registered in the U.S., it said it wanted to reach all international sellers. "We have strong relationships with many reputable companies around the world and we have some of the most rigorous seller requirements in the industry," Walmart said in an emailed statement to Bloomberg in March. "As a result, we are opening our U.S. marketplace to a limited number of international companies who share our commitment to customer trust and safety."
The only international sellers that joined since then are from China. That mimics the geographical distribution of the Amazon marketplace - international sellers excluding China represent a small percentage of the overall seller universe.
Walmart marketplace surpassed 100,000 sellers in July and has since reached nearly 120,000 sellers - it has doubled in size in a year. At the current rate, by the end of 2022, it will reach 200,000. The marketplace still requires approval by Walmart; thus, the number of sellers is an order of magnitude smaller than on Amazon or eBay. But beyond the number of sellers, international businesses and WFS are transforming it into a more competitive platform with Amazon.