In the third quarter, Amazon reached sales levels it would have gotten to even without the pandemic boost. Amazon appears to have lost all the e-commerce spending acceleration.
Amazon's Q3 first-party online sales were $49.9 billion. However, that's just 4% more than $47.8 billion - a sales figure Amazon would have likely reached if the pandemic didn't happen and it continued growing at the five-year average pace.
From Q1 2016 to Q1 2020, sales on Amazon grew on average 17.1% year-over-year. Without the pandemic, Amazon's sales in Q3 2020 would have been $41.0 billion and $47.8 billion in Q3 2021. That's assuming Amazon's growth wouldn't have decelerated.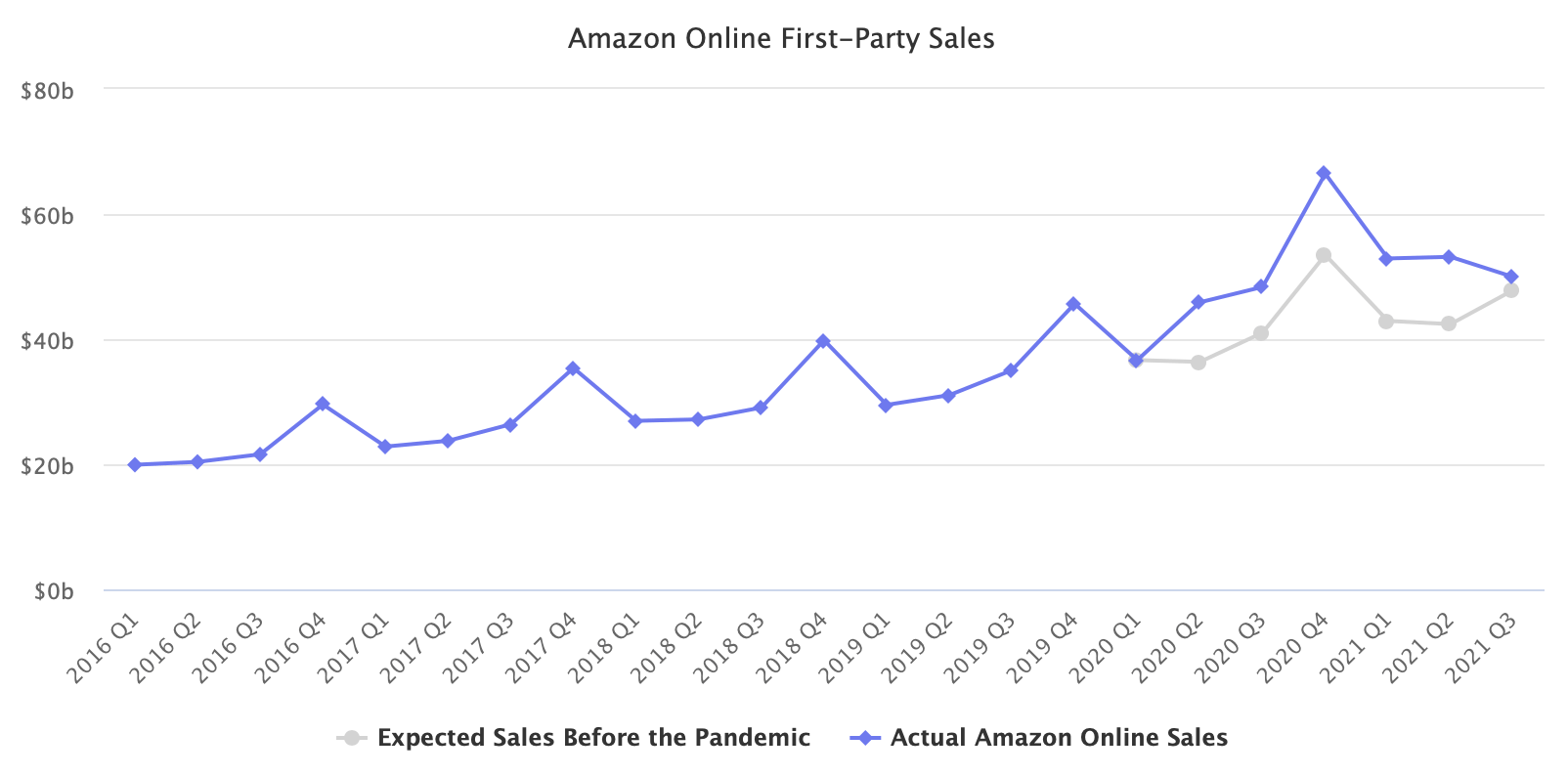 This time last year, it looked like the pandemic would cause a dramatic shift in consumer behavior. E-commerce was going to be a big winner. And it was, especially in categories like online grocery. But Amazon appears to have barely benefited, at least in terms of sales levels it reached.
What looked like multi-year e-commerce growth in just a few months might end up being only a slight acceleration. At best, two years of growth happened in one year. But as that acceleration settles, it could turn out to be even less.
Typically, Q4 has higher sales than Q3, Q3 has higher sales than Q2, and Q2 has higher sales than Q1. This year, the three quarters so far have mostly been flat quarter-to-quarter. Both Amazon and Shopify, for the first time in history, had negative growth from Q2 to Q3 as a result of easing e-commerce acceleration.
Nonetheless, Amazon continues to build for the long term. "We are on track to double our fulfillment network over the two-year period since the pandemic's early days," said Brian Olsavsky, CFO at Amazon. It continues to build fulfillment infrastructure and hire workers to support current and future sales. It now has nearly 1.5 million employees, not counting temporary workers.
Amazon's advertising business reached a $30 billion one-year run rate. Its growth closely follows sales growth, so it was too essentially flat quarter-to-quarter. It still represents less than 10% of Amazon's overall business; however, Amazon might soon consider reporting it as a standalone business segment.
Third-party sales by the marketplace and thus overall GMV on Amazon had similar results as first-party sales. Thanks to expanded fulfillment infrastructure and high inventory levels, Amazon is well-positioned to be a winner in the fourth quarter, especially if brick-and-mortar retailers struggle with empty shelves. But compared to Q4 2020, it will again be slow growth.