Amazon has suspended hundreds of top Chinese sellers over the past two months. The company seems to be just now enforcing its rules for blatant policy violations like manipulating customer reviews. Tactics that some of those sellers have used for years.
Mpow and Aukey were the first major suspended sellers at the end of April. According to Marketplace Pulse data, the list has expanded to nearly 300 individual seller accounts (all based in China) and includes dozens of previously best-selling items. Total yearly sales of the suspended sellers exceed $1 billion.
Fairywill's powered toothbrush, for example, has been among the top 5 five best-sellers on Amazon for at least three years. It had amassed over 75,000 reviews with an overall 4.5 out of 5-star rating. It had more reviews and routinely out-sold more expensive competitors from established brands like Philips and Oral-B.
Fairywill is now one of the suspended brands. Unlike most Amazon suspensions, these will get noticed by consumers, too - the toothbrush was named as one of the "13 Best Electronic Toothbrushes of 2021" by GQ, as well as featured by hundreds of other publications. The GQ article referenced reviews on Amazon and quoted one of them.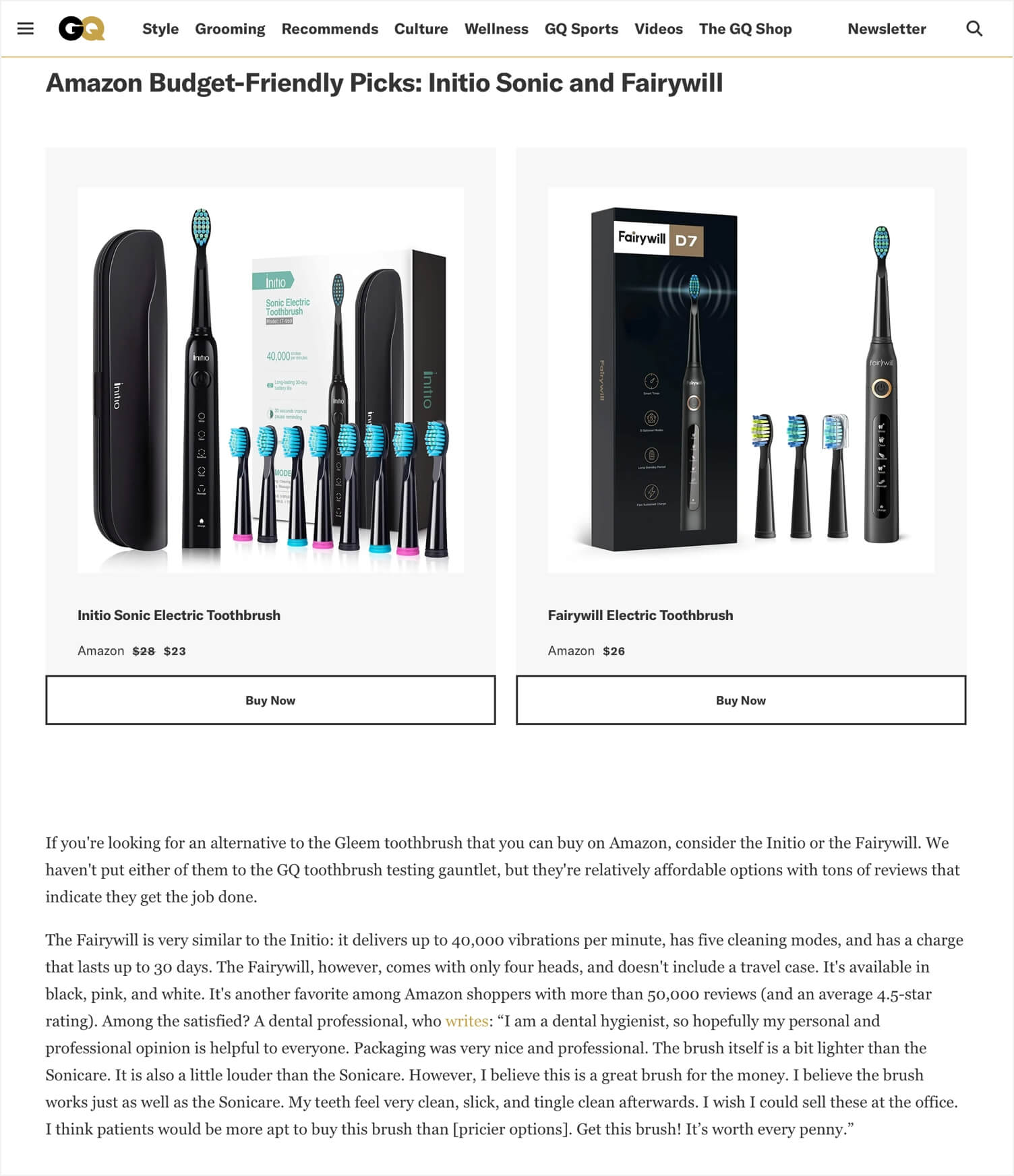 "Made in China, sold on Amazon" is a big part of the Amazon marketplace. The recent suspensions will not impact its dynamics significantly - the suspended sellers represent a tiny share of the total number of China-based businesses on Amazon. Nonetheless, the stories of Mpow, Aukey, VicTsing, Taotronics, RavPower, Fairywill, and many others sent shockwaves through the Chinese seller communities.
A few of the suspended sellers have already announced layoffs and even bankruptcies too. That will inevitably cause many others (and sellers outside of China) to re-assess their Amazon strategy. Some of the Amazon seller aggregators have recently started evaluating and acquiring sellers in China; they too are revising their due diligence processes.
Amazon said that in 2020, they "stopped more than 200 million suspected fake reviews before they were ever seen by a customer." However, the automation doesn't catch cases like sellers adding product inserts with an offer for a gift card in exchange for a review or discount groups on social networks. The 200 million fake reviews were the long tail, but it missed most of the fake reviews by the top sellers until two months ago.
The suspended brands were both decent products and relied on illegal tactics to get ahead of the competition. They didn't outwit the Amazon system to peddle worse products. They cheated the system because they likely felt that if they didn't, others will. Amazon's ineffective oversight of the marketplace enabled this. And it worked; for many years. Wirecutter of The New York Times recommended Mpow, CNET suggested RavPower, and GQ liked Fairywill. Until they were gone from Amazon.