Prime Day is an event that Amazon can place anywhere on the calendar and generate a sales boost. However, seven years after the first Prime Day, it is clear that Amazon is out of ideas on how to turn it into a recognized shopping holiday like Alibaba's Singles Day.
According to estimates by Adobe Analytics, Digital Commerce 360, Morgan Stanley, and others, Prime Day 2021 grew just 5-10% compared to last year's October event (which was helped by being in the fourth quarter). Before 2020, Prime Day was expanding 50% or more every year. This year's Prime Day sales reached a level the event should have achieved in 2020.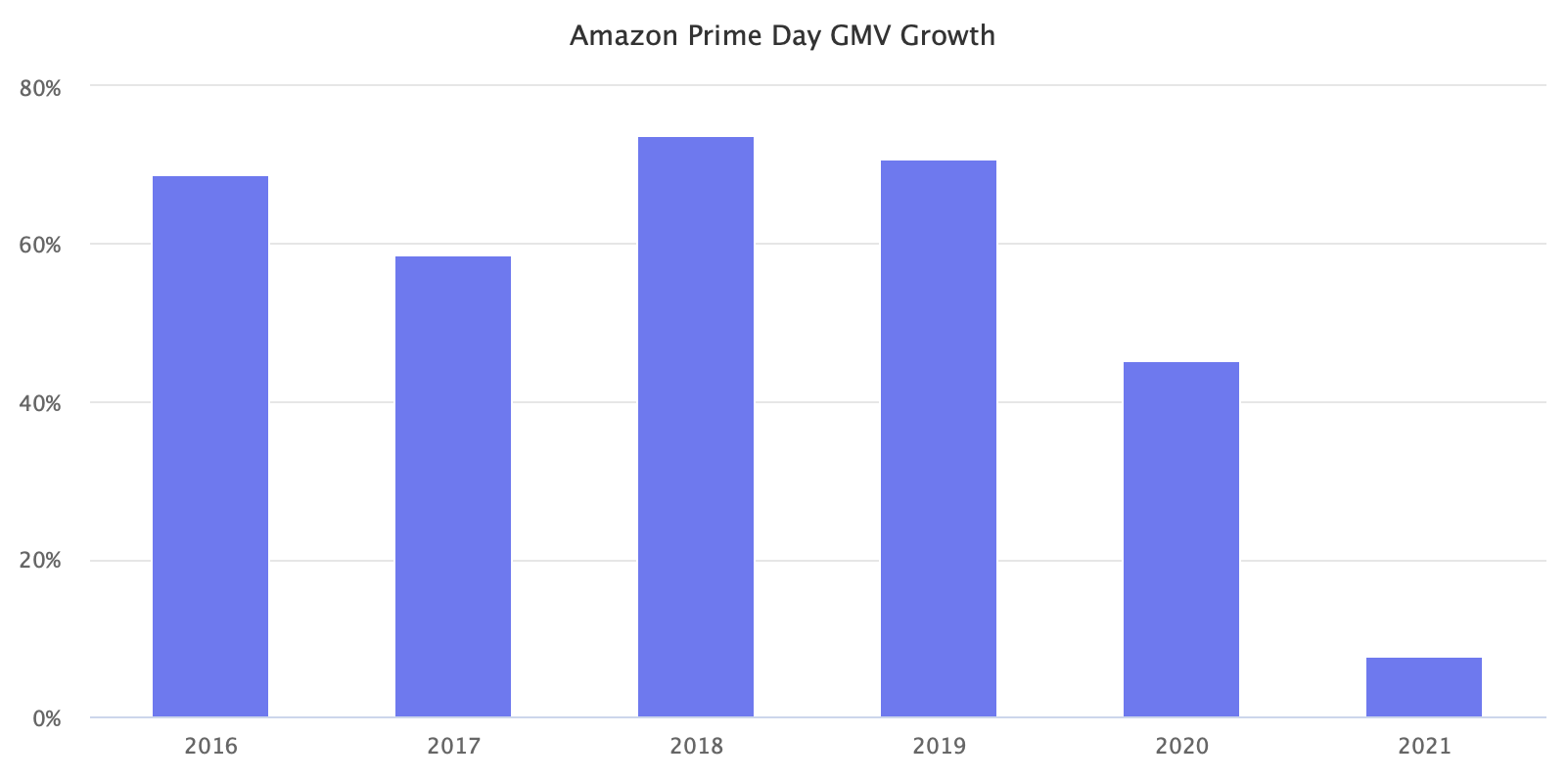 Inventory issues that limited brands' ability to offer discounts, as well as Amazon's warehouse restrictions, have meant that while the supply side of Prime Day has continued to increase (millions of deals this year), many weren't the deals shoppers were anticipating. Prime Day continues to focus on quantity over quality of deals. Except, of course, for Amazon electronics devices like Kindle and Fire TV, which it heavily discounts and thus they capture the majority of sales during the event.
Despite having millions of deals, however, Amazon has not improved how shoppers discover them. Many shoppers find discounts while doing regular shopping when Amazon includes deals among search results. It is also pretty typical for shoppers to add items they think about buying to the shopping cart a few days before the event to more easily check if they were discounted during it. Amazon still presents Prime Day as an endless grid of deals with only the most essential filters.
Most Amazon competitors like Walmart and Target also run sales events during Prime Day. They are too sticking with the basic discovery functionality. Like on Amazon, there is no personalization, curation, or interactive commerce. It is only the bare minimum website and app functionality and a headline calling it an event.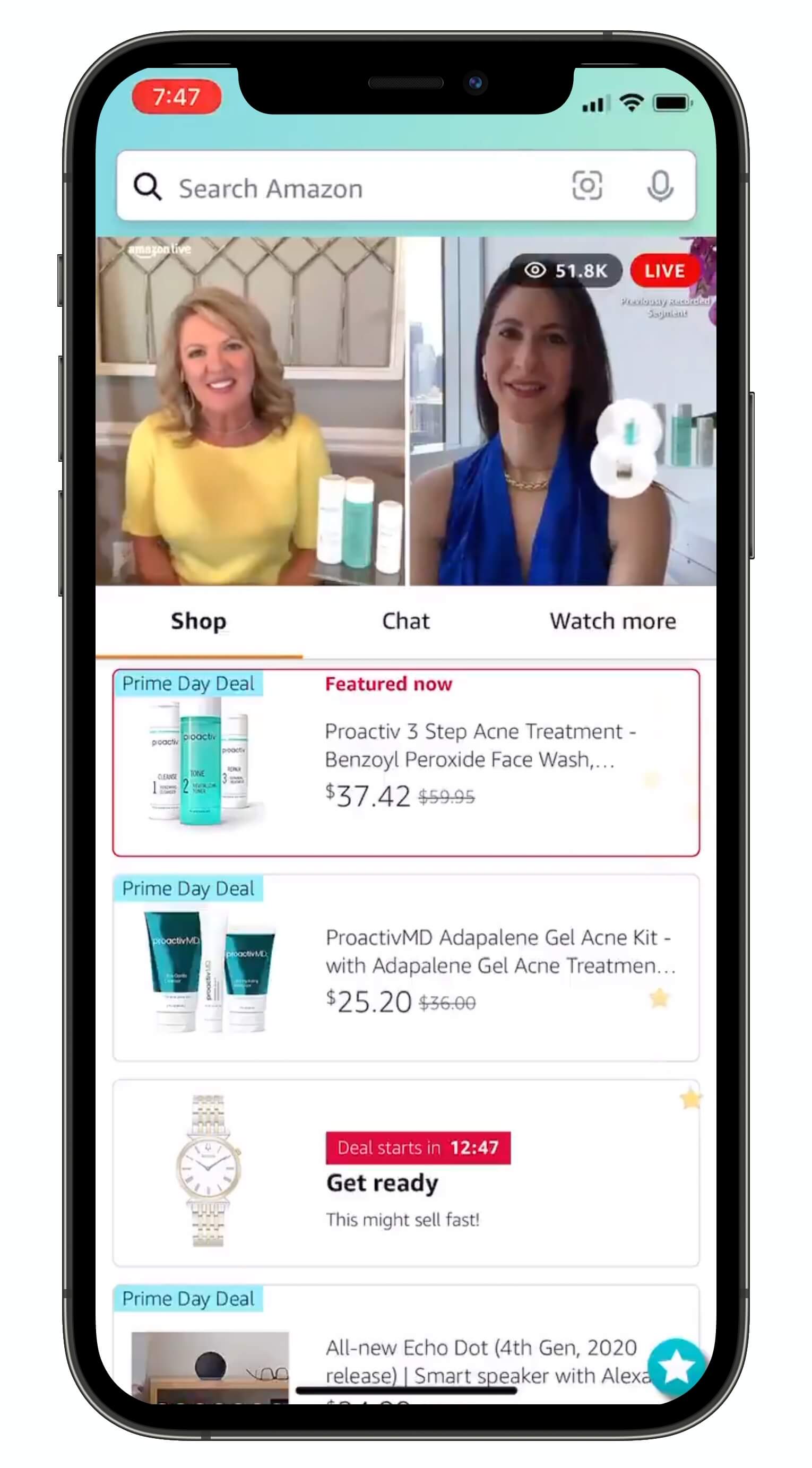 Social media platforms like TikTok played a significant role in surfacing deals. Videos with hashtags like "#primeday2021" were collectively seen tens of millions of times. Also, external sources like news websites covering Prime Day again helped with deal discovery. Because doing so generates affiliate income. However, Amazon's competition saw little coverage since Amazon's market share disincentivizes covering other retailers.
Amazon hosted a live video stream (only in the US, not in any other Prime Day countries). The stream highlighted products but didn't include entertainment like music performances or scripted content. The few brands that got featured saw a significant impact on their sales, but the 30,000-70,000 viewers the video attracted is a small number given how many people shopped on Amazon during Prime Day.
All of this results in a shopping event with an immeasurable number of deals, but that does little to help shoppers discover them. The movement of Prime Day to different dates depending on when it benefits Amazon also weakens it in shoppers' eyes. According to search trends data, they are a lot more likely to search for "when is Prime Day" than for "when is Cyber Monday."
Alibaba's Cyber Monday, which happens on November 11th every year, is the inspiration for Prime Day. But Prime Day sales growth aside, it is not establishing itself nearly as solidly as Alibaba's event. Prime Day is a strategic lever Amazon uses to boost sales in a quarter it chooses. It is not otherwise willing the future of shopping into existence.
Prime Day gets bigger every year, and it is an underwhelming shopping event. Both are true. Its small growth over the past two years is perhaps a sign that it has hit the ceiling. There would be an increase in "when is Prime Day" if Prime Day was not to happen one year, but otherwise, few would care.