For most consumers, Amazon has been back to normal for a while. However, behind the scenes, for the sellers and brands that sell on Amazon, Amazon's fulfillment operations have remained disrupted.
Amazon now has over 200 million Prime members, a membership that has doubled in size in three years. "The crisis is laying bare the cracks in Amazon's ability to be there for its customers when they need it most, much less to "delight" them," wrote Christopher Mims at the Wall Street Journal in April 2020 in an article titled "Will We Forgive Amazon When This Is Over?" A year later, the answer is yes.
The experience of selling on Amazon is still different. According to Marketplace Pulse research, three-quarters of the top 100,000 sellers on Amazon use FBA; among them, 90% of sellers based outside of the U.S. use FBA. Selling on Amazon is inseparable from FBA. But since March 2020, when the company started prioritizing the stocking of household staples and medical supplies, disabling inbound shipments to Fulfillment by Amazon (FBA) for products that do not fall into the essentials or high-demand categories, relying on Amazon for fulfillment is not the same.
The restriction to essentials-only didn't last long, but then in July 2020, the company imposed quantity restrictions for new products and limited others based on recent sales history. Effectively, each product had maximum warehouse space allocated, sometimes limiting the growth of sellers due to frequent stock-outs it caused.
Effective April 22nd, 2021, Amazon removed product-level quantity limits and instead set new account-level limits. The change again attracted critique because for many sellers, it further reduced available warehouse space, but also because it was announced and became effective on the same day. "With ASIN-level limits, our top items were limited at ~33k units max and ~24k units max, respectively. Now, our total limit is around ~50k and must be shared across the rest of our catalog. With this change, we can no longer send full container load shipments for our most popular items," wrote one seller.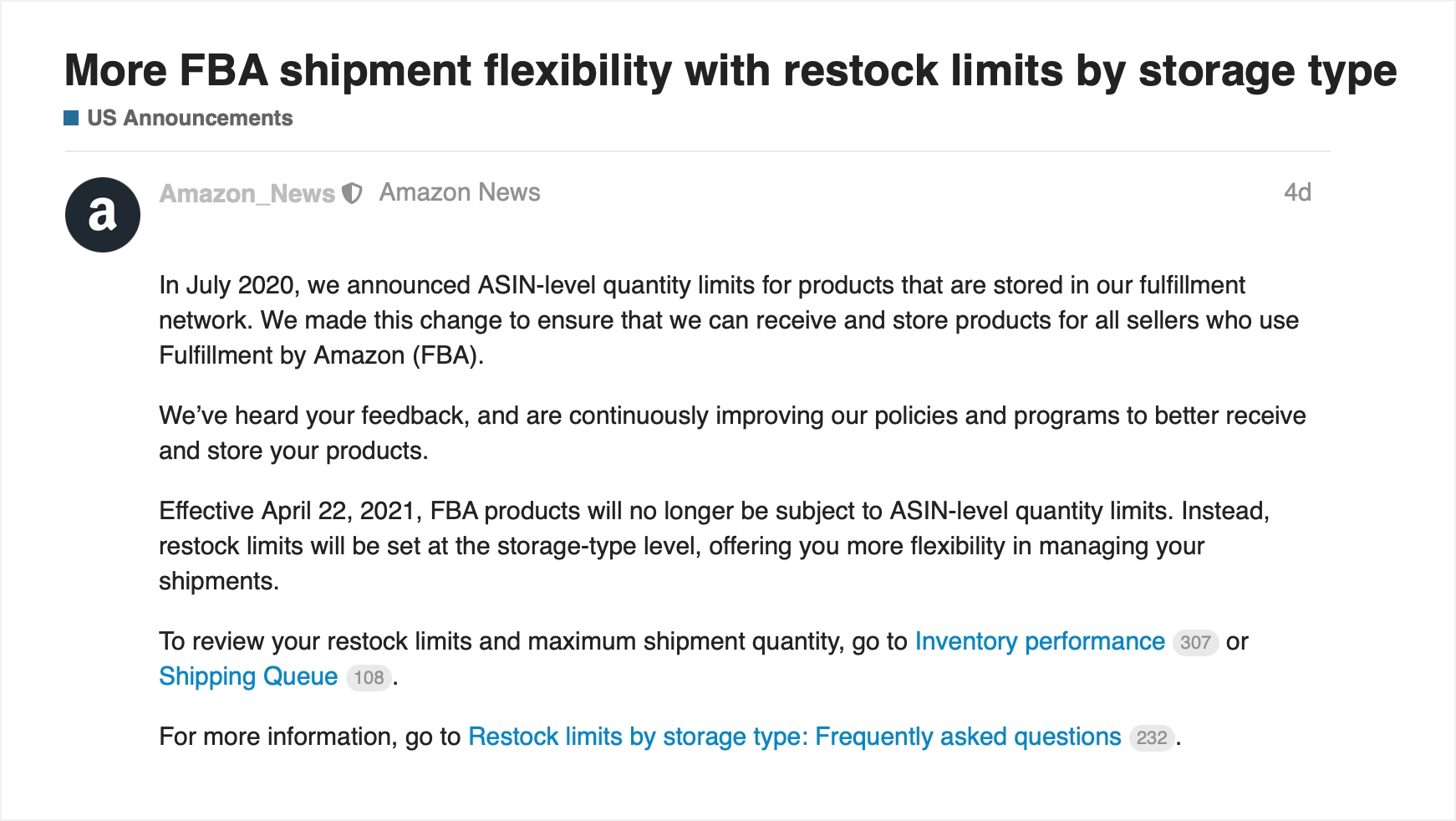 It's been more than a year since the pandemic started and brought increased shopping online. It is now clear that Amazon is never going back to the virtually unlimited fulfillment service FBA used to be. When FBA first launched fourteen years ago in 2006, it was both a warehousing and fulfillment service. The long-term storage (LTS) fees used to be charged once every twelve months. Over the past few years, the service transitioned strictly into a fulfillment service. Storing inventory for months became expensive. The changes over the past twelve months that introduced quantity limits reiterate that FBA is intended for short-term supply.
That means increased complexity for sellers and brands on Amazon and likely a need for a separate 3PL warehouse to act as backup storage or store large quantities. It's unclear how those businesses will approach fulfillment in the future as demand for multi-channel fulfillment increases and given the reality that Amazon will continue to change the rules and fees on short notice. Either way, the experience with FBA over the past twelve months will have long-lasting effects.
The same FBA moat that allows the company to provide a consistent shopping experience despite millions of sellers behind the scenes is a single point of failure. As it tries to protect that single point of failure, it needs increasingly strict quantity restrictions, high fees, and complex rules for sellers using FBA. And to keep building more warehouses (it has practically killed off Seller Fulfilled Prime (SFP), which allowed growing Prime assortment without Amazon having to build more warehouses).
The new normal on Amazon is still the push for next-day delivery nationwide with the broadest assortment possible - something the over 200 million Prime members are sure to notice - but a more complex task to keep that assortment fulfilled. Amazon's fulfillment service restrictions were inevitable; the pandemic merely made Amazon introduce them more abruptly.