Influencers and their content, not brands, drive shopping on TikTok. TikTok is a content-first shopping platform.
Top-selling items on TikTok Shop are already generating over 100,000 sales a month, less than two months after TikTok Shop launched in the U.S. For example, Keila Shaheen's The Shadow Work Journal, a self-help book, sold 225,000 copies over the past thirty days and nearly 425,000 since TikTok Shop launched. Brands like The Beachwaver Co., Wyze, and MySmile have also sold hundreds of thousands.
Bestsellers on TikTok are not items from established brands, and stores with the most sales volume are not big-box retailers. It is not Away luggage or Glossier makeup or a retailer like Walmart or Target. Top sellers on TikTok are items that went viral instead. And even if their virality hasn't reached the levels of The Shadow Work Journal, their sales are still a result of millions of video views.
During Amazon's Prime Big Deal Days that kicked off October 10th, content tagged with #primebigdealdays2023 got 7.4 million views on TikTok. Practically all of it was created by users, and none linked to Amazon. Prime Day before it had over 400 million views. TikTok hopes to turn that pent-up shopping intent into sales. Two years ago, Amazon's #1 best-selling clothing product was a pair of high-waist leggings known as "TikTok leggings." The trend started on TikTok but was transacted on Amazon. This year, The Shadow Work Journal is all on TikTok.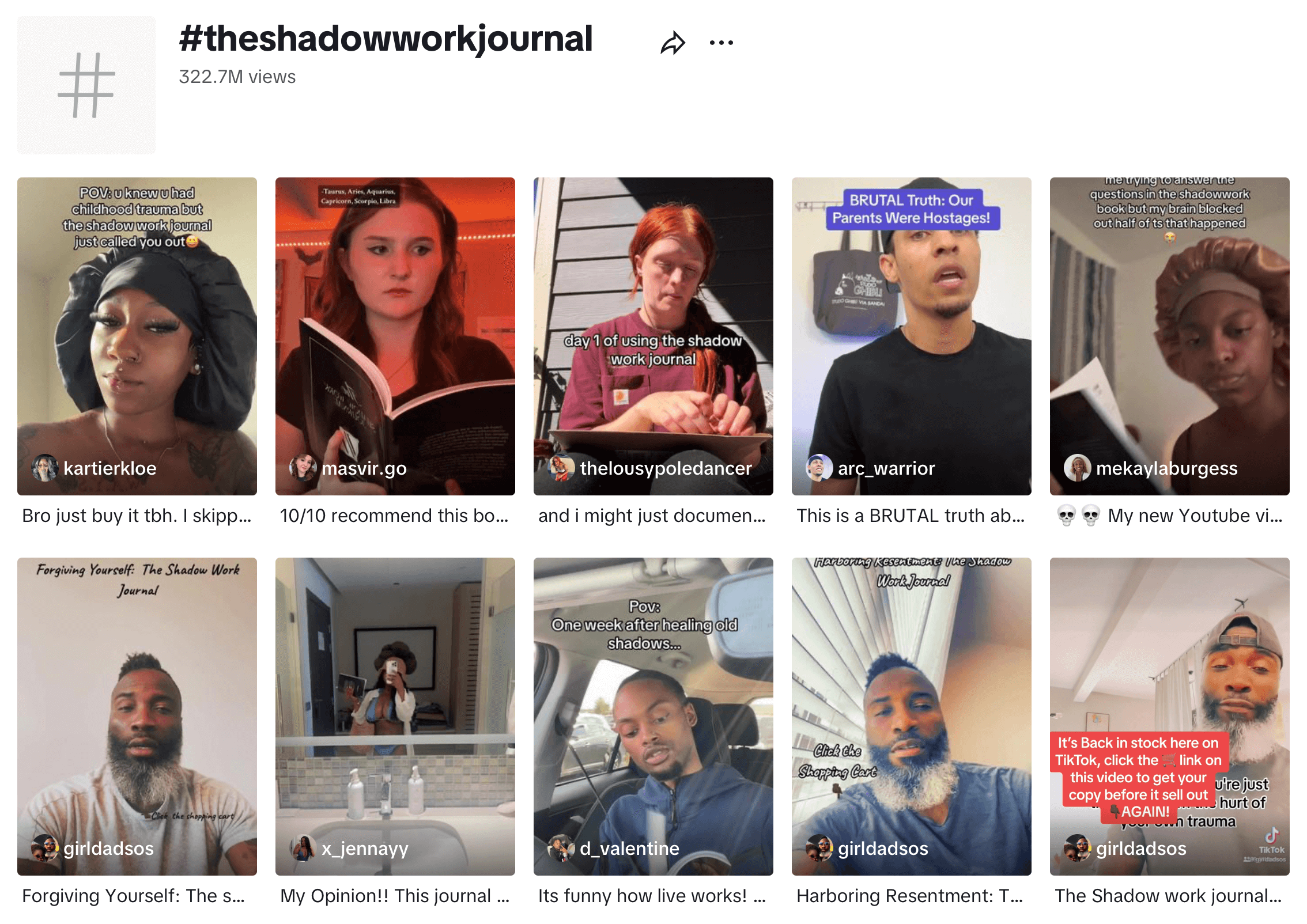 Amazon, Walmart, and other internet retailers are search-first shopping platforms. Most sales happen because the shopper searches for that item. While TikTok has a separate tab for Shop, which also has a search bar, users shop when they see a video they like on TikTok. TikTok is content-first. Hence, if Walmart joined TikTok Shop and only listed all its hundreds of millions of products, it would sell nothing. But someone with a following can tag a product in their video and generate tens of thousands of sales in a matter of days.
Many users on TikTok noticed a sudden increase in shopping-related content. Seemingly overnight, shopping influencers took over their feeds. TikTok has a dial to control how much shopping-related content appears in users' algorithmic feeds. Because without content, there is no shopping on TikTok, it has turned the dial aggressively. Whether "TikTok Shop has ruined the whole app" or "TikTok Shop is forcing me, as a user, to stop using the app," sentiment turns out to be ruining the reason users got hooked on TikTok remains to be seen.
TikTok reportedly has been struggling to onboard U.S. brands to Shop; most of Shop's selection is an eclectic mix of products. But U.S. brands will give in inevitably as the sales channel grows in popularity. However, many will produce their own content that will likely fail to get any attention. It's an entirely new skill set. Some will become great at it, but ultimately, content creators have the keys to user attention. TikTok has an affiliate matchmaking platform to solve that imbalance.
"Whenever you change the channel, buying patterns change - people do not buy the same in malls as in department stores, nor in department stores as in small shops, and so people do not buy exactly the same things online as they do in supermarkets or malls," wrote analyst Benedict Evans. People do not buy the same way on TikTok as on Amazon or any other online retailer. They also don't buy the same things.
TikTok's shopping funnel is unique. Amazon, Walmart, eBay, and the rest of the shopping marketplaces in the U.S. are well-understood problems with clear inputs like advertising spend, conversion rate tracking, listing optimization, and the like. They have the typical discovery, consideration, and purchase funnel. TikTok is none of those things. Nor is it a replacement or competitor to Amazon and the rest. TikTok Shop is a content problem.