Amazon planned to launch marketplaces in Chile, Colombia, Nigeria, and South Africa in early 2023. It did not launch in any of those new markets.
According to Amazon documents obtained by Eugene Kim of Insider in 2021, Amazon planned to launch in Colombia in February 2023 and Chile in April 2023 as part of codename Project Santos. South Africa, codenamed Project Fela, was expected in February 2023, and Nigeria was set for April 2023.
Amazon launched in ten markets and has had at least one launch in a row for the past six years. 2023 is going to be the first skipped year since. Belgium was the last new marketplace in October 2022.
Amazon will finally launch in South Africa in early 2024; the company has already started recruiting sellers for the marketplace. The other countries are likely on pause, "well-placed sources close to Amazons South African operations said the company has paused its Nigerian rollout but is continuing its local marketplace [South Africa] launch," reported Daily Investor.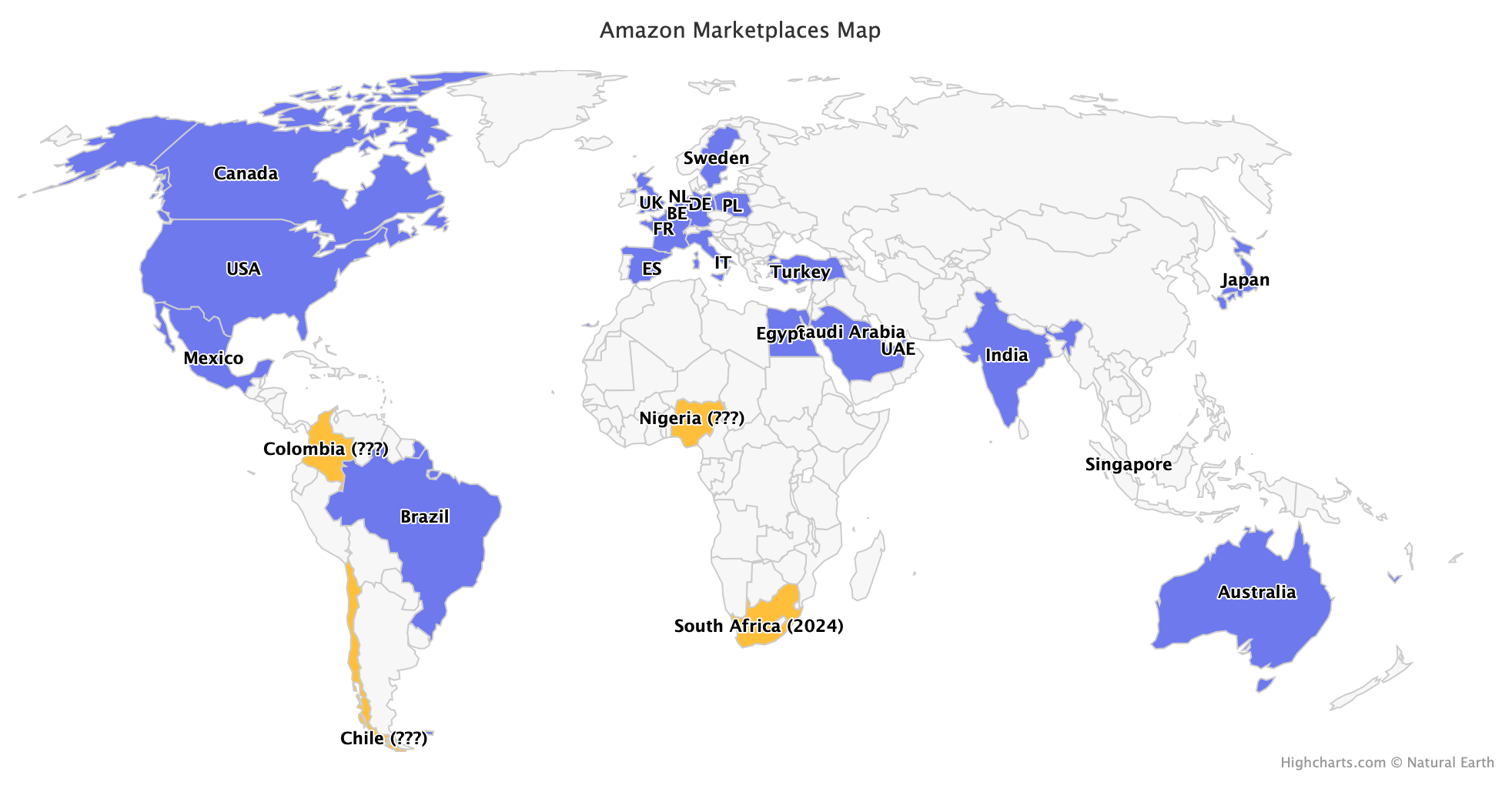 Brazil, Mexico, and Australia are Amazon's fastest-growing international markets. Amazon's web traffic has nearly tripled in Brazil in three years, and in Mexico and Australia, it more than doubled. It launched in Mexico in 2015 and Brazil and Australia in 2017. The launch in Turkey that followed in 2018 has grown strong, too. However, the next eight have remained tiny because Amazon is launching in increasingly smaller and often competitive markets - the eight account for just 2% of all web traffic on Amazon.
Amazon's global expansion is careful because it requires high fixed investment - Amazon launches new markets with the fulfillment service Fulfillment by Amazon (FBA) in place. It can use existing pan-European infrastructure (and sellers) to establish new markets there, but it has to start from scratch in countries like South Africa or Chile. For comparison, Temu launched in 48 countries this year because it doesn't need local physical infrastructure.
| Website | Launched in |
| --- | --- |
| amazon.be (Belgium) | October 2022 |
| amazon.eg (Egypt) | September 2021 |
| amazon.pl (Poland) | March 2021 |
| amazon.se (Sweden) | October 2020 |
| amazon.sa (Saudi Arabia) | June 2020 |
| amazon.nl (Netherlands) | March 2020 |
| amazon.sg (Singapore) | October 2019 |
| amazon.ae (UAE) | May 2019 |
| amazon.com.tr (Turkey) | September 2018 |
| amazon.com.au (Australia) | December 2017 |
| amazon.com.br (Brazil) | April 2017 |
| amazon.com.mx (Mexico) | June 2015 |
| amazon.in (India) | June 2013 |
| amazon.es (Spain) | September 2011 |
| amazon.it (Italy) | November 2010 |
| amazon.ca (Canada) | June 2002 |
| amazon.co.jp (Japan) | November 2000 |
| amazon.fr (France) | August 2000 |
| amazon.co.uk (UK) | October 1998 |
| amazon.de (Germany) | October 1998 |
| amazon.com (US) | July 1995 |
Amazon's international bets are wagers on a very long time horizon. It includes established markets like the U.K. and Germany, scaled bets like India, and a list of smaller emerging markets. After Chile, Colombia, Nigeria, and South Africa eventually go live, Amazon will be a retailer in 25 of the 50 world's largest economies. Yet Amazon's revenue from international markets is shrinking relative to North America and has been in the red for much of its history. But it hopes it can repeat success stories like Australia, which it launched in 2017, but after five years, it became number one in the country.