Brazil, Mexico, and Australia are Amazon's fastest-growing markets. Amazon's web traffic has nearly tripled in Brazil in three years, and in Mexico and Australia, it more than doubled.
Amazon's other markets - like its core markets, the U.S., Germany, Japan, the U.K., and India - show little web traffic growth, presumably because most of their growth happens on mobile, where shoppers opt for using the Amazon app. Mobile e-commerce now represents 40-50% of total online shopping and is growing faster.
Brazil, Mexico, and Australia are growing on mobile, too, so their web growth is noteworthy relative to the other Amazon markets. It is growing even faster in Turkey, The Netherlands, and Singapore than in those three countries, but those are newer and smaller markets.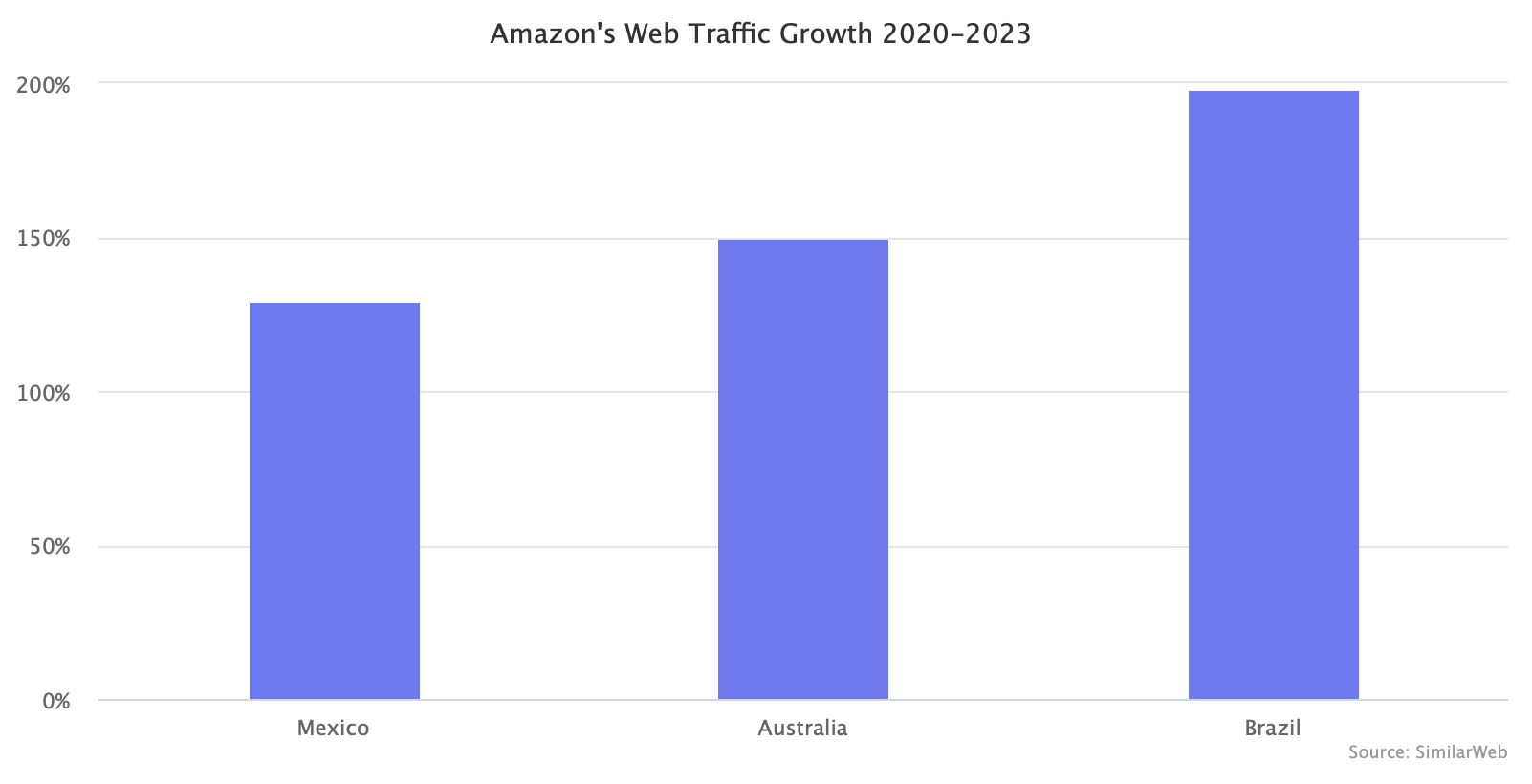 Amazon.com.br had 150 million visitors in February in Brazil, a massive jump from 50 million three years ago, according to web traffic estimates by SimilarWeb. Amazon opened its marketplace there in October 2017 and started selling as a retailer in January 2019. It still lags behind Mercado Libre - which dominates the Latin American market - but has overtaken the rest of the competition.
Amazon.com.mx in Mexico is approaching 100 million visitors a month. Like in Brazil, in Mexico, it also sits behind Mercado Libre. It has been active in the country since 2013, first with e-books, but started operating as a retailer in June 2015. Mexico is part of Amazon's North America Remote Fulfillment (NARF), together with Canada, which allows sellers to display their inventory stored in the U.S. FBA warehouses. It accelerated in growth over the past two years because the covid-19 pandemic drove e-commerce adoption (like in Brazil).
Amazon.com.au now gets over 50 million visits in Australia. Amazon has spent the past five years since it launched there at the end of 2017 growing to overtake eBay - eBay's last country as the number one. Amazon and eBay have traded places for the number one for the past few months. Amazon will soon keep it.
| Website | Traffic in February 2023 |
| --- | --- |
| amazon.com (US) | 2.2b |
| amazon.co.jp (Japan) | 533m |
| amazon.de (Germany) | 408m |
| amazon.co.uk (UK) | 328m |
| amazon.in (India) | 286m |
| amazon.it (Italy) | 160m |
| amazon.fr (France) | 153m |
| amazon.com.br (Brazil) | 152m |
| amazon.ca (Canada) | 150m |
| amazon.es (Spain) | 129m |
| amazon.com.mx (Mexico) | 87m |
| amazon.com.au (Australia) | 50m |
| amazon.com.tr (Turkey) | 35m |
| amazon.nl (Netherlands) | 21m |
| amazon.ae (UAE) | 19m |
| amazon.eg (Egypt) | 15m |
| amazon.sa (Saudi Arabia) | 14m |
| amazon.pl (Poland) | 13m |
| amazon.se (Sweden) | 12m |
| amazon.sg (Singapore) | 5m |
| amazon.be (Belgium) | 1m |
Amazon was planning to launch in Colombia, South Africa, Nigeria, and Chile next. According to Amazon documents obtained by Eugene Kim of Insider, all were planned for spring 2023. Amazon has since delayed those plans until at least the end of the year.
Latin America is the fastest-growing e-commerce region in the world, explaining why Amazon's Brazil and Mexico websites are out-performing. With the launch in Colombia and Chile and a yet unplanned launch in Argentina, Latin America is developing to become a crucial region for Amazon.