Thousands of Etsy sellers closed their shops for the April 11-18th week and are going on strike over increased fees. That's only a tiny sliver of Etsy's active sellers; however, the strike attracted viral attention on social networks and from the media.
According to Marketplace Pulse research, a couple of thousand Etsy sellers put their shops on vacation mode, effectively closing their stores. But none of the top sellers participated in the strike, and those that did represent less than 0.1% of the nearly five million active sellers. Slightly more than a thousand of the top 50,000 shops on Etsy (a cohort responsible for three-quarters of total GMV) are currently closed, many for other reasons than the strike. Thus, shoppers did not notice the strike.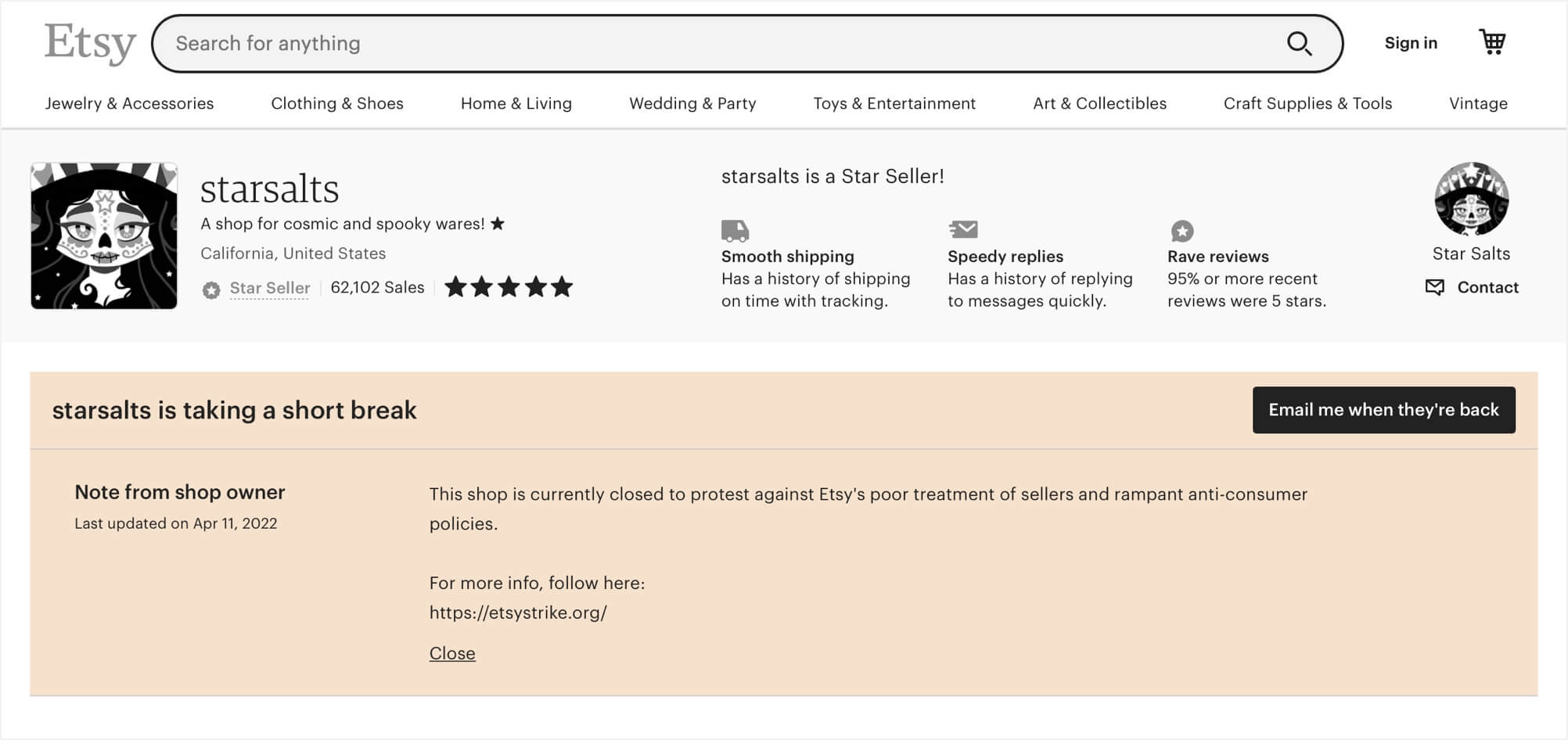 Etsy increased the transaction fee from 5% to 6.5% on April 11th. The fee was 3.5% before the company raised it in 2018. Etsy also charges a $0.20 listing fee, 3% + $0.25 payment processing fee, and a 12% or 15% offside ads fee (if applicable). The total fee is still lower than Amazon's or eBay's take rates, but there is no industry standard for what marketplace fees should be. "A sustainable platform or marketplace is one where the value of being in the network clearly outshines the transactional costs charged for being in the network," wrote Bill Gurley, partner at Benchmark, in a seminal piece on platform take rates.
"If your objective is to build a winner-take-all marketplace over a very long term, you want to build a platform that has the least amount of friction (both product and pricing). High rakes are a form of friction precisely because your rake becomes part of the landed price for the consumer. […] The most dangerous strategy for any platform company is to price too high — to charge a greedy and overzealous rake that could serve to undermine the whole point of having a platform in the first place."
Sellers on Etsy sold $12.2 billion worth of goods in 2021. The platform benefited from the pandemic e-commerce boost - sales in 2019 were less than $5 billion. Naturally, the marketplace became more valuable to sellers and thus put Etsy in a position to increase the take rate.
For many sellers, there are few alternatives, as Etsy is the market leader for handmade, vintage, and other goods. Their BATNA (Best Alternative to a Negotiated Agreement) is self-managing demand creation (Facebook and Google ads) and transactions management (Shopify or others). That has its own advantages but typically has a higher cost than Etsy's fee and is not trivially achievable for all of its millions of sellers. Thus the value of being on Etsy still significantly exceeds the (increased) transaction costs. As Etsy continues to grow and sellers flock to it, it can increase the fee further.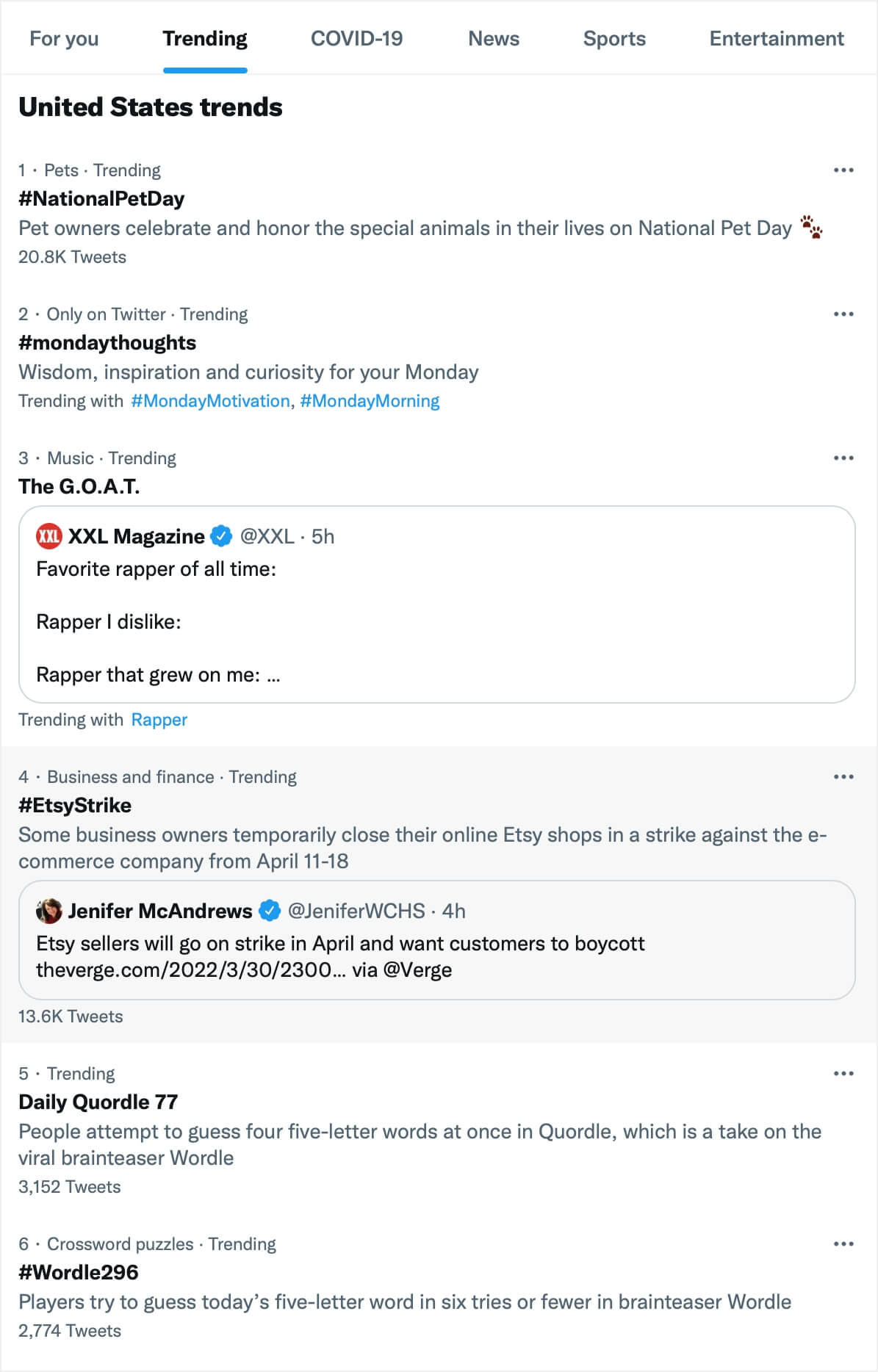 But despite the strike having a microscopic impact on Etsy, it garnered outsized attention. The hashtag #EtsyStrike was one of the top trending topics on Twitter on April 11th. Videos tagged with it had millions of views on TikTok and thousands of posts on Instagram. Most leading publications and news sites also covered the topic. The strike itself was immaterial, but it created a storm of publicity that reached much further.
Other marketplaces - Amazon and eBay, to name two - have many sellers upset with platform changes too. There have been some attempts at coordinated strikes and petitions, but none gathered as much attention as #EtsyStrike. And yet, marketplaces with millions of sellers are protected from walkouts by their size. For any seller that goes on strike, thousands more will not. Most Etsy sellers will be back on Etsy after the strike is over.
Sellers are both collectively powerful - Etsy without sellers has no products for sale - and powerless because Etsy gets to decide rules and fees without any input from sellers. And it is nearly impossible for the millions of them to agree on strikes, thus rendering collective bargaining power nonexistent. This power imbalance affects all platforms (including Uber and Airbnb) and is a topic regulators are paying attention to. In the meantime, however, Etsy will ignore the strike.