Etsy has used surging demand for face masks to accelerate growth for all handmade and vintage goods. After growing 20% for the last five years, it will nearly double GMV in 2020.
Etsy's full-year GMV will reach $8.5-$9.0 billion, an increase of 80-90% from 2019. Since 2015, its GMV has been growing, on average, 19.6%. Thus Etsy will reach a GMV level it wouldn't have gotten to for at least three years.
Etsy's success this year has become synonymous with face masks. However, face masks represented only 20-25% of GMV growth. Instead, they were the most impactful by bringing more buyers to the marketplace that drove more sellers to join.
The company reported selling $346 million worth of face masks in the second quarter and $264 million in the third quarter. On April 3rd, the same day the White House announced guidelines that Americans should wear masks outside of the home, Etsy sent a push notification to every seller: "Calling all sellers. Start making face masks." Hundreds of thousands of existing and new sellers started selling face masks.
"I woke up to discover it was suddenly like Cyber Monday," Etsy's CEO Josh Silverman told the Financial Times. "But everyone in the world wanted only one product." That product was face masks.
Since Etsy made that call to sellers, the marketplace entered into a growth run it hasn't seen for years. In April, "face mask" was the most frequently searched term on Etsy. But buyers didn't only buy face masks. And because they bought other goods as well, sellers flooded in to offer them.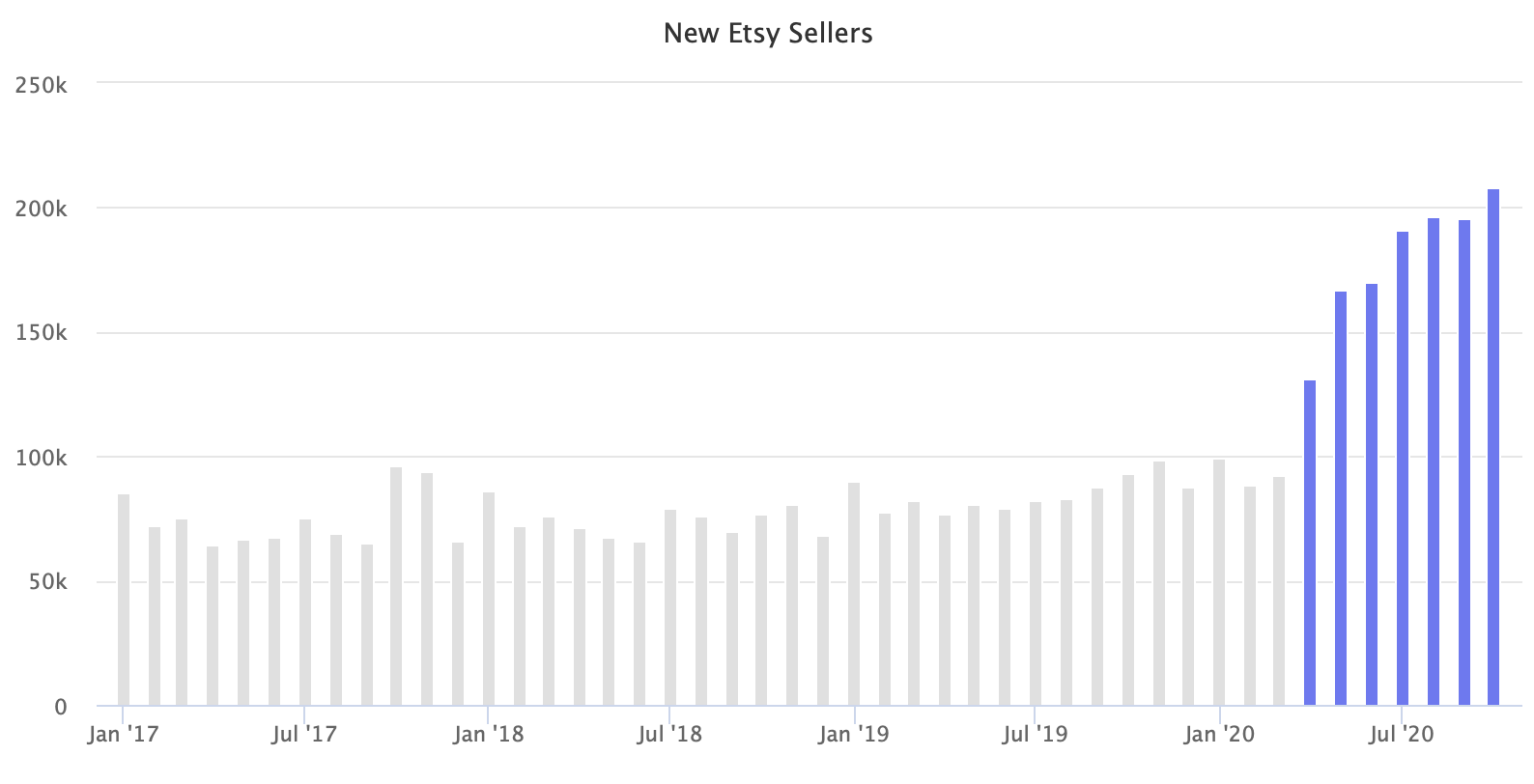 Etsy is on target to add 1.9 million new sellers this year, up from one million last year. There was a visible acceleration in April, and it has sustained so far - it has been adding 200,000 new sellers for the past few months, more than double the amount before the pandemic started.
New sellers increased the total catalog size - Etsy now has over 80 million products, up from 60 million at the start of the year. The increase was across the board, with Home & Living, Art & Collectibles, and Jewelry departments leading.
Half of the new sellers are U.S.-based. That's a considerably higher share than over the past few years. Etsy has international sellers and buyers and has, in the past, made growing internationally one of its key goals (currently 35% of its sales are international). However, the pandemic seems to brought nearly a million new U.S.-based sellers to Etsy - for example, some newly furloughed workers with sewing skills gravitated to it.
While some sellers sold more than 100,000 face masks, hundreds of thousands sold a few. Nearly 40% of new sellers that joined in 2020 already had a sale. Most Etsy sellers, after all, are individuals working from home.
Without face masks, Etsy's GMV was up 93% in both the second and third quarters (above overall e-commerce growth in the U.S. and elsewhere). Meanwhile, total GMV growth had started to decelerate because the demand for face masks is decreasing. However, these past quarters introduced or reintroduced Etsy to many buyers, and they are likely to stay. According to Marketplace Pulse estimates, Etsy has retained the same high sales volume since August, while face mask sales continue to shrink.