Thousands of new sellers are joining the Amazon marketplace every day. For over five years, the figure has remained virtually unchanged.
According to Marketplace Pulse research, more than 2,000 new sellers have joined Amazon's twenty global marketplaces every day since 2016. Many of them sell on more than one marketplace, especially in Europe; the count is of unique sellers (if they sell on multiple marketplaces, they are counted once). Amazon in the U.S. has been adding over 700 new sellers daily.
Many of those sellers never become active. Nonetheless, 800 new sellers get their first seller feedback review on Amazon every day. That level has remained stable since 2016, a few months after Amazon got more aggressive about recruiting Chinese sellers.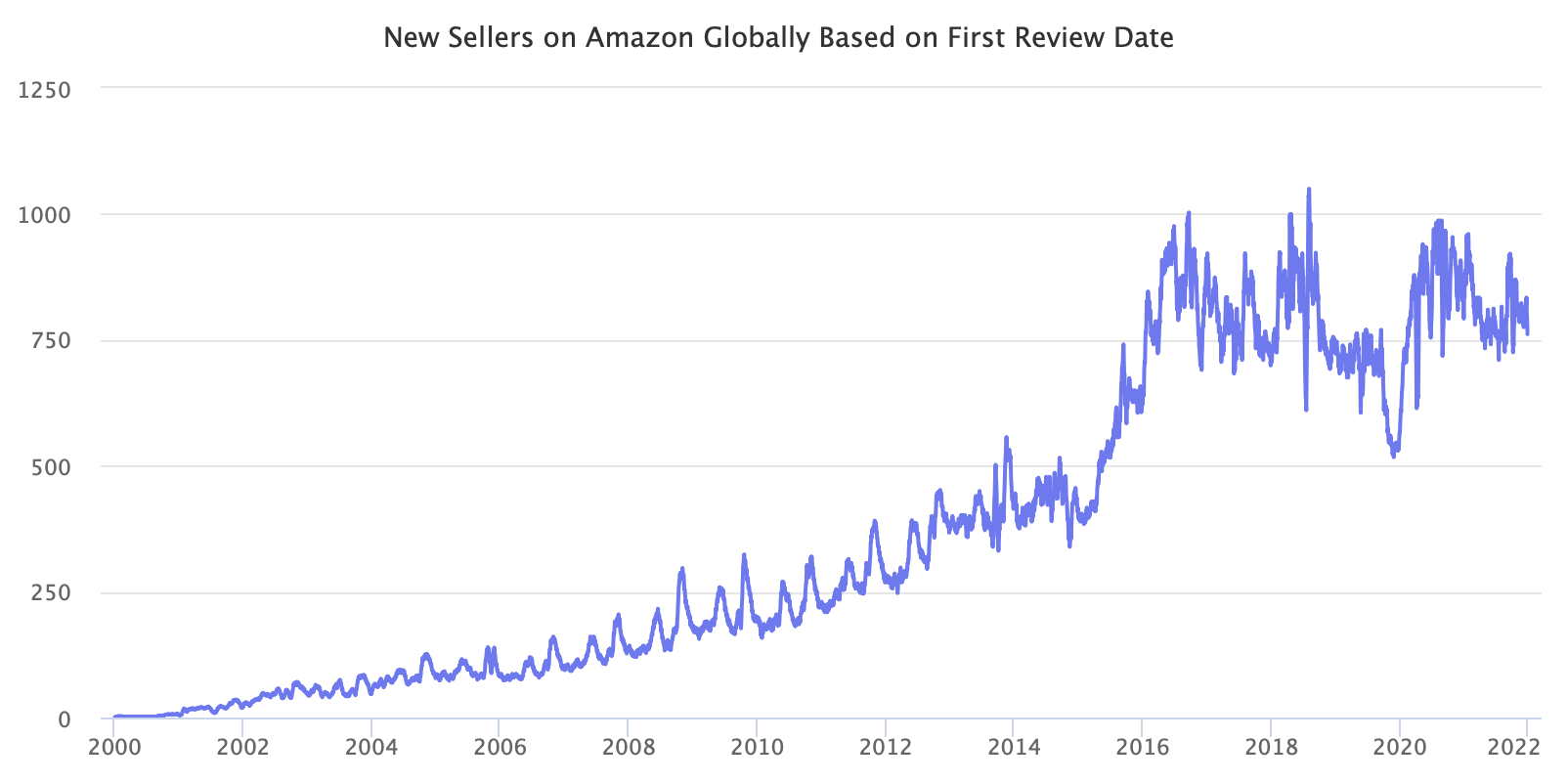 Walmart marketplace adds as many sellers in a month as Amazon adds in a day, and Target marketplace has fewer total sellers than Amazon adds in a day. Both are reviewing sellers before accepting them. On the other end, Etsy adds twice as many sellers as Amazon, and eBay adds even more.
A high number of new sellers is just as much a positive signal as it is a negative one. The more sellers flock to the platform, the more resources Amazon has to spend verifying seller identities and catching scams. At the same time, a greater likelihood that some in the group will succeed. However, the sheer scale of the marketplace universe prevents Amazon employees from managing it directly. Most of that is done through automation instead. Which is the only way Amazon can keep up but is also the source of frustration and despair for many sellers.
Thousands of new sellers daily also mean even more new products added to the catalog. But the number of products in page-one search results is a fixed number. Consumers only see the first page, regardless if there are two more pages or two million extra results. Thus, more sellers and products do not expand selection at Amazon's scale. They instead add to the pool of results competing for the limited selection consumers ultimately see.
The unchanged number of new sellers daily is hence proof that Amazon is keeping it somewhat under control. For example, Amazon got more strict with identity verification, but that hasn't impacted the inflow of sellers. Amazon is accepting the chaos they bring while trying to maintain order in the infinite catalog they add to.