Container shipping rates from China to the U.S. have been above $10,000 for nine months. Compared to rates pre-pandemic, they are still up ten times. While global supply chains have slightly stabilized, the freight system is far from being back to normal.
The average price to ship a 40-foot container from China to the U.S. West Coast ports increased from $1,500 at the start of 2020 to over $20,000 in September 2021 (the average price includes premiums and surcharges). By the end of 2021, the rates started to drop, but only to $15,000. So far, in 2022, the rates remained at the $15,000 level. Prices for shipping to Europe are lower but have followed a similar trend.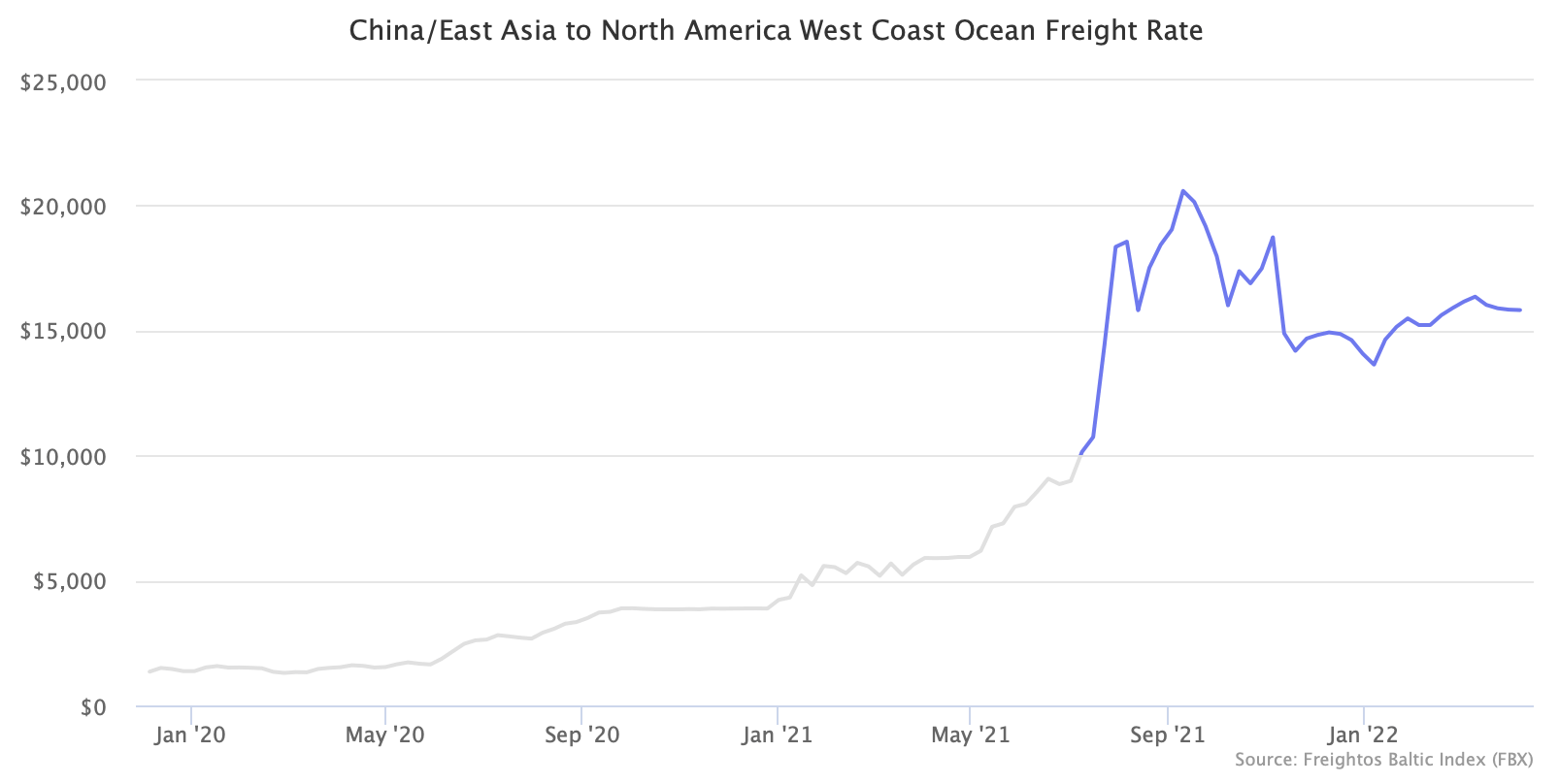 Port closures, labor shortages, bottlenecks, typhoons, demand imbalance, and container shortages are just some of the reasons behind the massive increase in price. Some of those have improved, but new issues have arisen.
For example, 100 ships are typically waiting to load or unload at the Shanghai port. It's now over 300, according to VesselsValue tracking. Or the over a million containers set to ride 6,000-plus miles of the railway linking Western Europe to Eastern China via Russia now having to find new routes by sea, according to Bloomberg.
To put it simply, it used to cost $50 to ship a couch made in China to the U.S. It now costs $500. That means the landed cost has increased, and thus high shipping costs boost inflation. Additionally, congestion and delays have resulted in goods taking twice as long to reach warehouses in the U.S. That part of the supply chain is also affected by increasing fuel costs.
It's unclear when prices will significantly decrease. Getting to pre-pandemic shipping price levels might be years away. In the meantime, it caused some companies to move the production of goods closer to consumers, expand manufacturing to other countries than China, or reduce reliance on just-in-time manufacturing. Many are trying to avoid peak season delays and even more disruptions by importing early.
The product manufacturing tunnel from China to the U.S. used to be both fast and cheap. It's neither of those right now.