Shopify is now the size of 40% of Amazon Marketplace after nearly doubling in 2020. It was just 25% two years ago. The important thing is not whether Amazon and Shopify are comparable - they are not - but the readiness of brands to sell directly to consumers.
Sellers on Amazon transacted $300 billion worth of goods in 2020, up 50% year-over-year. However, Shopify's GMV reached $119 billion in 2020, up 96% year-over-year. $119 billion is 40% of $300 billion. Shopify overtook eBay in the second quarter of 2020, and while it remains far behind Amazon it could become bigger in the next five to ten years.
Shopify GMV was 25% as big as Amazon Marketplace in 2018. It reached 30% in 2019 and finally 40% in 2020. Said differently, Amazon marketplace was 3.9 times larger than Shopify in 2018. By 2019 Amazon's dominance shrank to 3.3 times, and by 2020 it was bigger only 2.5 times.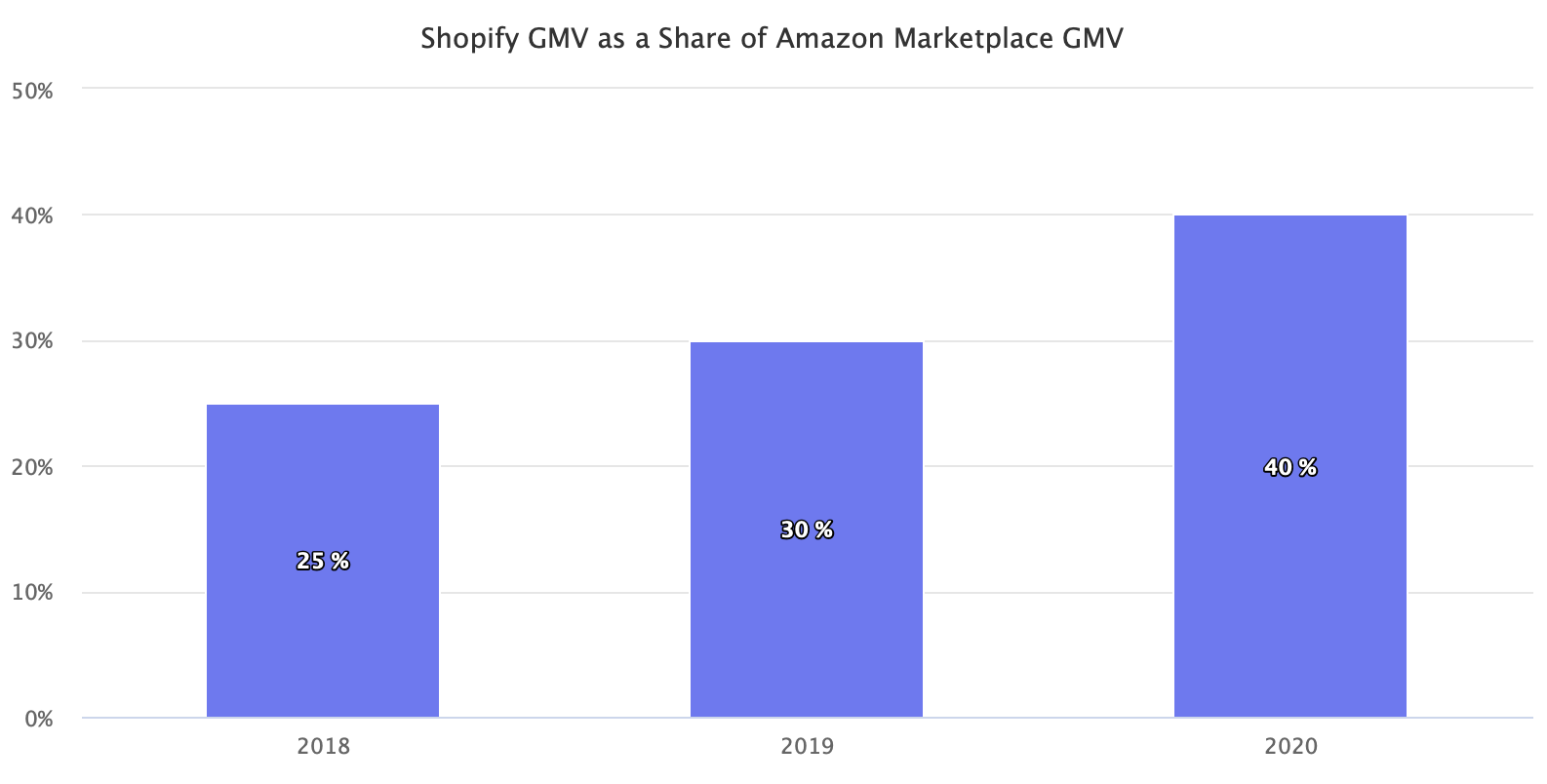 Amazon is reportedly working on a Shopify competitor under the codename "Project Santos." But "Amazon's attention to Shopify is not about Shopify, the tool, but the trends Shopify represents." The growth of Shopify GMV is not comparable to Amazon because Shopify doesn't carry the assortment Amazon has. Sellers that make up the Amazon marketplace are not migrating en masse to Shopify either. Finally, Shopify is not a marketplace and doesn't connect shop owners to shoppers. No consumer goes shopping on Shopify.
Shopify is not competing with Amazon, but it challenges its market share by doing e-commerce differently. The growth of Shopify signifies the viability of direct-to-consumer retail. When Shopify was founded fifteen years ago in 2006, Amazon marketplace was perhaps the most efficient channel small brands and retailers could use to reach consumers. Independently of it, online advertising and social networks developed to enable a different kind of shopping. Shopify wouldn't have gone anywhere without Google, Facebook, and Instagram.
If Amazon was ever to be disrupted, it would be by something that doesn't look like Amazon. That disruptor appears to be a collective of dozens of companies that enable direct-to-consumer retail, the Anti-Amazon Alliance. "Everyone in commerce is, whether they realize it or not, in the Anti-Amazon Alliance," said Ben Thompson of Stratechery.
Shopify, then, is a sales channel that is increasingly viable. But the channel is much bigger than Shopify; the company is instead the visible leader of a much bigger movement. That channel is the antithesis that in the world of e-commerce dominated by Amazon, there is no room left for anyone else. The scale Shopify has reached is proof. It is quickly closing the direct-to-consumer vs. Amazon GMV gap.
Five years ago, Shopify was ten times smaller than eBay. In 2020 it overtook eBay. If Amazon's marketplace grows 25% while Shopify grows 50% for the next five years, Shopify will become bigger than it too.