Amazon has always operated as if no other sales channel matters. And as if none will matter. But 2020 was maybe the last year it grew its market share of e-commerce. Shopify came to represent that change.
At the end of 2020, multiple sources broke the news that Amazon has realized the threat of Shopify.
"This year, Amazon has zeroed in on Shopify Inc., a fast-growing Canadian company that helps small merchants create online shops. Amazon has established a secret team, "Project Santos," to replicate parts of Shopify's business model, said people familiar with the project.

Earlier this year, Amazon created a top-secret task force dedicated to studying the Canadian company and copying parts of it, said the employees. To lead the team, Amazon tapped Peter Larsen, a longtime executive and vice president, consumer. Mr. Larsen recruited dozens of executives, who have signed nondisclosure agreements to work on the project. Internal chat boards are filled with other Amazon employees digging for information on "Project Santos," the employees said.

In October, the team presented its work to Mr. Bezos, who was enthusiastic that the project could help stem the defection of sellers to its Canadian rival, said the employees. Amazon hasn't launched the project yet, they said."

– Dana Mattioli, The Wall Street Journal
Amazon is not building a clone of Shopify. It shut down its previous failed attempt called Amazon Webstore in 2015, and Shopify was the preferred migration partner. There is no gap in the market an Amazon solution could fit; Shopify, and hundreds of their competitors, already have solutions for every imaginable use case. Also, plenty of brands wouldn't use a tool built by Amazon just because Amazon made it.
Amazon is in the business of getting more people to shop on Amazon. Building tools for brands to host independent stores could drive some revenue and maybe even provide benefits to Prime members, but it would not fuel the Amazon flywheel. Thus there is no strategic reason why an e-commerce platform built by Amazon should exist, nor does it fit the business model Amazon has built.
Shopify has reached Jeff Bezos' office because, despite Amazon's continuing success, Amazon has found itself facing the Anti-Amazon Alliance. "Everyone in commerce is, whether they realize it or not, in the Anti-Amazon Alliance," said Ben Thompson of Stratechery. Shopify, BigCommerce, Facebook, Google, Walmart, and others have formed partnerships to help each other. Leading the imaginary alliance is Shopify.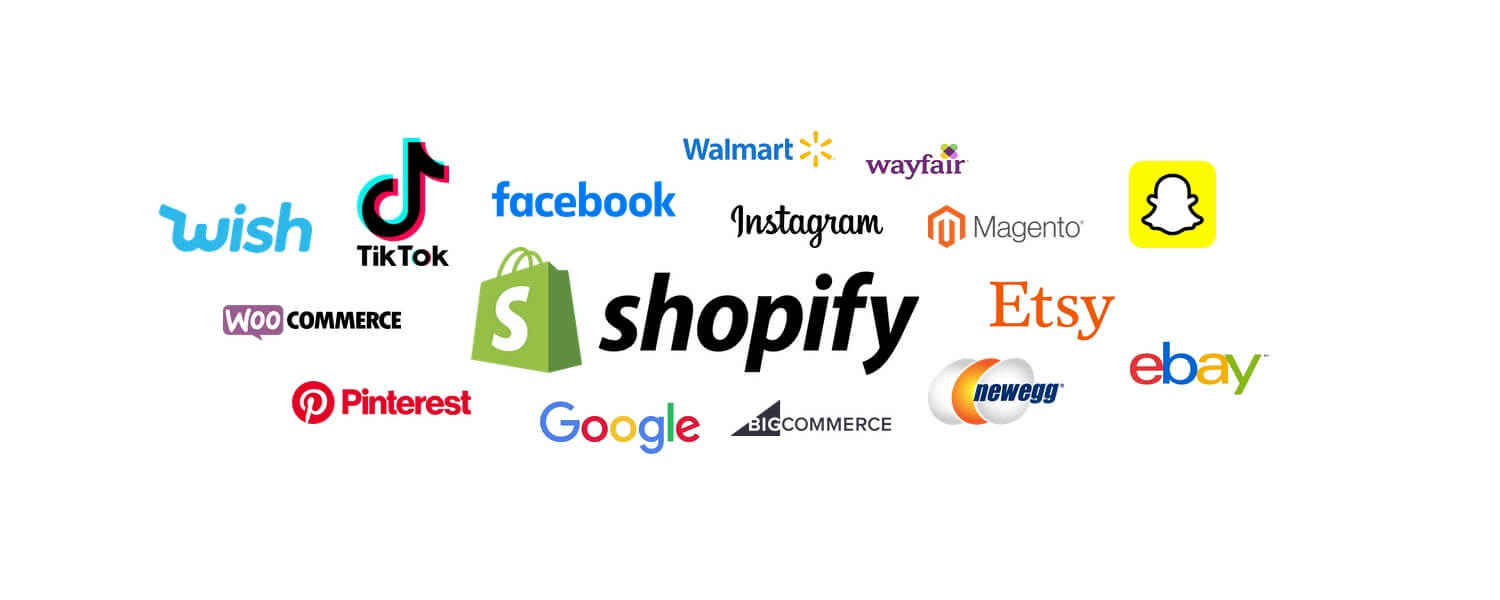 Few shoppers that bought on Shopify-powered stores are aware of the Shopify name. The companies that directly interact with shoppers have the power to steer their decisions; Shopify is only an integrator. It might become more in the future, for example, through expanding its Shop app. However, today it is not a direct competitor to Amazon, Walmart, Etsy, or any other retailer. Shopify is a tool that signifies the viability of selling online directly to consumers.
In 2015, merchants on Shopify sold $7.6 billion worth of products. Five years later, in 2020, they surpassed $100 billion. A figure still significantly smaller than Amazon's GMV, but proof that despite some calling Amazon the gatekeeper of commerce, different models of e-commerce can be successful at the same time. The non-Amazon market is growing faster than Amazon too.
"The defection of sellers" to Shopify is not what it sounds. Amazon sellers are not delisting their Amazon stores and putting up those products on Shopify. Instead, Amazon sellers have realized that a lot more people are buying from independent websites than before. Shopify happens to be a popular tool to build one. The number of Amazon-only sellers is ever decreasing - in a few years, they will be setting up stores on Facebook and Instagram.
Maybe the idea behind "Project Santos" is that it should be easier for Amazon merchants to run their own DTC websites. But Amazon has deliberate roadblocks that make that difficult. For example, inventory stored in FBA warehouses costs more to ship to off-Amazon customers than on-Amazon. It launched a beta feature that packs off-Amazon purchases into boxes without Amazon branding only last year. Even more importantly, Amazon suspends products available for less elsewhere. Some brands can do that profitably, often because they use a different fulfillment provider for off-Amazon sales.
Multi-channel commerce has existed for as long as e-commerce has, but Amazon's dominance made it less significant to some merchants over the last decade. Today, Amazon is the roadblock of multi-channel commerce. Brands - including those on Amazon - are excited about the future of social commerce on Facebook and Instagram and running their own DTC websites. All of those require extra tools, secondary fulfillment, and a different strategy than Amazon. That's where the Anti-Amazon Alliance plays a role - everyone but Amazon is investing in enabling multi-channel commerce.
Thus the "Project Santos" and Amazon's attention to Shopify is not about Shopify, the tool, but the trends Shopify represents. Those trends don't pose a threat to Amazon today, and even for years to come - Amazon's moat is too entrenched. But as e-commerce evolves, Amazon's grandstanding is aging. Every product on Amazon is also available elsewhere, most shoppers on Amazon also shop elsewhere, but Amazon is set up as if both of those are false. Amazon's fear of losing merchants to Shopify misses the forest for the trees.