The importance and thus also the risk of managing customer expectations for Amazon were the highest ever during the 2020 holiday shopping season. It did ok - unlike in previous years, there was no noticeable increase in negative shopper sentiment.
Shoppers rated third-party sellers on Amazon's worldwide marketplaces ten million times during the holiday season; 6.0% of those reviews - more than half a million - were negative. However, the ratio had not increased compared to October and November. In a typical year, the percentage rises at the end of the year, as shoppers realize the items they ordered will not get to them on time. Instead, the ratio at the end of the year was the same as at the start of the year.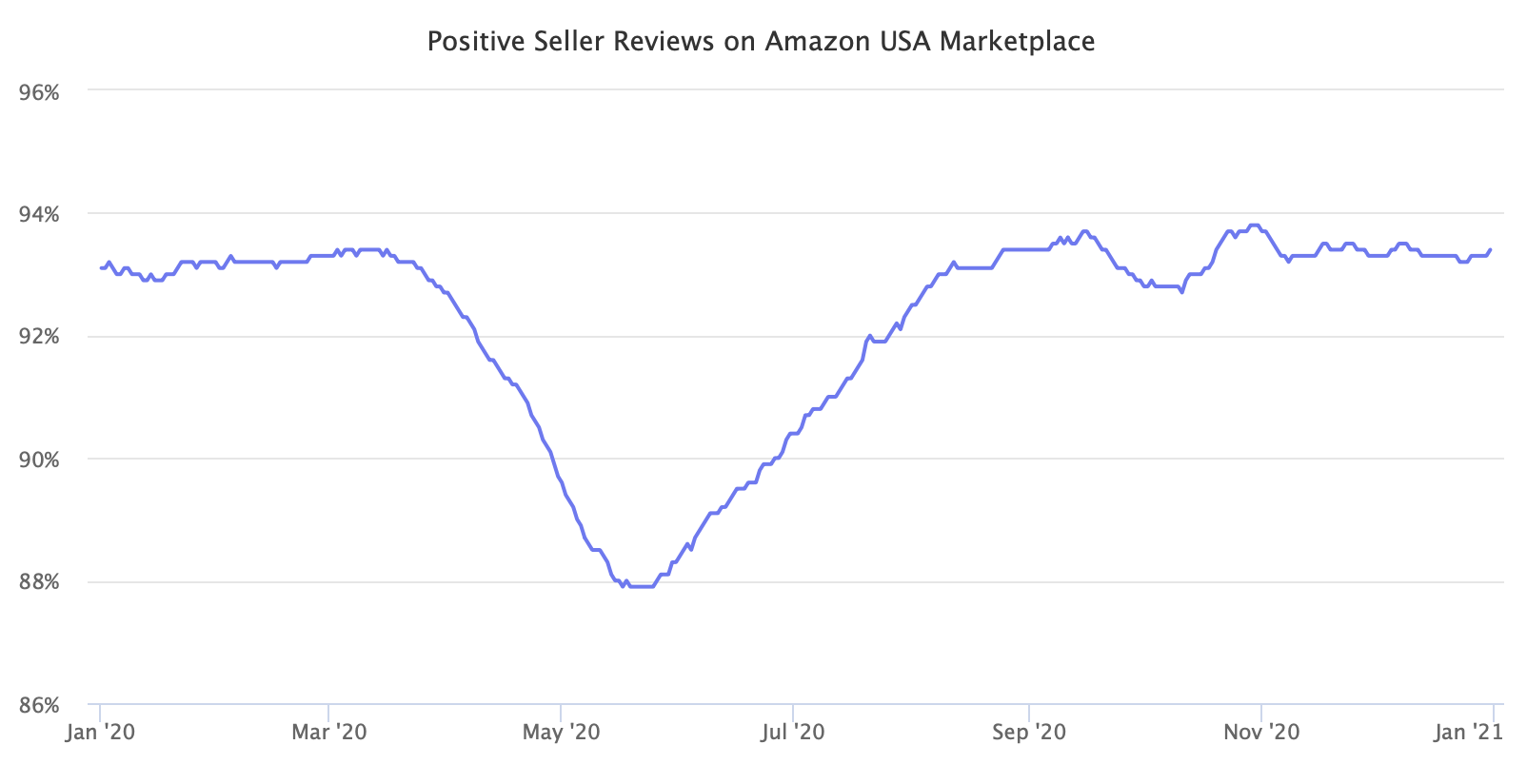 In May last year, the percentage of positive reviews hit an all-time low, as the fulfillment chaos early in the pandemic caused twice the number of shoppers to complain about never received items. For over five months, starting mid-March until mid-August, Amazon was below usual seller performance. Since then, it has managed to keep the ratio under control and avoid repeating the same breakdown during the holidays. Despite Prime Day in October and the record-breaking fourth quarter.
Typical reviews in December read like, "Slow shipping. At least 2 weeks late. It was supposed to arrive before Christmas for a present. You just can't trust the delivery time Amazon gives you. If I had bought them at a store, I would have had them in time." There was less of them in 2020.
Seller reviews are the best indicator of Amazon shopper sentiment because of their sheer number and because sellers account for more than half of sales on the platform. Amazon in the US alone receives more than four million every month. Reviewing a purchase is optional - the percentage of customers who leave a seller review is anywhere in the range of 1–5%, depending on the product price segment and the category.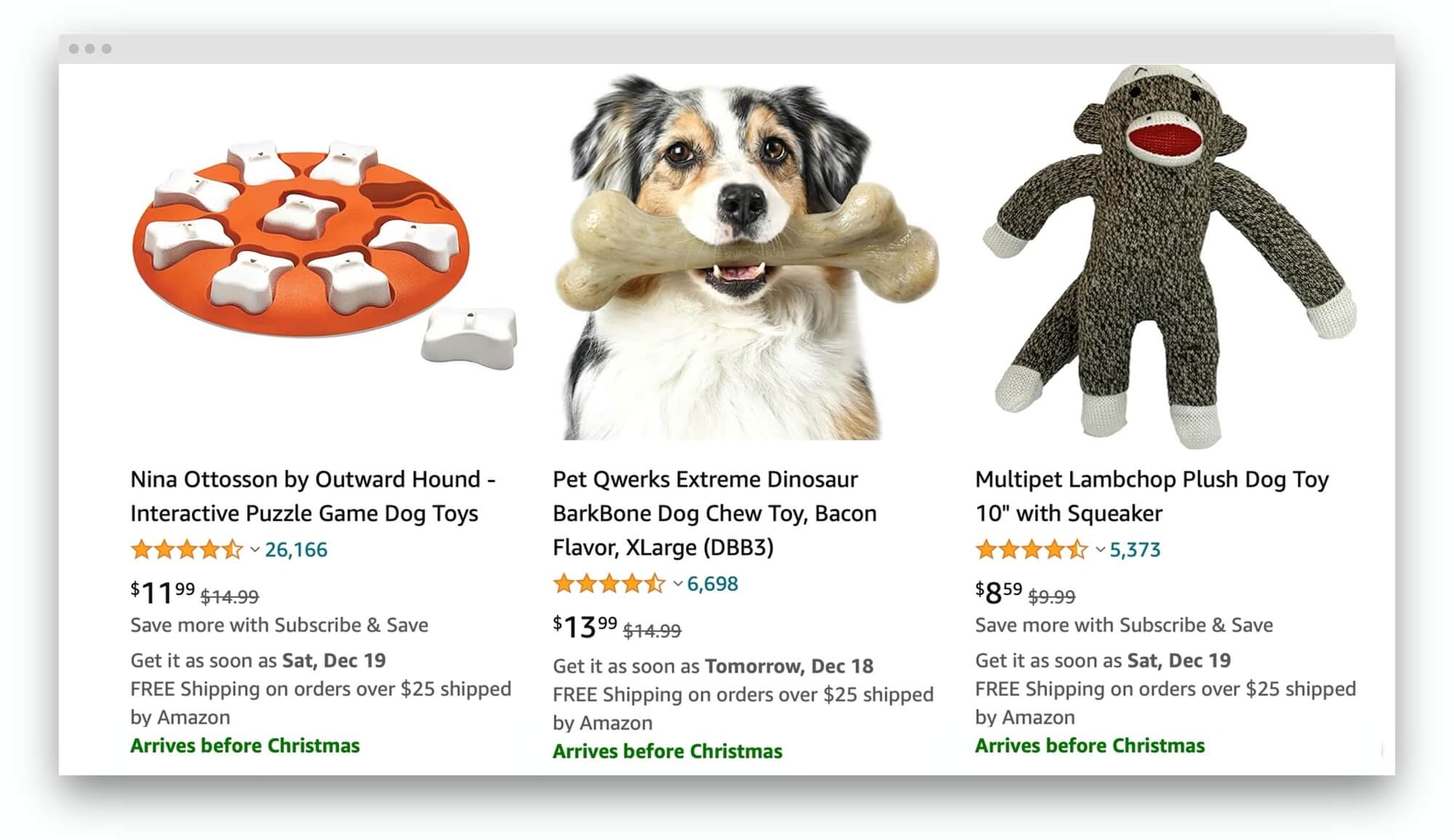 Early in the fourth quarter, there was a sense that Amazon might crumble under the volume of sales first created by the Black Friday and Cyber Monday weekend. Instead, Amazon was still offering next-day delivery for some products as late as the day before Christmas Eve.
Amazon achieved most of that by hiring hundreds of thousands of new jobs and expanding fulfillment infrastructure. Nonetheless, the "arrives before Christmas" label was perhaps the most effective. Throughout the season, it labeled each product with a simple distinction - would it arrive before Christmas. That steered shoppers to items Amazon had more confidence in delivering on time and away from those that would result in a negative experience.
eBay and Etsy, on the other hand, didn't handle expectations (because they have very little control of fulfillment) as well and saw the seasonal increase in negative sentiment towards the end of the year. Sellers on those marketplaces used mostly the same fulfillment providers as Amazon did, but Amazon additionally has FBA and its own delivery network. Thus, they couldn't mark anything as "arrives before Christmas." They didn't know.
Historic sales volume didn't overwhelm Amazon's ability to deliver items, warehouse capacity limits didn't cause Prime assortment to decrease, and overloaded delivery partners didn't break Amazon's estimated delivery times. "The crisis is laying bare the cracks in Amazon's ability to be there for its customers when they need it most, much less to "delight" them," wrote Christopher Mims at the Wall Street Journal in April, when Amazon was taking weeks to deliver items it previously promised to deliver in two days. A lot could have gone wrong, but Amazon managed to come out of 2020 having done better than many predicted.