This year, Fulfillment by Amazon (FBA) changed from a service sellers can rely on to a service they hope Amazon will allow them to use. An opaque algorithm now decides which products at what quantities are allowed to be in FBA.
FBA is an on-demand fulfillment service that allows sellers to offload warehousing, shipping, and handling returns to Amazon. Its physical footprint is virtually infinite - it behaves like a cloud computing service scaling with the user's demands for a fee. The more sellers sell on Amazon, the more items they send to FBA while continuing to pay the same per-unit fee.
The elasticity of FBA broke first in March when the company started prioritizing the stocking of household staples and medical supplies. To do so, it disabled inbound shipments to FBA for products that do not fall into the essentials or high-demand categories. A few months later, all items were allowed to be shipped to FBA again, but some shipments took weeks to get received.
Then, in July, the company imposed quantity restrictions for new products and limited others based on recent sales history. "Even though it's July, we're preparing early for the holiday season to meet sustained increased demand," the company wrote to sellers in an email. By the end of November, to relieve some pressure from the FBA network, the company started diverting some sales volume to sellers fulfilling orders themselves. And quantity limits got even more restrictive. As product demand increased in the fourth quarter, the FBA quantity limit instead decreased.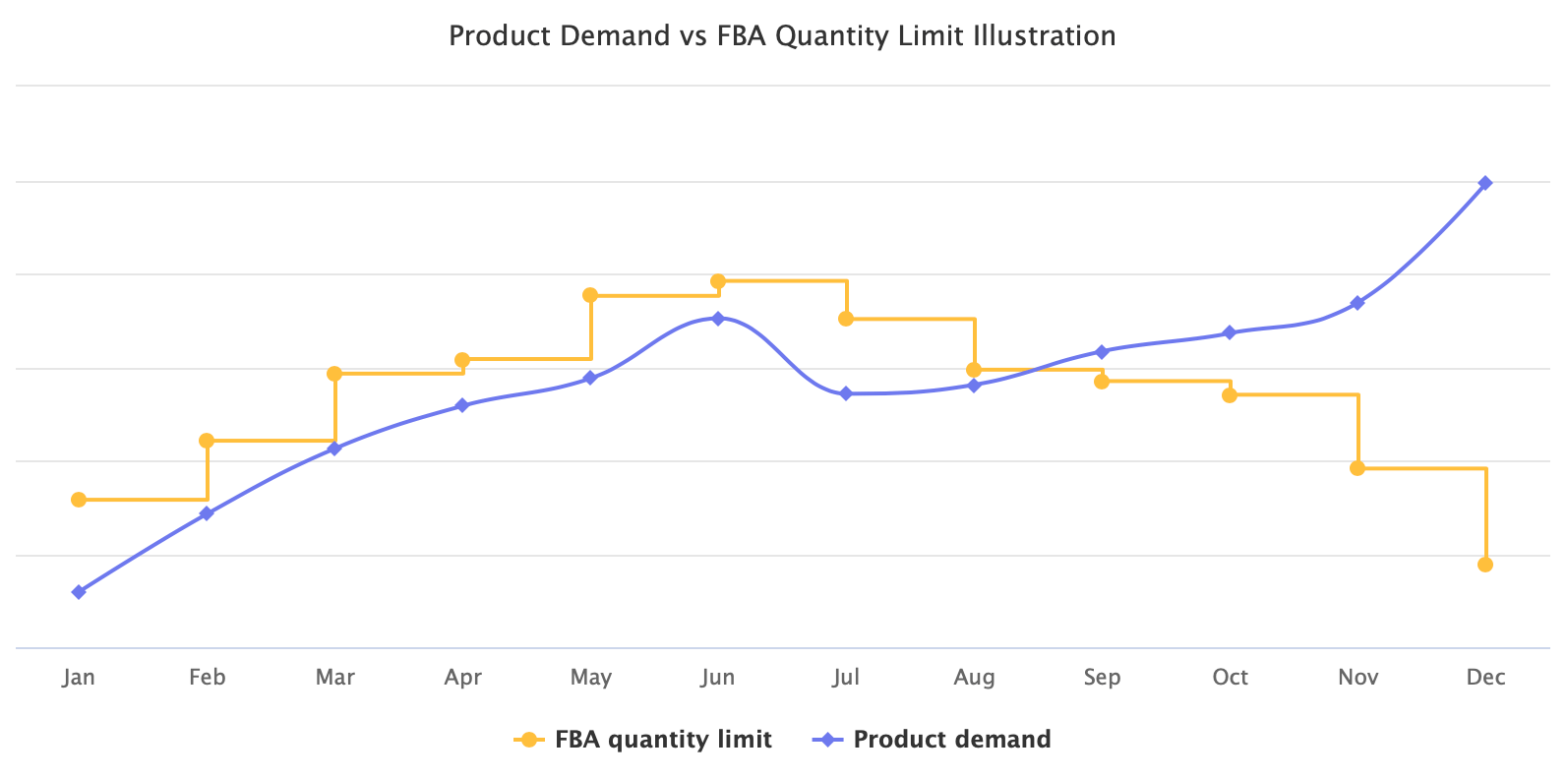 "I am noticing my limits getting smaller and smaller every week. My stock limits are under 30 days for some items that sell over 40 units a day, and check-in takes 50 days," one seller said. "We're the #1 seller in our category and have a low stock alert but can only ship in ~ 500 more units today due to inventory limits," added another. "I sell around 1060 a month of this product. A few weeks ago, I was allowed to send in 2000, now my maximum is 1300," and "Wow, an SKU with 2000 allowed just got cut down to <600" added two more sellers.
FBA changed from a virtually infinite fulfillment network that allowed anyone to send in as much inventory as they wanted to one where it is up to an algorithm to decide how many units a seller is permitted. And even then, it might take weeks to get those units received and ready for sale. It became a service that enforces a ceiling on the seller's sales, rather than allowing the seller the risk of overstocking in exchange for a storage fee.
"I was expected to do $300k in December alone, but I guess that I am going to be out of stock this holiday," one seller said. "I was projecting I was going to probably do half a million just in December, and now, realistically, I'm going to tap out at $310,000," a different seller said when talking to Annie Palmer at CNBC. "Many sellers will be losing sales they counted on for Q4 and may end up stuck with an overage of inventory once the holiday season has passed, which is never fun," said a different seller.
There is no noticeable decrease in Prime availability among the top sellers yet, however. The limitations that affected some sellers are not widespread. Also, some sellers shifted inventory to 3PLs months ago in preparation for this, thus ensuring some level of sales.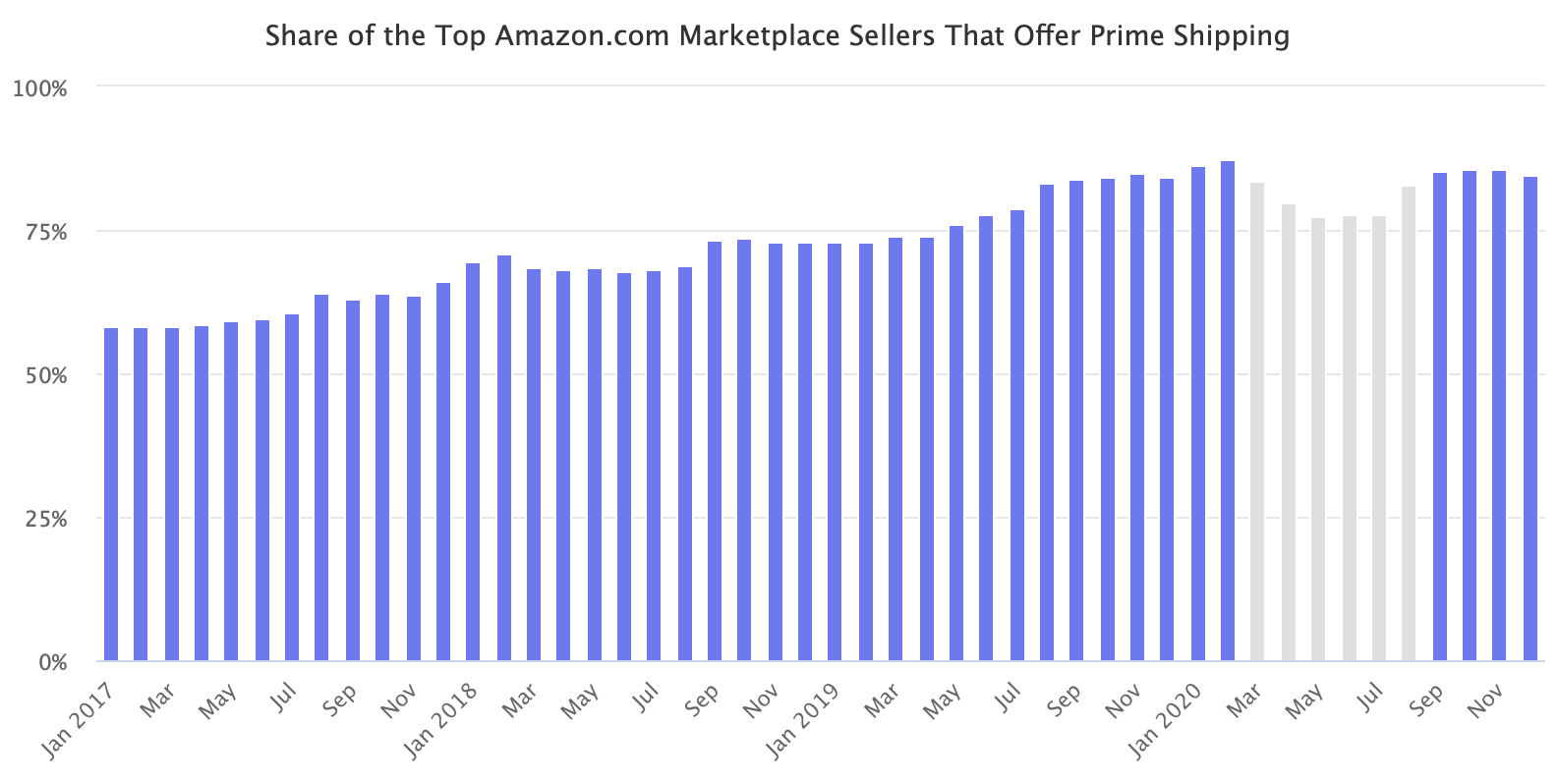 None of this is surprising given the rate of e-commerce growth and fulfillment constraints that came with it. "We've run out of space," said Brian Olsavsky, Chief Financial Officer at Amazon, during the company's second-quarter earnings call. He added that the company increased the fulfillment network square footage by 15% in 2019 and expects a 50% increase in 2020. Amazon also added 427,300 employees between January and October, growing its workforce to more than 1.2 million people globally, according to Karen Weise of the New York Times. Despite the enormity of these figures, that appears to have not been enough.
An Amazon spokesperson said that the company has "restrained our own retail product ordering to allow more space for sellers - the fact is that sellers using Fulfillment by Amazon carry enough inventory to cover 25% more days of sales on average than our own retail business, and more than 60% of products in our U.S. fulfillment centers are from sellers."
Amazon is betting that it has enough sellers that no individual seller running out of stock will materially affect its sales. However, it has been months since FBA operated normally, and many more sellers have made strategic decisions to use 3PLs for more of their sales or invest in building a warehouse than in the years prior. FBA will restore to being the infinite fulfillment network sometime next year, but this year was a wake-up call for the industry - for the first time since FBA launched in 2006, to maximize sales on Amazon, sellers had to use FBA and a backup warehouse.