Amazon shoppers left nearly one million negative seller reviews in the last thirty days. More than twice the usual amount. In the U.S., 13% of customers had a negative buying experience, up from 5% a year ago.
Failed delivery promises were the most common cause. 49% of reviews mentioned keywords like "never," "received," "tracking," "package," "late," or "delivery." Delivery issues were previously infrequent because most of the orders were handled by Fulfillment by Amazon (FBA). But as FBA assortment shrank and Amazon's essentials prioritization pushed sellers to handle their fulfillment, more shoppers got exposed to unreliable shipping.
The number of negative reviews increased from 345,000 in May 2019 to 945,000. A 170% increase. Holiday shopping at the end of a year is the typical time for negative reviews to spike, as shoppers realize the items they ordered are not going to get to them on time. The recent increase was caused by the unexpected rise in sales volume, the fulfillment struggles it caused, and fraudulent sellers.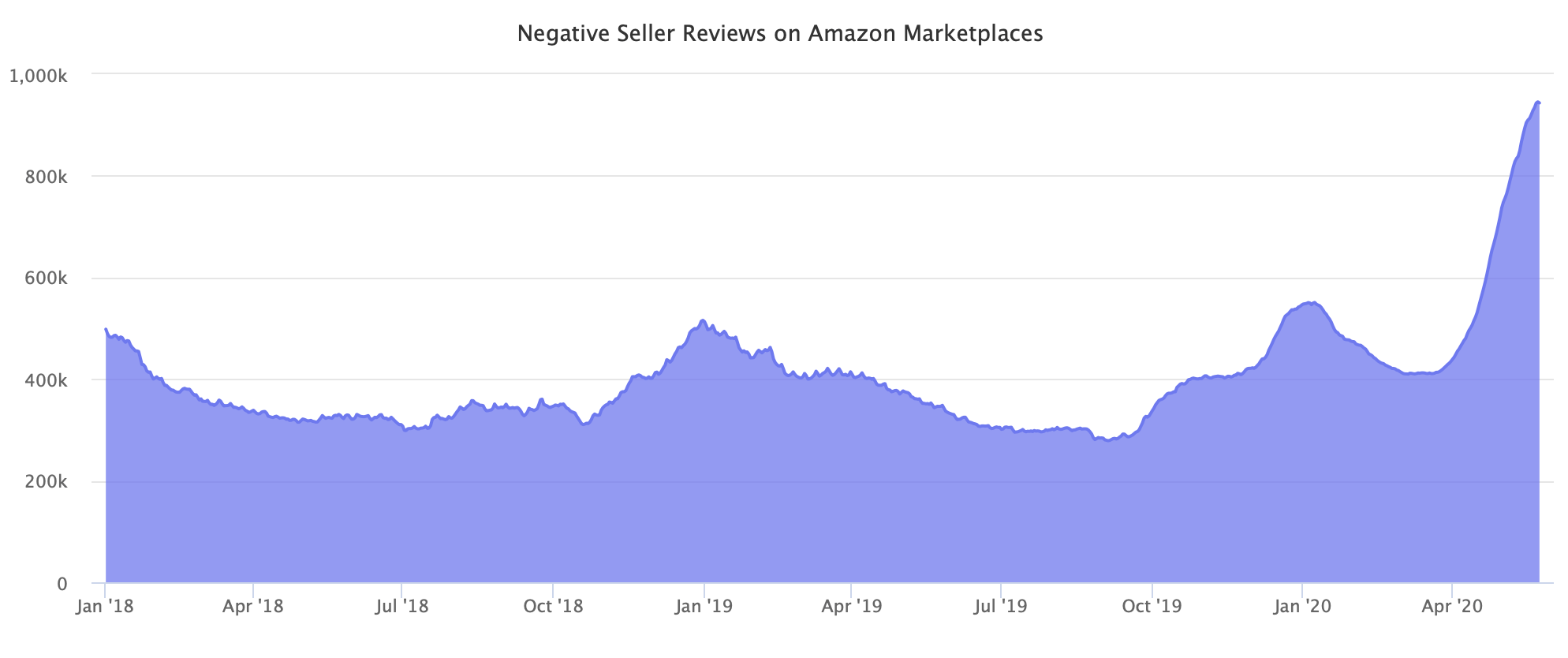 Negative reviews started to increase starting March, according to Marketplace Pulse analysis of millions of recent seller reviews. Sellers on the Amazon marketplace receive feedback reviews from customers after a purchase. Providing feedback is optional, and the percentage of customers who leave a seller review is anywhere in the range of 1–5%, depending on the product's pricing and the category.
Seller reviews are the best indicator of Amazon shopper sentiment.
In the U.S., 87% of seller reviews were positive last month, compared to 95% a year ago. Just two months ago, mid-March, it was still 93%. While a small percentage change, the number of negative reviews rose from 150,000 to 420,000. Half of those were for sellers based in China, with the U.S.-based sellers accounting for 25%.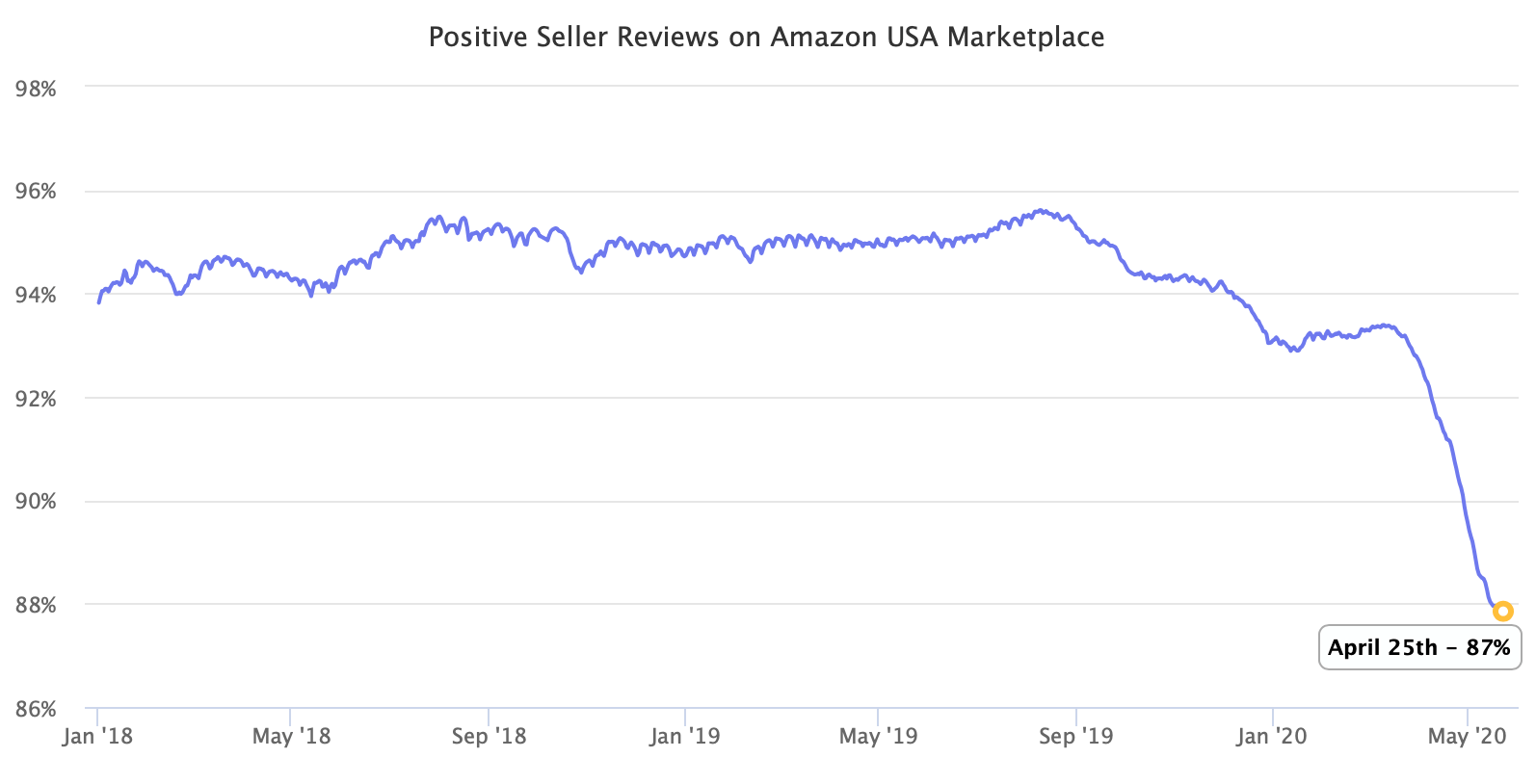 Amazon's U.S. marketplace is not the only one affected by negative reviews, however. All markets the company operates in exhibited the same behavior. In Australia, for example, a quarter of reviews were negative at the end of April. In Japan, where negative reviews are rare, they increased from just above 2% to over 10%.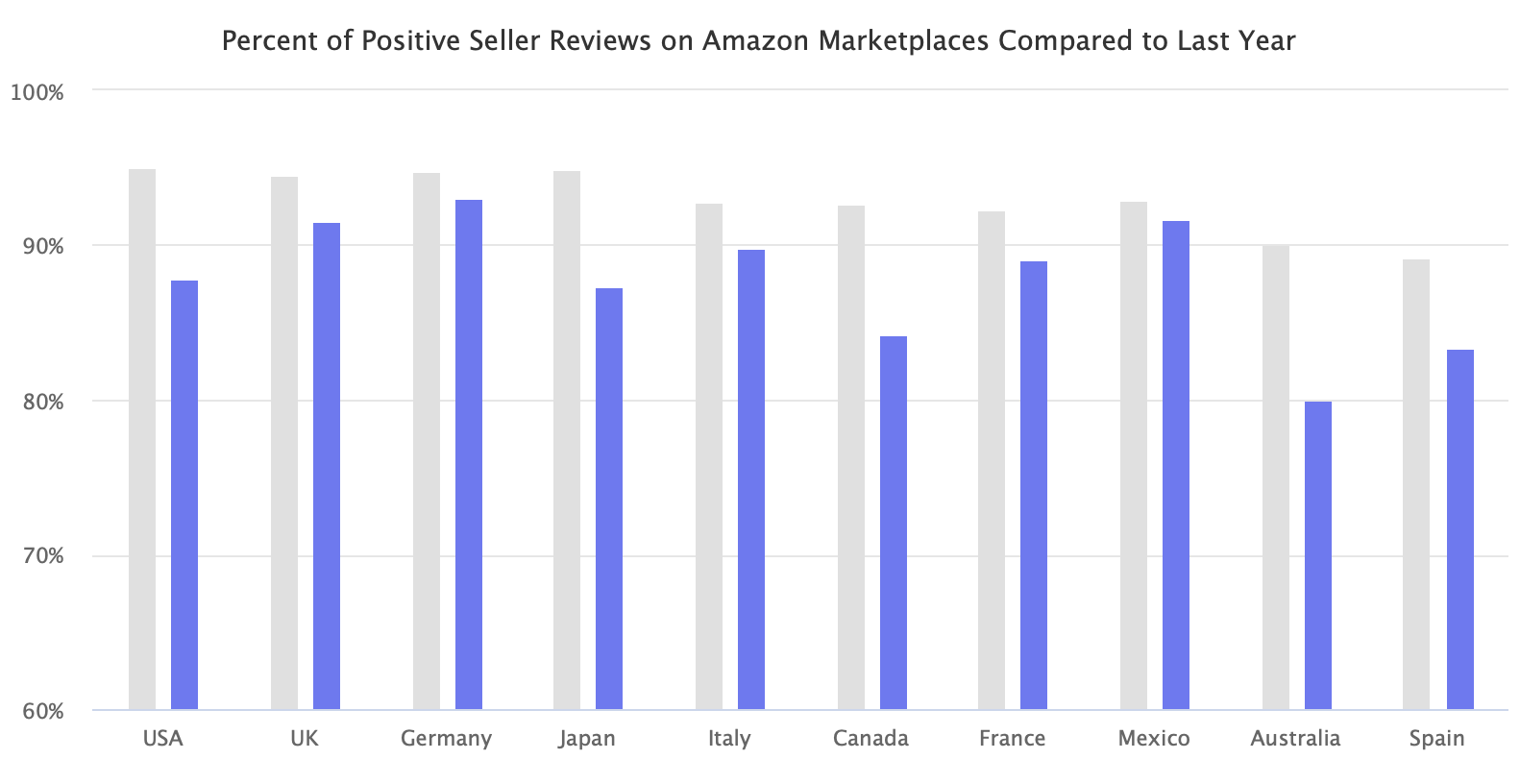 Part of the reason for the increase in negative reviews is the rise in overall sales volume, which increased both positive and negative reviews. However, the fact is that Amazon shoppers are unhappy at record levels, and the convenient reliability of Amazon has broken down recently. "The crisis is laying bare the cracks in Amazon's ability to be there for its customers when they need it most, much less to "delight" them," wrote Christopher Mims at the Wall Street Journal.
99% of customers never see fake reviews or counterfeit listings on Amazon, the company claims. Many of them didn't experience issues recently too, but it's clear that the number is not 99%. The promise of Amazon was broken. The good news is that it is starting to recover.