Issues affecting global supply chains and Amazon's warehouses have considerably reduced the number of new products launched on the site. For example, the number of new best-sellers in the headphones category shrank from nearly 200 a month to less than 20 during the last thirty days. The volatility of the best-sellers list is an indicator of the health of the private label sellers industry.
The headphones category on Amazon is one of the most in-demand categories - "wireless earbuds" and "headphones" are among the top 100 most searched products on Amazon - thus, it attracts high interest from private label sellers. In 2019, close to two thousand different products were once one of the top 100 best-sellers in it. Those products come from short-lived brands that get replaced daily by a new set of brands.
In February, the number of new best-sellers has started to shrink and reached bottom lows in April and May. For the last two years, the category saw a steady stream of new products getting launched, and select few ending up as best-sellers. There are now fewer launches, and thus the category is more stable than ever before.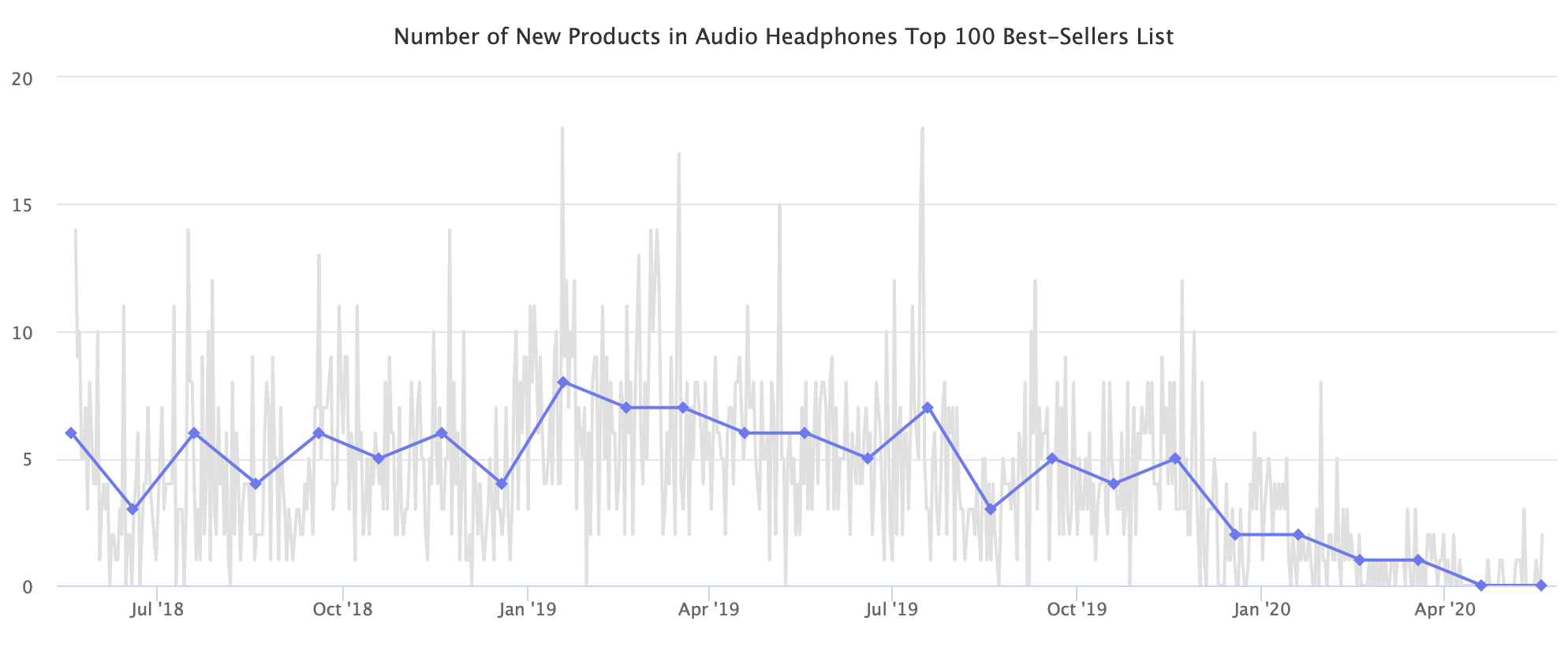 For the last two years, on average, five brand-new products would enter the top 100 best-sellers list every day. That number has shrunk to zero recently.
Twenty of the current best-sellers come from recognizable brands like Apple, Samsung, or Bose. The rest are from brands like TOZO, Mpow, and COWIN. Brands that are unrecognizable to the vast majority of shoppers but that each have tens of thousands of reviews, a high rating, and, crucially, an affordable price. Those compete against an army of private label sellers that want to replace them.
For thirty days since mid-April, sellers were restricted to fifty units available to be stored at Fulfillment by Amazon (FBA) warehouses for new products. Before that, most categories didn't allow any new inventory to be stored in FBA because of Amazon's essentials prioritization.
The breakdown of the supply chain from China (where most private label products come from) is hard to quantify. Although, the share of top Amazon sellers by China-based businesses has been shrinking so far this year, an indicator of both the supply chain issues and the impact of FBA essentials prioritization.
The private label sellers industry also heavily relies on data to decide which products to source. That same data has been more volatile over the past few months, which disrupted the standard playbook most sellers use to discover new niches. If not disrupted, then at least it made the answers harder to trust to hold for long enough as products were being manufactured.
Many issues have contributed to the private label sellers industry's slowdown. However, there is no reason it won't restore to normalcy soon.