Thousands of new sellers have joined the Amazon marketplace to disappoint shoppers looking for face masks, hand sanitizers, and other essential items. Tens of thousands of negative seller reviews are flooding in as shoppers complain about price gauging, low quality, canceled orders, and not receiving orders after weeks of waiting.
Most of the sellers receiving those negative reviews have only joined the marketplace recently, attracted by the explosive increase in demand for essential items over the last few weeks. Amazon is suspending these sellers as they notice issues; however, it is doing so too slow to avoid shopper disappointment. Because of the high demand for face masks and hand sanitizers, and the fact that they are out of stock on Amazon, new sellers receive orders the minute they can list them.
"What the heck! A thief! charged $39 for shipping 2.99 hand sanitizer. Cancel my order and I want a REFUND of the SHIPPING!!!!!!!!!"

– Amazon Customer
"Advertised the item as Disposable N95 Carbon Activated Filter Mask 3 layer PM2.5 but received just "paper towel" pads that have no carbon and no filtration. Item title and description purposely falsified to sell item as real N95 filters. Seller states it's a buyer's mistake and will not provide shipping label or refund. Do not do business with this scam company."

– Amazon Customer
"This I mask was selling at $25/EACH is considered price gauging, unbelievable and Amazon should report this as you can but 1 case for that price - Seller should not be allowed to sell at such HIGH PRICE now they are asking for 50% to keep, that is still VERY HIGH for 1 MASK S/B NO MORE THAN $6-8 - REQUESTING FULL REFUND immediately"

– Amazon Customer
"I ordered the product on March 8th, because I did not have any hand sanitizer and needed alcohol. I paid an incredible markup on a $2 bottle of alcohol that I should have been able to get through Walmart, but in my panic ordered from this company at $12 a bottle thinking they would send the order. WRONG Did not receive until 3/19 then with no packaging in a huge box! Terrible! Don't buy from them!"

– Amazon Customer
"I have ordered 100 surgical masks for coronavirus protection., I am in the risk group by age. The order was cancelled in 2 days as the company realized it was too cheap. (3-4 times as usual price before the crisis). Shame on you!"

– Amazon Customer
"I Ordered This Product on February 1, 2020. They Said It Would Arrive Between Feb 24 and Mar 16. I Waited and Waited and Had to Go Out and Purchase Masks at Three Times the Price of the Ones I Ordered From These People. Had I Known They Were Unreliable I Would Have Have Purchased Masks From the Store Earlier. I Am Very Annoyed as They Do Not Even Give Refunds."

– Amazon Customer
On March 11th, Amazon began restricting the types of sellers that can sell health and sanitation products like face masks, hand sanitizer, disinfecting wipes and sprays, and isopropyl alcohol, among other products. The note sent to sellers said, "We are not accepting applications to sell these products at this time." Unfortunately, some sellers are bypassing these restrictions. Through methods like listing hijacking and naming the product "ma-sk" or "màsk," instead of "mask," new products are appearing on Amazon.
As a result, negative reviews as a share of all seller reviews are starting to accelerate. Sellers on the Amazon marketplace receive feedback reviews from customers after a purchase. In Australia, 13.5% of seller reviews in the last thirty days were negative, an all-time high. Germany, Canada, Mexico, and India marketplaces set new records too. And the U.S. and U.K. marketplaces are trending towards new highs as well. High negative reviews rate is unusual in March; shoppers usually have the most complaints during the Christmas holiday shopping season.
As an example, negative reviews grew from 10.4% to 13.5% in under four weeks in Australia.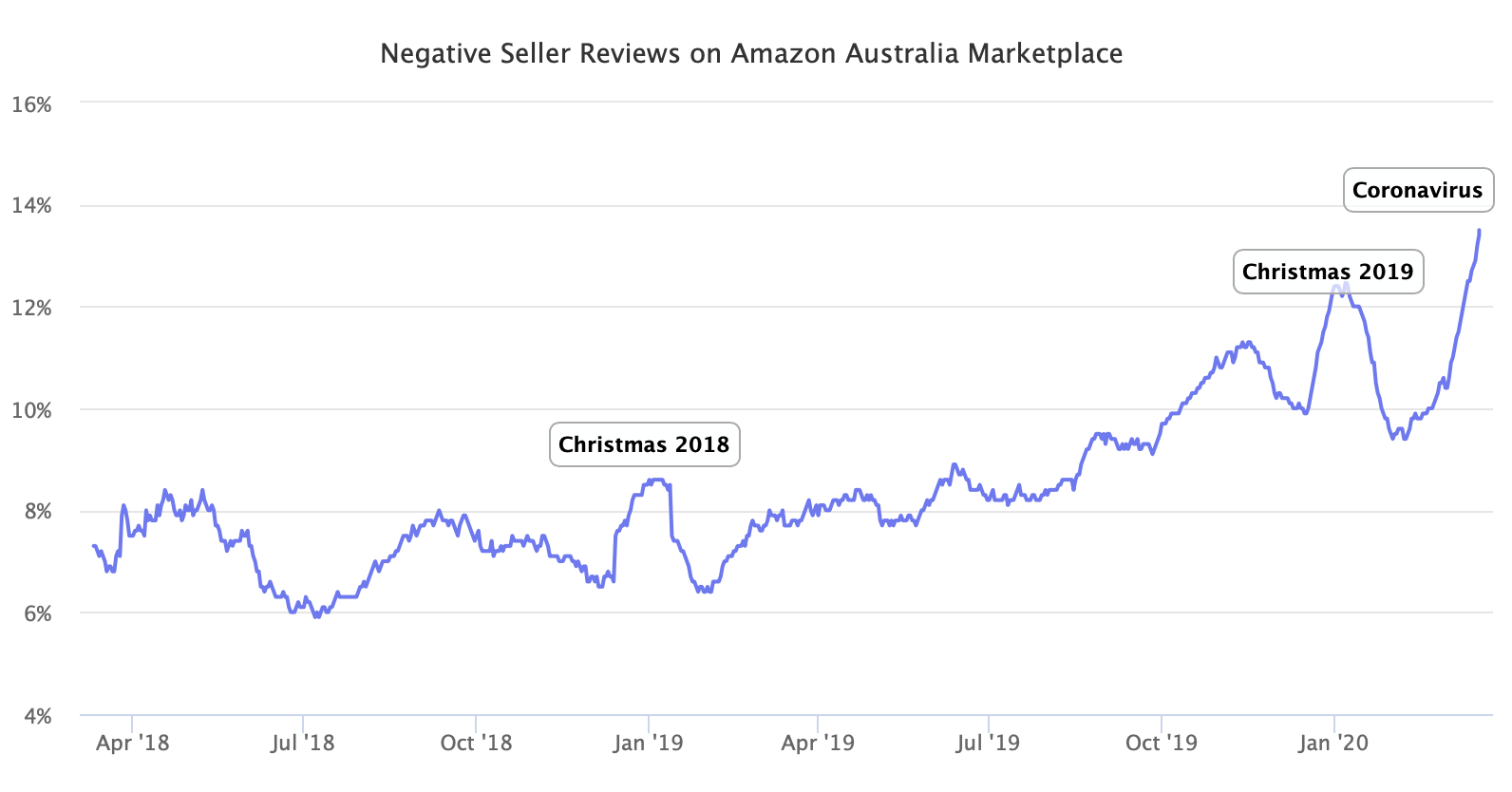 "hand sanitizer" and "n95 mask" are the two most searched terms on Amazon. Yet both Amazon and none of the millions of sellers have the items in stock. Brand new sellers are jumping onto this massive demand, which is at the same time, the power of the Amazon marketplace, and the flaw. "Friction makes everything harder, both the good and the bad." In Amazon's pursuit to remove friction from the marketplace, it is left with a platform easily outsmarted by sellers.
These issues are not new - Amazon has been deploying machine learning and people to police the marketplace for years. However, this is a distinct time, as shoppers are relying on e-commerce to feel safer. Bad actors affect a tiny fraction of activity on the marketplace, but none of the shoppers will feel safer once Amazon refunds the order.