Amazon Echo Dot smart speaker became the first product on Amazon to amass over a million reviews. Popular products on Amazon have exploded in the number of reviews, thus changing their perceived value after the company introduced one-tap ratings in late 2019.
In October 2019, Amazon expanded product reviews by allowing shoppers to leave a star rating without a written review. Since then, the rate at which products gain reviews has accelerated. Amazon Echo Dot now receives more than 100,000 new ratings a month. The product didn't have 100,000 reviews in total more than three years after it launched.
It is now much easier for products to gain reviews and yet harder for new products to compete against established products with tens of thousands of reviews. Since the introduction of one-tap ratings, the conditions in which products compete are fundamentally different.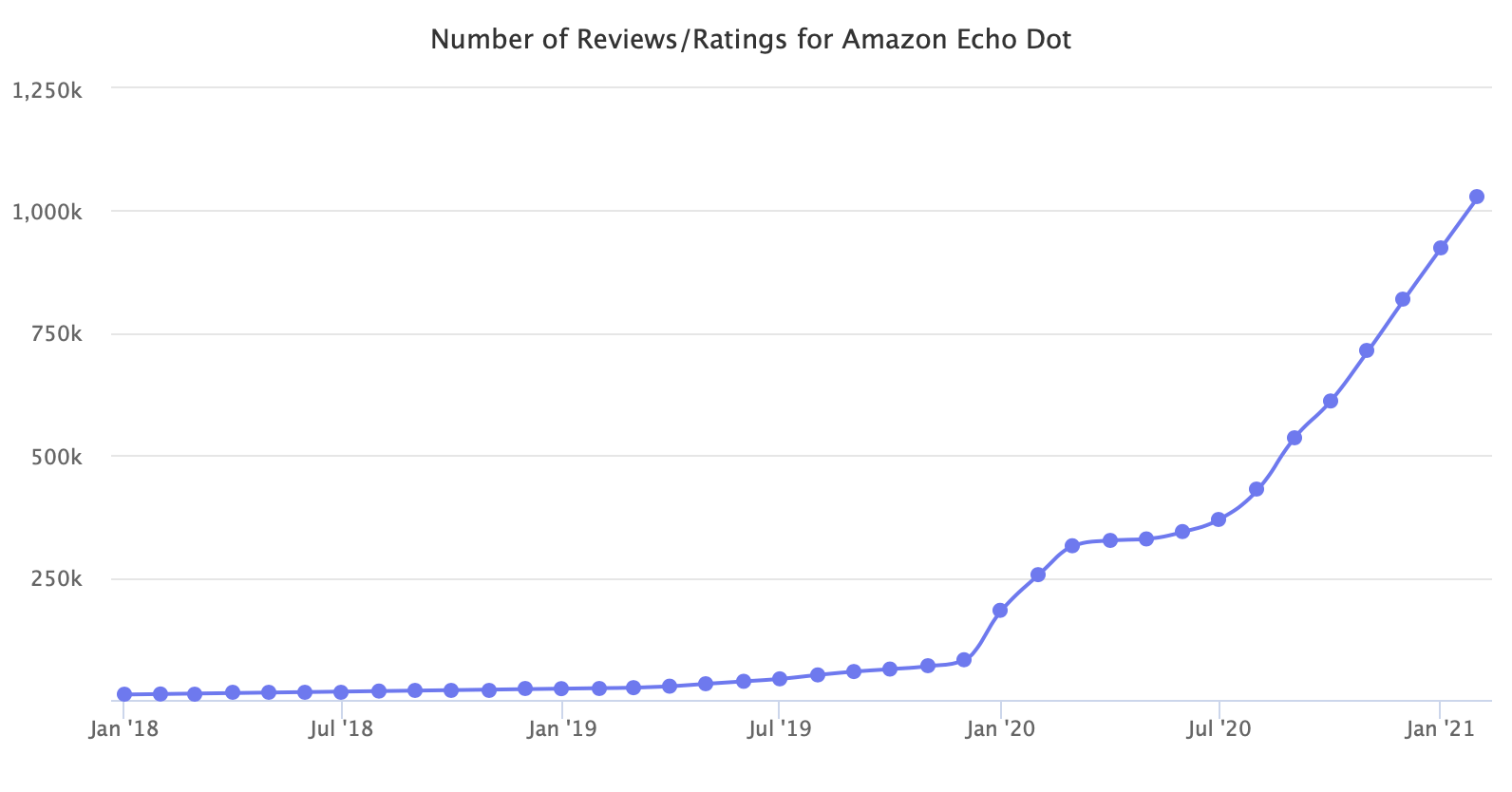 In the letter announcing that he was stepping down as CEO, Jeff Bezos wrote that one of Amazon's innovations was "pioneering customer reviews." Some have argued that Amazon was on a mission to replace trust in brands with those same customer reviews. But while early on, reviews were something shoppers could trust, as Amazon grew in size, so did the impact of reviews. And thus, creating fake reviews became worth the effort. The idea that reviews could replace brands failed.
Customer reviews are inherently biased and easily gamed, no matter how hard Amazon tries to weed out the fake ones. Instead, it appears, Amazon has chosen to solve the problem with volume. Rather than products having hundreds of thousands of ratings, with maybe some being untrustworthy. Now products have an order of magnitude more reviews, and the signal to the shopper is that at least that many people bought it, and the item is still up on Amazon.
Customer reviews are now less about reading each one in hopes of spotting reasons not to buy and more about seeing a product with hundreds of thousands of reviews (or, now, ratings) and using that as a signal. Amazon Echo Dot has 5,000 reviews rating it 1-star and 10,000 more 1-star ratings without a written review. Even if a shopper wanted to read the negative reviews, they would only see a third of the complaints.

All of this to say, if customer reviews were an innovation that worked, there wouldn't be products with millions of ratings to drown them out.
It is unclear if shoppers differentiate between a product with ten, a thousand, or a hundred thousand ratings. If on retailers' shelves brands were the shortcut, and on Amazon, reviews were going to replace it, that shortcut on Amazon today is being one of the first few search results. With reviews and ratings acting as a visual filler confirming that at least one other Amazon shopper bought it.