eBay increased gross merchandise volume (GMV) by $14.4 billion in 2020, more than in the past seven years combined. However, despite the platform benefiting from surging online sales, growth had slowed towards the end of the year.
GMV reached $100 billion in 2020, up 17% year-over-year. From 2012 to 2019, it grew by only $10.1 billion, even shrinking from 2018 to 2019. In 2020, the second quarter saw the most growth, with the last two quarters slowing down. In the U.S., eBay grew 35% in the second quarter, which then dropped to 33% in the third quarter and 25% in the fourth quarter.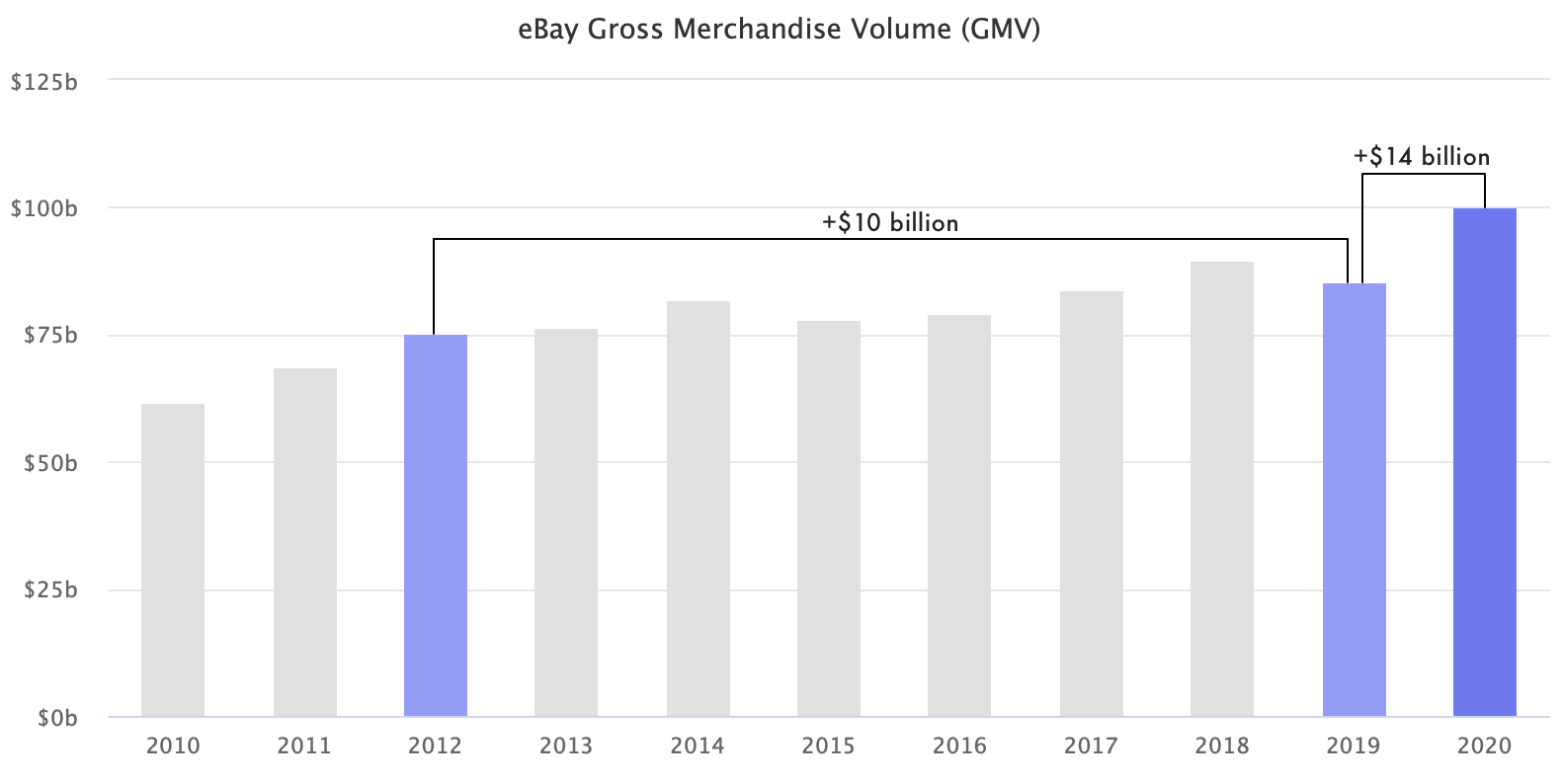 Jamie Iannone, CEO of eBay, attributed the growth to competing retailers being out of stock and verticals like luxury watches, sneakers, and refurbished gifts. The former will not be a growth driver in 2021, but eBay remains strong in many verticals. For example, the recent surge in sports cards and collectibles trading drove shoppers back to eBay. Over the years, companies have taken eBay categories and turned them into niche marketplaces: Etsy for handmade goods, StockX and The Goat for sneakers, and The RealReal and Poshmark for fashion items. But in some, eBay prevails as a leader.
Advertising (mainly in the form of promoted listings) and payments (the move from PayPal to managed payments) are primary revenue drivers this year. Advertising revenue reached $1 billion in 2020, and the company expects its growth to outpace GMV growth for the foreseeable future. By the end of this year, eBay will have moved off PayPal.
2020 didn't start the renaissance of eBay. The fundamentals didn't change - eBay remains without a differentiated market position, a competitor to practically every retailer and marketplace selling physical goods online - but like other e-commerce players, it benefited from the surge in online shopping.