Shenzhen hosts a third of third-party Chinese sellers on Amazon and is estimated to be the city with the largest number of Amazon sellers anywhere in the world. It is a major city in Guangdong province, one of the leading commercial and manufacturing regions in China, with the economic hub Shenzhen as well as the capital Guangzhou.
Shenzhen's transformation from a fishing village to megacity is well documented. It attracted massive investment after its designation in May 1980 as China's first special economic zone (known as SEZ). City's population grew from tens of thousands at the time to an estimated twelve million now.
According to Marketplace Pulse research, Guangdong province is home to 40.3% of Chinese sellers. It is followed by Shanxi province with 9.6% of sellers, Zhejiang province with 6.8% and Fujian province with 6.2% of sellers. Guangdong and Shanxi provinces account for half of the Chinese sellers.
Shenzhen, Guangdong is the leading city with 31.8% of Chinese sellers. Guangzhou, Guangdong is next with 5.1%, followed by Taiyuan, Shanxi at 3.2%, Lvliang, Shanxi at 2.3%, and Yiwu, Zhejiang at 2.2% of sellers. Not only are sellers concentrated in two provinces of Guangdong and Shanxi, two cities in Guangdong alone account for more than 35% of Chinese sellers.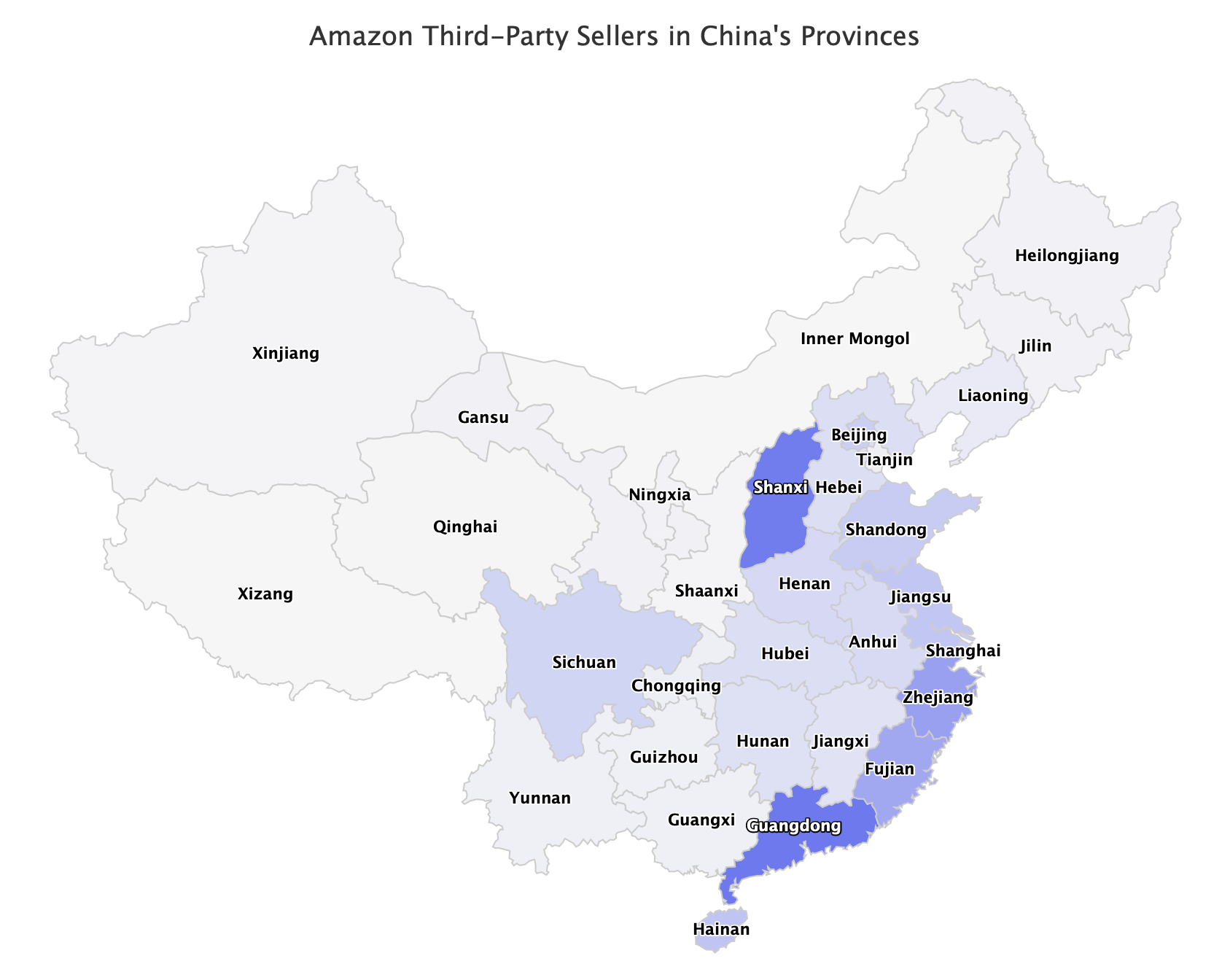 More than 250,000 Chinese sellers from Amazon's worldwide marketplaces were analyzed. The number of Chinese businesses among top-sellers on Amazon has steadily increased over the years, and has surpassed 40% this year. Not only are sellers based in China outnumber other countries in terms of new sellers registrations, but existing Chinese sellers also continue to grow.
The success of businesses from China is enabled by both allowing international sellers to use Fulfillment by Amazon (FBA), virtually eliminating otherwise slow shipping, and by local-specific efforts in China. For example, in December last year, Amazon hosted the 4th annual Amazon Global Store Seller Summit. Some of the sellers bring chaos and low quality or dangerous products. China, after all, is the largest producer of counterfeit and fake products.
For Chinese retailers and manufacturers, Amazon is the most efficient direct-to-consumer platform to reach the US and European shoppers. Although marketplaces like Wish and AliExpress are also infamous for serving the same purpose. "Why buy a $40 bikini made in America when you can buy a $4 bikini directly from China? For that matter, why buy a $20 bikini made in China but imported by a US company like the Gap when you can buy a $4 bikini directly from China?" wrote Alana Semuels for The Atlantic.